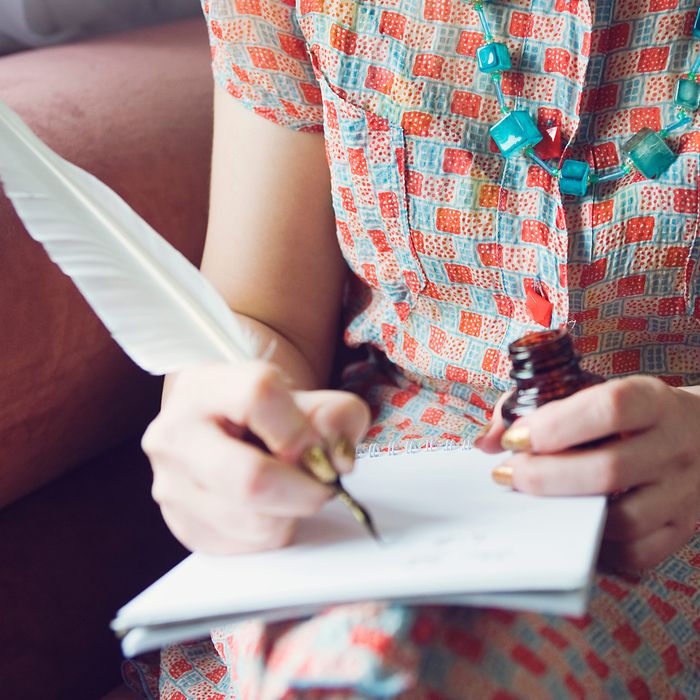 Better work on your penmanship!
Photo: Mimi Haddon/Getty Images
Erin French's aptly named Lost Kitchen is an exceptionally remote eatery that the Boston Globe's food critic once declared the "best Maine restaurant you may never be able to eat at." It was already difficult to eat there, in other words, and it may soon get more difficult because the restaurant is going full neo-Luddite with its reservations. You can't make one by phone anymore. Or via email. Or on any app. Your sole option: snail-mailing them a letter with your name and contact info. If your letter randomly gets drawn from the pot, they'll be in touch.
That may sound Draconian, but French seems to have no other choice. Everyone from Martha Stewart to Food & Wine and the New York Times has talked up her cooking. When reservations for the next year opened last April 1, the 40-seat spot got slammed with 10,000 phone calls, and the voice-mail quit taking new messages after 30 minutes. "Last year's reservation process made it clear that the request for seats now severely outweighs what we will ever be able to provide," French writes in a five-page letter detailing the procedure online. "We never wanted a reservation system that entailed staying up for all hours through the night on the phone, miserably hitting redial over and over again, but that is what it had become."
The new plan: You're free to mail a handwritten request between April 1 and April 10. They'll gather them all up and draw names in a lottery on April 11 to fill tables. You aren't allowed to say what dates are convenient for you, either. That's a conversation you and the restaurant will have later by phone, should your name get drawn.
Now then, per French, here are the specific dos and don'ts with which you'll want to familiarize yourself before putting your note into the mail:
DO

* Do write clearly and legibly. If we can't read your card, we can't call you.

* Do include the best telephone number to contact you by. We will be reaching out to you by phone if your card is chosen.

* Do postmark your letter in time to arrive at TLK by the April 10th deadline. Letters received after April the 10th will not be included in our drawing.

DON'T

* Don't postmark your card before March 31st. Cards received with postmarks before March 31st will not be considered. Cards received after the April 10th will not be considered.

* Don't indicate specific dates you are interested in or number of people in your desired party on your note card. If your card is selected, we will call you and personally spend time with you and our availability calendar.

* Don't include additional lengthy notes. We are expecting to receive a large number of requests so please keep you note confined to the space on the back of the notecard.

* Don't send more than one card. Duplicate submissions will be immediately disqualified.

* Don't give up! If your card is not selected during our initial round of reservations, stay tuned. We will open our waitlist up at the beginning of each month. Please follow us on Facebook for announcements regarding our waitlist throughout our upcoming season
People are also encouraged to include personal notes with the reservation requests — just please don't make them "lengthy." French realizes this "may not suit" people who prefer OpenTable and Resy's simple two-clicks-of-a-mouse setup and/or have forgotten where to buy stamps, but she's pleased that it will keep the whole Lost Kitchen experience "small," "intimate," and "magical."