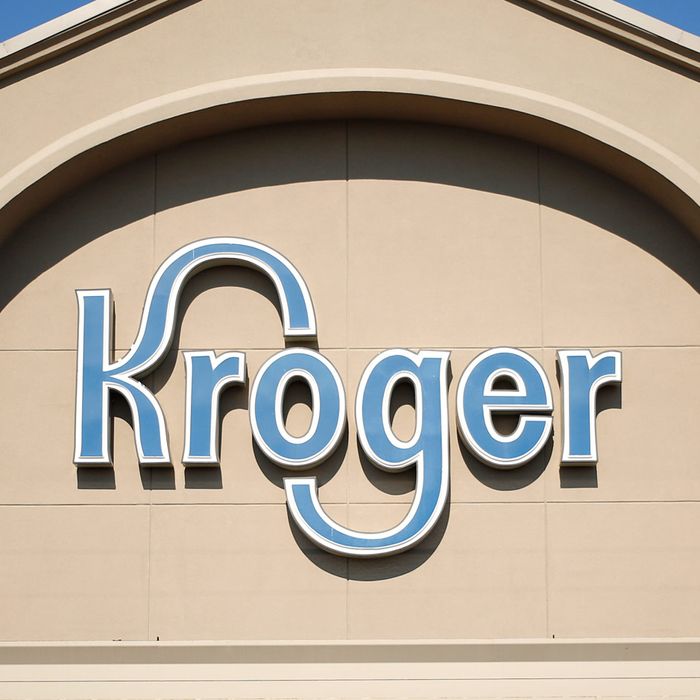 Kro-zhay?
Photo: Luke Sharrett/Bloomberg via Getty Images; Scott Olson/Getty Images
How do you fight the Amazon–Whole Foods Goliath if you're in the grocery biz these days? By seeing whom you can acquire to get even more Brobdingnagian: Fast Company hears from insiders today that Kroger (which is technically America's largest grocer, but by a readily shrinking margin) is mulling a merger with Target. The report says the companies started a dialogue last summer about partnering to "improve Target's grocery business and give Kroger customers more access to merchandise and e-commerce." Now, however, they're reportedly leaning more toward "a merger [being] the best path forward."
Obviously, grocers realize they need size if they're going to compete with Jeff Bezos's behemoth. Just this week, actually, the post-Amazon grocery era claimed its first two casualties — Tops Markets and Southeastern Grocers — and analysts think that in a few more years, Amazon could be America's biggest grocery brand. Kroger has attempted to halt Amazon's encroachment by hustling out a speedy new cashierless-checkout option, introducing home delivery, and a few other things. But a Target merger would make the simple grocer into something Walmart-ian. It'd also give Kroger access to the grocery-delivery service Shipt, a company Kroger was reportedly eyeing before Target bought it. There are other clear crossovers in their thinking, too: Target poached a 30-year Kroger veteran last year to become head of its grocery business.
Neither company will comment on the rumors, although sources tell CNBC that the talks aren't over a technical merger — yet. Still, investor types will want to know that shares of both companies jumped on the news, and it's worth noting that analysts have recommended exactly such a merger for a while. When the Whole Foods deal was announced last summer, ex-Amazon consultant Brittain Ladd suggested that if Kroger execs were smart, they'd be giving Target a hard look. He wrote that combining forces would team up a 2,800-location grocery chain with a retail giant that's got 1,800 of its own stores, creating a "near-endless aisle of grocery and retail products for their customers."