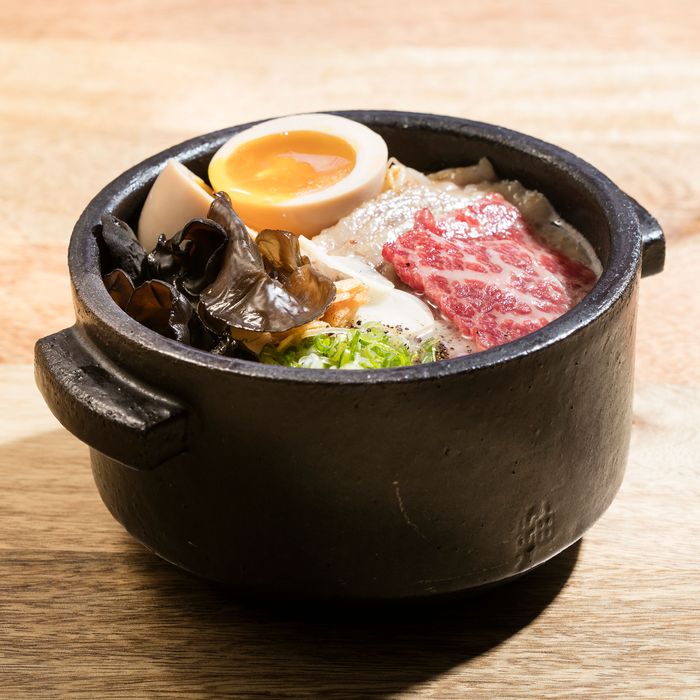 So-ramyun, with veal broth and brisket.
Photo: Melissa Hom
I respectfully submit that there are plenty of reasons why a jaded New York diner would peer into the window of Douglas Kim's popular, well-reviewed West Village restaurant, Jeju Noodle Bar, like I did several months back, scan the menu (and later the website), and decide to lumber off elsewhere for their evening meal. Let's start with those fateful words noodle and bar, which conjure images of the countless hectic, hopeful Asian noodle joints that have sprung up around town during the post-gourmet era of David Chang. Kim was born in South Korea and came to the United States when he was 16. He made several stops at grand kitchens around town (Per Se and Bouley, to name a couple) before opening the modest little noodle restaurant of his dreams. And there's the menu itself, which in the early days included a few Korean-style ramyun noodle dishes, a threadbare smattering of appetizers, and yet another facsimile of the dreaded pork bun.
I'll admit that even when I did finally belly up to the restaurant's brightly lit, nine-seat bar on a recent snowy evening, with another skeptical, overfed compatriot of mine, these unfair prejudices persisted. So what if the cheerful corner space — on Greenwich Street in the far western fringes of the West Village — had a wall of windows on both sides and seemed roomier and a little more comfortable than your average closet-size noodle joint? And so what if the menu seemed conspicuously larger than I remembered (there were many more appetizers and an extra "specials" section); and the benches and bar chairs were overflowing with a mix of intrepid noodle geeks from all over town and families from around the neighborhood out for a casual dinner, many of whom knew what to order and had clearly been to the restaurant several times before?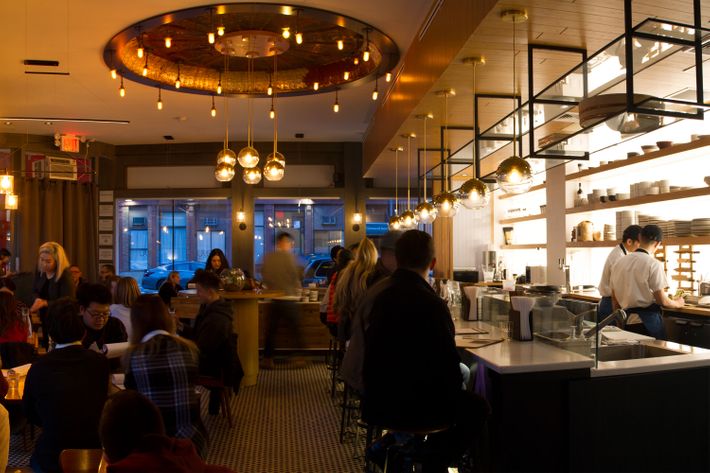 My guest and I couldn't bring ourselves to order the braised-pork ssam buns that evening, but the house chicken wings were seized in a crust that was both lighter and more tempuralike than the kind at your average Bonchon outlet. In addition to the usual pickle radish, there were decorative vegetable crudités stuck here and there among the delicately fried morsels of bird, and the dipping sauce had the lightness of fresh-whipped mayonnaise and the sweet, umami tang of good Russian dressing. A dish of cucumber kimchee came to the table after that, followed by a cool salad made with chunks of tuna decked with slivers of toasted seaweed, although the item that caused us to bolt upright on our slightly undersize barstools was a bowl of mussel stew (soon du bu) constructed with, among other things, cuttings of chives, soft chunks of tofu, and a rich, multilayered broth tinged with the smoky taste of tomatoes.
My dining companion said he couldn't recall tasting anything quite like it at his corner noodle bar, and when I finally wrestled the bowl away from him, I had to admit that he had a point. The tomatoes in question were sun-dried, which accounted for the smokiness, and the binding broth had the rich, almost perfumed quality that you'd find at one of the Michelin establishments where Kim served his long apprenticeship. The same was true of several of the pre-noodle appetizers that have been added steadily to the menu over the months, in particular the spicy, ragùlike chopped-beef gochujang bokum, and the elegant, multilayered toro ssam bap, which turned out to be a kind of gourmet rice-bowl mixture of scrambled eggs, tobiko (flying-fish roe), and luxurious, fatty tuna tartare, all designed to be eaten ssam wrap style, with little squares of toasted seaweed served on the side.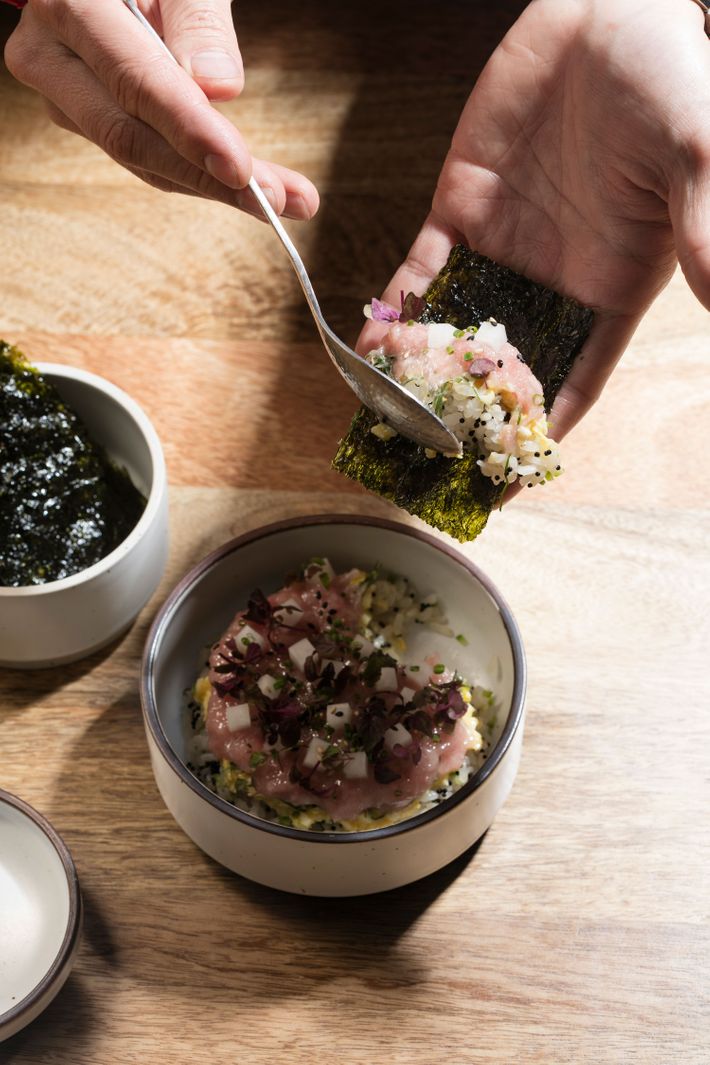 Classic ramyun is the Korean equivalent of instant Japanese ramen, in case you didn't know, but Kim builds his noodle recipes with a top chef's obsessive attention to detail. The milky, lustrous broth in my bowl of brisket-rich so-ramyun required the gentle simmering of three different kinds of veal bones, according to our loquacious server, and if you order the weirdly nautical-tasting, all-vegetable miyuk ramyun, you'll find that in addition to all the carefully procured roughage (mushrooms, white onions, seaweed), it's flavored with a substance called "garlic plankton oil." The spicy pork noodles is a more classic version of that traditional dish, but the noodle dish I can't stop thinking about is Kim's cacio-e-pepe-inspired black-truffle bibimmyun, which until truffle season ended just last week was served as an occasional special, with Parmesan, black pepper, and a tableside shaving of black truffle.
Jeju Noodle Bar wouldn't exist without David Chang, of course, but unexpected recipes like this make the restaurant feel like the kind of place he might have opened years ago if he'd been a slightly more dutifully traditional kind of gourmet chef, instead of an entrepreneurial innovator bent on changing the world by the seat of his pants. All of the ramyun dishes cost under $20, but if you're feeling flush, you can complement them, for a few extra bucks, with different kinds of toppings (soy-marinated or poached eggs, spoonfuls of uni), or an elegant galbi special made with sizzled Wagyu, instead of the usual commodity short rib. In the great Changian tradition, dessert is a pro forma affair (two forgettable kinds of pastry, one flecked with gold leaf), so save your money for a frothy mug of draft beer to go with your noodle feast (the Captain Lawrence Freshchester pale ale), or a bottle of premium soju, which is served with proper style in a frosty glass bucket of ice.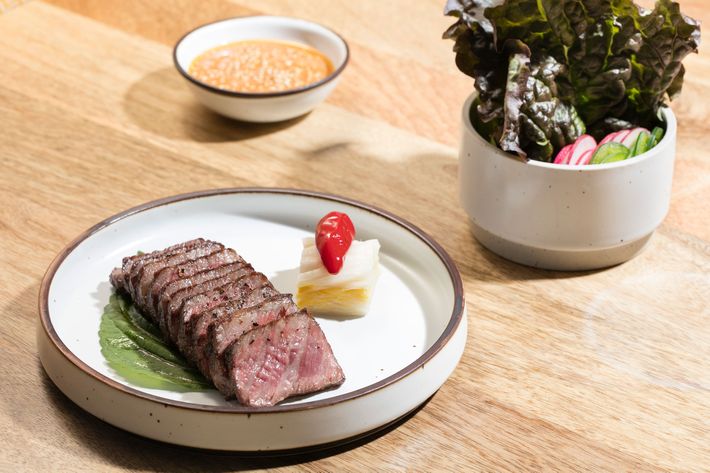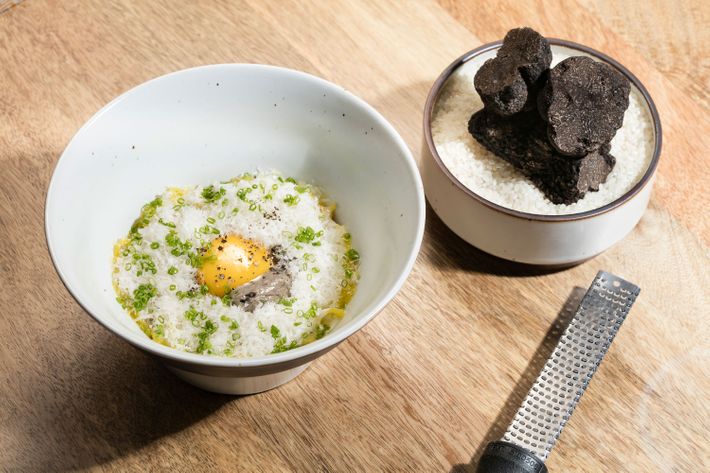 Jeju Noodle Bar
679 Greenwich St., at Christopher St.; 646-666-0947; jejunoodlebar.com
Open: Dinner Tuesday through Sunday; brunch Saturday and Sunday.
Prices: Appetizers, $6 to $23; ramyun, $14 to $18.
Ideal Meal: Toro ssam bap and so-ramyun, with the galbi and bibimmyun specials, on the off-chance you're still hungry and they're available.
Note: The bountiful $45-per-person family-style weekend brunch includes a pork-belly bossam and an entire fried chicken, among many other delicious-sounding items.
Scratchpad: One star for superior innovation and technique and another for old-fashioned goodness.
*This article appears in the April 2, 2018, issue of New York Magazine. Subscribe Now!