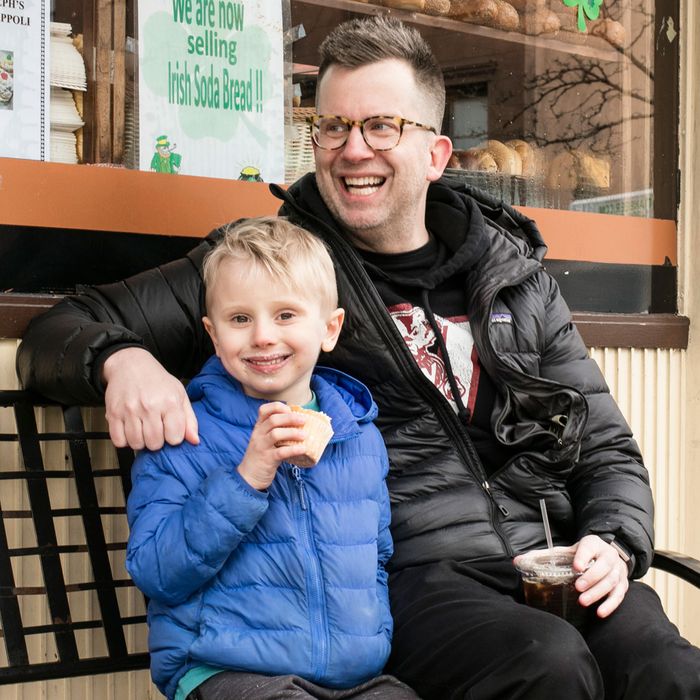 "Sometimes I'll bring one of the kids to Mazzola, and we'll sit on a bench outside and chat with other customers, neighbors, and dogs."
Photo: Melissa Hom
Jason Gay is not your conventional sportswriter. As The Wall Street Journal's often wryly hilarious sports columnist, he created lists of rules for things like working out in the New Year, ate weed gummies before watching the McGregor-Mayweather fight, and wrote about a bachelor party at the Winter Olympics in Pyeongchang. Additionally, it's not all sports for Gay. The author of Little Victories (described by him as "a life guide for people who don't really like life guides"), he recently weighed in on why the Oscars needs more screwups, has written cover stories for Vogue, and worked as an editor for GQ and Rolling Stone. A bona fide margarita enthusiast, he has strong opinions about salad, an unbreakable Dunkin' Donuts habit, and — in proper dad fashion — highly developed steak-cooking skills. Read all about it in this week's Grub Street Diet.
Thursday, March 8
I wake up in a home of terrible children, so early in the morning I like to escape to nearby Mazzola Bakery in Carroll Gardens for coffee and a moment of solitude. Business schools should study Mazzola: It's 90 years old, always busy, always friendly, always good. I get myself an iced red-eye (no matter how cold it is outside) and then whatever baked goods the household demands at the moment. My wife, Bessie, likes the whole-wheat croissant; my 3-year-old daughter, JoJo, prefers a bagel, plain; my 5-year-old son, Jesse, demands a toasted bagel with cream cheese, sliced once, but not, under any circumstances, sliced again in half, or he will take a plastic dinosaur's tail and stab me in the ear.
Sometimes I'll bring one of the kids to Mazzola, and we'll sit on a bench outside and chat with other customers, neighbors, and dogs. On occasion, we get a garbage truck passing by, and Jesse loses his mind with excitement. You'd think garbage-truck operators would be bored by excited kids, but they're universally sweet to them.
I usually work from home, or from the road, but if I am in New York, I try to go into the Journal newsroom at least once a week, so they don't suspect I'm 100 percent farting off. Today, I go in and finish a column and catch up on the stories my colleagues are working on — college hoops, NFL, NBA, and one really juicy story I can't tell you about, or you'll blab it to those weasels at the Times.
The paper is in midtown, and you know what that means for lunch: sad midtown salad! Is there any melancholy quite like the melancholy of a line at a midtown salad store? If I'm feeling energetic, I'll trample down to the Sweetgreen at 42nd Street, which has a line like Springsteen on Broadway, or if I'm feeling lazy, I'll have a salad downstairs at the Fresh & Co., which has a very good kale Caesar. Still, it's a salad. I'm not doing handstands.
Tonight, I meet with the Journal's mentor program. A group of brilliant New York City high-school students who, bless their young hearts, are interested in journalism. I believe the children are our future and all that, but there's also free pizza from Uncle Paul's Pizza — so I really enjoy the mentor program. Then it's back on the train, just in time to say good night to my kids, and then Daddy makes a cocktail. I'm as proud of my cocktail-making abilities as I am of my children. Tonight, I make my wife a Martini, and I have a Manhattan. I'm asleep before 9:45 p.m., because I'm pathetic.
Friday, March 9
This morning I make eggs, or at least until JoJo struts into the kitchen and announces that they "smell like stinky diarrhea," which really dampens the mood. I do a quick run to Mazzola, and then turn around like a cad and cheat on it with a visit to East One, another neighborhood coffee shop. Unlike Mazzola, East One has tables, so I can join the Wi-Fi zombies and get some writing done. I get the egg scramble with greens because I'm deluding myself that I'm on a low-carb diet.
Later on, I take the train into the city to do Only a Game, a sports show for NPR that has made the tragic mistake of having me on. Leaving the station, which is on Bryant Park, I resist the 14,000-person line outside of Sweetgreen and walk back to the Journal. There, I rampage over a table of leftover doughnuts as my colleagues and I discuss who's going to the Duke–North Carolina game at the Barclays Center. The low-carb diet's going great, thanks for asking.
Friday night is movie night at our place, which means we host a gaggle of neighboring kids and their parents for Pixar or other talking-animal films. It's usually about seven or eight kids, all under 7, and it's about the cutest thing you've ever seen — for 20 minutes. Then they begin screaming and fighting and we have to break it up like hockey referees. There's almost always pizza — we're around the corner from the beloved Lucali, but Lucali requires you to pick up, so we do Enoteca, another wood-burning place up the street, which is also really good, and delivers. After movie night, I think about going to the Duke–North Carolina game, but we have three reporters there, and truthfully, I would rather get hit by a falling tree.
Saturday, March 10
We have a downstairs neighbor, a kid named Mikey, who often comes upstairs to our place in the morning for a second breakfast. I love this kid, and admire his hustle. I actually buy Mikey's favorite cereal, Gorilla Munch, so he's always got something to eat when he comes over. Jesse calls Gorilla Munch "Gorilla Balls," which just sounds wrong.
Today we also had bacon and (non-diarrhea) eggs, but Jesse goes bananas when the bacon runs out — tossing a plastic cup across the kitchen and yelling, "WANT! MORE! BACON!" I want to tell him he shouldn't do that, but come on. It's bacon. We've all been there.
Bessie takes the boy to a birthday party, so we split up, and I spend the day with JoJo, who is lovely, but a task to feed. She basically subsists on milk and cheese sticks. I have to feed her stealthily — hand her nibbles of fruits and veggies and get her to eat them before she figures out what's going on.
Tonight, I go to the Carolina-Virginia ACC title game at Barclays. If I don't have a deadline to hit, and I can find a cheap seat, I like to buy a ticket and sit in the crowd. I love my fellow sportswriters, but watching sports with sportswriters is like watching comedy with comedians — it's a tough audience, hard to impress. I get a last-minute ticket on StubHub, and I'm sandwiched between a pair of Hoos and a pair of Heels. The game is a lot more fun than I thought it would be. The crowd has a ton more energy than you'll see at an NBA game in New York — but that's a low bar.
I don't get anything to eat at Barclays because I know I will wind up at Bar Bruno, a Mexican spot around the corner from my place, which is my prized postgame local go-to. I sit at the bar, and get a margarita because they make them correctly here, not too sweet. I devour a quick order of carnitas tacos, and listen to millennials complain about their phones.
Sunday, March 11
My entire goal for a Sunday morning and afternoon in Brooklyn is to avoid brunch. I also try to jam in a workout — I am obsessed with this indoor bike training program called Zwift, in which you ride your own bike attached to a stationary trainer, and power your own avatar in a virtual world. Basically, it's SoulCycle for dorks. I eat one of those starkly packaged RXBARs — Three Egg Whites, Six Almonds, Three Human Toes, whatever it says. I usually hate energy bars of any kind, but these are good.
Bessie's hosting a playdate for the kids, so I'm able to duck out to East One again for the egg scramble, peck away at my laptop, and sit happily by myself amid the miserable brunchers. Carroll Gardens sometimes feels like the entertaining-your-in-laws capital of the world.
Bessie and I try to do an early family dinner on Sundays, with varying degrees of success. Daylight Saving Time has kicked in, so the kids are a little upside down, but we get it together for a decent meal of steak, asparagus, and a delicious tomato-cucumber-Feta salad that Bessie whips together like a pro. I am very proud of my steak-cooking abilities — it's simple: salt and pepper, sear the hell out of it in a pan, briefly into the oven, voilà, done. The kids devour it, and I feel good. If you go out to dinner in New York City and order a steak, it will cost you, like, $35. But if you buy a steak at a New York butcher, and do all of the work and cook it at home, it will run you only $34.
Monday, March 12
A rare double-coffee morning — Mazzola early a.m. into Dunkin' Donuts mid-a.m. I can't do a week without a little Dunkin'. I'm from Massachusetts, so it's basically my religion. I've gotten the kids addicted to Munchkins, which I believe is my civic obligation. My wife thinks Munchkins are basically Pall Malls.
I also stop at G. Esposito & Sons Jersey Pork Store and get the kids some prosciutto. This is just one guy's opinion, but if you're raising kids in Carroll Gardens and they're not addicted to prosciutto, soppressata, and fresh mozzarella by the age of 10, you're doing it wrong.
For lunch, I meet up with my friend Adam Rapoport, the editor at Bon Appétit. If you think I'm going to lunch with Adam just because I was doing this stupid Grub Street Diet: You're damn right, skippy. We walk from Condé Nast over to Arcade Bakery, this adorable sandwich counter in the middle of a building lobby. It's exactly the type of place you want Adam Rapoport to take you to. I have the ham sandwich, which was basic, but yummy. As Adam might say, "Ham, cheese, and bread — how can you screw that up?"
Adam and I used to work together years ago at GQ. We were so full of vigor then. Now we sound like Jack Lemmon and Walter Matthau feeding pigeons from a park bench.
At night, there's a party at the Lambs Club for my friend Kristina O'Neill, the editor of WSJ. magazine, who is celebrating her fifth anniversary as boss. This is about as fancy-pants as the Journal gets — passed hors d'oeuvres, cocktails — but that's what you get when you're a huge success like Kristina and WSJ. I give a short speech in Kristina's honor, and I can see it in the eyes of her talented staff: Who is this sports idiot?
Afterward, I hop in a cab downtown to the Odeon with WSJ.'s food writer, Howie Kahn, and its design writer, Sarah Medford. The first time I ever saw the Odeon was on the cover of Jay McInerney's Bright Lights, Big City (talk about dating yourself!), and it's amazing how the Odeon thrives on after all these years. The place was rocking on a Monday. I have the steak tartare, and berries for dessert. Fine, I also order the doughnuts — and manage to get home before 11 p.m. I don't have anything to eat with Bessie, who's a schoolteacher, and talking on the phone with another teacher about the student walkouts planned for March 14. They're really proud of their students. I'm really proud of her. It's never been an easy job, but we're putting insane pressure on teachers today.
Tuesday, March 13
Once more, with feeling, I go to Mazzola — the usual family order, with a doughnut thrown in for Mikey, who's come upstairs for a hang. I do some work and wind up back at our home for lunch, which is … sad drumroll … my daughter's unfinished peanut-butter-and-jelly sandwich.
A truth about parenting: You can lose ten pounds by just not eating the stuff off of your kids' plates. Conversely, you can gain ten pounds entirely from dinosaur-shaped kale nuggets.
I have to go out for work tonight, so I order an early family dinner from Purbird: roast chicken, sautéed broccoli, and spinach — and sweet-potato fries for Jesse, or else he'll call the police. Regular French fries are bad for kids, but if you give them sweet-potato fries, they'll live until they're 175.
After dinner, I'm up to Madison Square Garden for a WSJ. subscriber event — a couple of readers have actually won a contest to watch a Knicks game with me and our NBA writer, Ben Cohen. I don't know whether to feel happy or terribly sad for them. They turn out to be a great group, however — really fun and engaged and interested in sports and the paper, which, in 2018, is something I'm very grateful for. The Knicks lose, but I eat only a third of the cheese plate, so it's a satisfying victory. Speaking of satisfying victories, did I get through this thing without sounding like an insufferable jackass? That's all I care about. No? Too late?