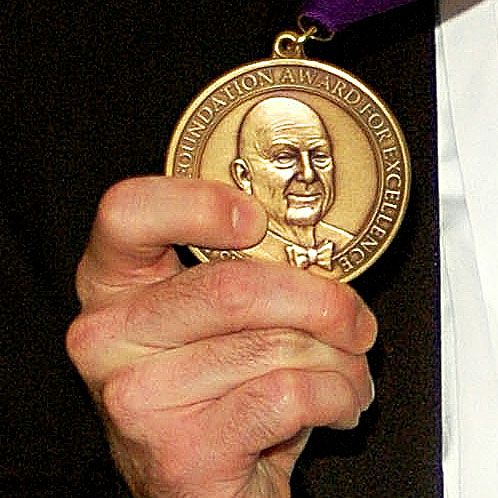 The road to victory.
Photo: Rob Loud/WireImage
The James Beard Foundation has announced the finalists for its annual chef, restaurant, and media awards. As always, congratulations go out to all the deserving nominees. Here is the full list. Winners will be announced at the annual gala on May 7 in Chicago.
Best New Restaurant
The Charter Oak, St. Helena, CA
Empellón Midtown, NYC
Felix Trattoria, Venice, CA
JuneBaby, Seattle
Kismet, Los Angeles
Outstanding Baker
Dianna Daoheung, Black Seed Bagels, NYC
Zachary Golper, Bien Cuit, Brooklyn, NY
Maura Kilpatrick, Sofra Bakery and Café, Cambridge, MA
Belinda Leong and Michel Suas, B. Patisserie, San Francisco
Alison Pray, Standard Baking Co., Portland, ME
Greg Wade, Publican Quality Bread, Chicago
Outstanding Bar Program
Anvil Bar & Refuge, Houston
Bar Agricole, San Francisco
Clyde Common, Portland, OR
Cure, New Orleans
Kimball House, Decatur, GA
Trick Dog, San Francisco
Outstanding Chef
Ashley Christensen, Poole's Diner, Raleigh, NC
Gabrielle Hamilton, Prune, NYC
David Kinch, Manresa, Los Gatos, CA
Christopher Kostow, The Restaurant at Meadowood, St. Helena, CA
Donald Link, Herbsaint, New Orleans
Outstanding Pastry Chef
Kelly Fields, Willa Jean, New Orleans
Meg Galus, Boka, Chicago
Margarita Manzke, République, Los Angeles
Dolester Miles, Highlands Bar & Grill, Birmingham, AL
Diane Yang, Spoon and Stable, Minneapolis
Outstanding Restaurant
Balthazar, NYC
Canlis, Seattle
Frasca Food and Wine, Boulder, CO
Highlands Bar & Grill, Birmingham, AL
Quince, San Francisco
Outstanding Restaurateur
Kevin Boehm and Rob Katz, Boka Restaurant Group, Chicago (Boka, GT Fish & Oyster, Girl & the Goat, and others)
JoAnn Clevenger, Upperline, New Orleans
Outstanding Service
Boka, Chicago
Saison, San Francisco
Zahav, Philadelphia
Zingerman's Delicatessen, Ann Arbor, MI
Zuni Café, San Francisco
Outstanding Wine, Beer, or Spirits Professional
Cathy Corison, Corison Winery, St. Helena, CA
Diane Flynt, Foggy Ridge Cider, Dugspur, VA
Miljenko Grgich, Grgich Hills Estate, Rutherford, CA
Steve Matthiasson, Matthiasson Wines, Napa, CA
Lance Winters, St. George Spirits, Alameda, CA
Outstanding Wine Program
A.O.C., Los Angeles
Bacchanal, New Orleans
Benu, San Francisco
FIG, Charleston, SC
The Little Nell, Aspen, CO
Rising Star Chef of the Year
Camille Cogswell, Zahav, Philadelphia
Clare de Boer, King, NYC
Sarah Rinkavage, Marisol, Chicago
Miles Thompson, Michael's, Santa Monica, CA
Kevin Tien, Himitsu, Washington, D.C.
Best Chefs
Chefs who have set new or consistent standards of excellence in their respective regions.
Best Chef: Great Lakes (IL, IN, MI, OH)
Andrew Brochu, Roister, Chicago
Abraham Conlon, Fat Rice, Chicago
Beverly Kim and Johnny Clark, Parachute, Chicago
David Posey and Anna Posey, Elske, Chicago
Lee Wolen, Boka, Chicago
Best Chef: Mid-Atlantic (D.C., DE, MD, NJ, PA, VA)
Amy Brandwein, Centrolina, Washington, D.C.
Tom Cunanan, Bad Saint, Washington, D.C.
Rich Landau, Vedge, Philadelphia
Jeremiah Langhorne, The Dabney, Washington, D.C.
Cindy Wolf, Charleston, Baltimore
Best Chef: Midwest (IA, KS, MN, MO, NE, ND, SD, WI)
Karen Bell, Bavette La Boucherie, Milwaukee
Steven Brown, Tilia, Minneapolis
Justin Carlisle, Ardent, Milwaukee
Gavin Kaysen, Spoon and Stable, Minneapolis
Ann Kim, Young Joni, Minneapolis
Best Chef: New York City (Five Boroughs)
Amanda Cohen, Dirt Candy
Ignacio Mattos, Estela
Missy Robbins, Lilia, Brooklyn, NY
Alex Stupak, Empellón Midtown
Jody Williams, Buvette Gastrothèque
Best Chef: Northeast (CT, MA, ME, NH, NY State, RI, VT)
Karen Akunowicz, Myers + Chang, Boston
Tiffani Faison, Tiger Mama, Boston
Tony Messina, Uni, Boston
Cassie Piuma, Sarma, Somerville, MA
Benjamin Sukle, Oberlin, Providence
Best Chef: Northwest (AK, ID, MT, OR, WA, WY)
Edouardo Jordan, Salare, Seattle
Katy Millard, Coquine, Portland, OR
Bonnie Morales, Kachka, Portland, OR
Justin Woodward, Castagna, Portland, OR
Rachel Yang and Seif Chirchi, Joule, Seattle
Best Chef: South (AL, AR, Commonwealth of Puerto Rico, FL, LA, MS)
Vishwesh Bhatt, Snackbar, Oxford, MS
Nina Compton, Compère Lapin, New Orleans
Jose Enrique, Jose Enrique, San Juan, PR
Kristen Essig and Michael Stoltzfus, Coquette, New Orleans
Niven Patel, Ghee Indian Kitchen, Miami
Slade Rushing, Brennan's, New Orleans
Best Chef: Southeast (GA, KY, NC, SC, TN, WV)
Mashama Bailey, The Grey, Savannah, GA
Katie Button, Nightbell, Asheville, NC
Cassidee Dabney, The Barn at Blackberry Farm, Walland, TN
Rodney Scott, Rodney Scott's BBQ, Charleston, SC
Andrew Ticer and Michael Hudman, Andrew Michael Italian Kitchen, Memphis
Best Chef: Southwest (AZ, CO, NM, OK, TX, UT)
Michael Fojtasek, Olamaie, Austin
Bryce Gilmore, Barley Swine, Austin
Steve McHugh, Cured, San Antonio
Martín Rios, Restaurant Martín, Santa Fe
Dana Rodriguez, Work & Class, Denver
Best Chef: West (CA, HI, NV)
Michael Cimarusti, Providence, Los Angeles
Dominique Crenn, Atelier Crenn, San Francisco
Jeremy Fox, Rustic Canyon, Santa Monica, CA
Jessica Koslow, Sqirl, Los Angeles
Travis Lett, Gjelina, Venice, CA
2018 James Beard Foundation Outstanding Restaurant Design Awards
75 Seats and Under
Firms: FÖDA Studio, Studio MAI, and Michael Hsu Office of Architecture
Designers: Jett Butler, Tom Ahn, Dale Wallain, and Milo Garcia
Project: Otoko, Austin
Firm: The MP Shift
Designers: Amy Morris, Anna Polonsky, and Julie Nerenberg
Project: De Maria, NYC
Firm: Rockwell Group
Designers: David Rockwell, Greg Keffer, and the Rockwell Group Design Team
Project: Daily Provisions, NYC
76 Seats and Over
Firm: ABC Carpet & Home
Designers: Paulette Cole, Amy Ilias, Maya Nakano, and the ABC Home Creative Team
Project: abcV, NYC
Firms: Aidlin Darling Design with a l m project
Designers: Joshua Aidlin, David Darling, Adam Rouse, and Andrea Lenardin Madden
Project: In Situ, San Francisco
Firms: FÖDA Studio and Shears Adkins Rockmore
Designers: Jett Butler, Stephanie Leung, Katie Cavallo, and Chip Chambers
Project: The Preacher's Son, Bentonville, AR
Design Icon
The American Restaurant
Kansas City, Missouri
2018 James Beard Foundation Book Awards
American
Homegrown: Cooking from My New England Roots
Matt Jennings
(Artisan Books)
The Lost Kitchen
Erin French
(Clarkson Potter)
The Sioux Chef's Indigenous Kitchen
Sean Sherman with Beth Dooley
(University of Minnesota Press)
Baking and Desserts
BraveTart: Iconic American Desserts
Stella Parks
(W. W. Norton & Company)
Sweet
Yotam Ottolenghi and Helen Goh
(Ten Speed Press)
The Sweet Spot: Dialing Back Sugar and Amping Up Flavor
Bill Yosses and Peter Kaminsky
(Pam Krauss Books)
Beverage
3-Ingredient Cocktails
Robert Simonson
(Ten Speed Press)
Meehan's Bartender Manual
Jim Meehan
(Ten Speed Press)
Mezcal: The History, Craft & Cocktails of the World's Ultimate Artisanal Spirit
Emma Janzen
(Voyageur Press)
General
Christopher Kimball's Milk Street: The New Home Cooking
Christopher Kimball
(Little, Brown and Company)
Dinner: Changing the Game
Melissa Clark
(Clarkson Potter)
Salt, Fat, Acid, Heat
Samin Nosrat
(Simon and Schuster)
Health and Special Diets
The Beauty Chef
Carla Oates
(Hardie Grant Books)
Deepa's Secrets
Deepa Thomas
(Skyhorse)
Eat Right
Nick Barnard
(Kyle Books)
International
Nopalito
Gonzalo Guzman and Stacy Adimando
(Ten Speed Press)
Paladares
Anya von Bremzen and Megan Fawn Schlow
(Abrams)
The Palestinian Table
Reem Kassis
(Phaidon)
Photography
Cook Beautiful
Johnny Miller
(Abrams)
Simple Fare: Spring and Summer
Karen Mordechai
(Abrams)
Sweet
Peden + Munk
(Ten Speed Press)
Reference, History, and Scholarship
Champagne
Peter Liem
(Ten Speed Press)
The Culinarians: Lives and Careers from the First Age of American Fine Dining
David S. Shields
(University of Chicago Press)
Peppers of the Americas
Maricel E. Presilla
(Lorena Jones Books)
Restaurant and Professional
Modernist Bread
Nathan Myhrvold and Francisco Migoya
(The Cooking Lab)
On Vegetables: Modern Recipes for the Home Kitchen
Jeremy Fox and Noah Galuten
(Phaidon)
State Bird Provisions
Stuart Brioza and Nicole Krasinski
(Ten Speed Press)
Single Subject
Mastering Stocks and Broths
Rachael S. Mamane
(Chelsea Green Publishing)
Offal Good
Chris Cosentino
(Clarkson Potter)
The Pho Cookbook
Andrea Nguyen
(Ten Speed Press)
Vegetable-Focused Cooking
The Book of Greens
Jenn Louis
(Ten Speed Press)
In My Kitchen
Deborah Madison
(Ten Speed Press)
Six Seasons: A New Way with Vegetables
Joshua McFadden with Martha Holmberg
(Artisan Books)
Writing
The Cooking Gene
Michael W. Twitty
(Amistad)
The Taste of Empire: How Britain's Quest for Food Shaped the Modern World
Lizzie Collingham
(Basic Books)
Unforgettable: The Bold Flavors of Paula Wolfert's Renegade Life
Emily Kaiser Thelin
(Grand Central Life & Style)
The winner of the Book of the Year Award and the Cookbook Hall of Fame inductee will be announced on April 27, 2018.
2018 James Beard Foundation Broadcast Media Awards
Documentary
Barbecue
Director: Matthew Salleh
Producers: Daniel Joyce and Rose Tucker
Airs on: Netflix
Blind Sushi
Director: Eric Heimbold
Producers: Eric Heimbold and Laura Heimbold
Appeared at: Multiple film festivals in 2017
Jeremiah Tower: The Last Magnificent
Director: Lydia Tenaglia
Producers: Anthony Bourdain, Christopher Collins, and Joe Caterini
Airs on: CNN, Netflix, and iTunes
Outstanding Personality/Host
Pati Jinich
Pati's Mexican Table
Airs on: WETA Washington; Distributed Nationally by American Public Television
Ina Garten
Barefoot Contessa: Cook Like a Pro
Airs on: Food Network
Vivian Howard
A Chef's Life
Airs on: PBS ­
Podcast
The Sporkful
Host: Dan Pashman
Producers: Dan Pashman, Anne Noyes Saini, and Dan Charles
Airs on: Stitcher, iTunes
Why We Eat What We Eat Episode 2: I Eat Everything, Except…
Host: Cathy Erway
Producers: Wendy Dorr, Frances Harlow, and Abbie Ruzicka
Airs on: Whyweeat.show, Gimlet Media, and Apple Podcasts
Your Last Meal (with Rachel Belle)
Host: Rachel Belle
Producers: Aaron Mason and Rachel Belle
Airs on: iTunes, Stitcher, and yourlastmealpodcast.com
Radio Show/Audio Webcast
The Food Chain
Host: Emily Thomas
Producers: Emily Thomas and Simon Tulett
Airs on: BBC World Service
The Legacy of the Mississippi Delta Chinese
Host: Melissa Block
Producer: Elissa Nadworny
Airs on: NPR
The Splendid Table: Every Bite is Precious, Buddhist Cooking in Japan
Host: Abigail Leonard
Producer: Abigail Leonard
Airs on: NPR
Special (on TV or Web)
CBS Sunday Morning – The Food Issue: Eat, Drink, and Be Merry
Host: Jane Pauley
Producers: Rand Morrison, Amy Rosner, and Amol Mhatre
Airs on: CBS
Family Meal: NYC
Producers: Alice Xue Yu, Lilit Marcus, and Molly Shiels
Airs on: CNN
Lidia Celebrates America: Homegrown Heroes
Host: Lidia Bastianich
Producer: Laurie Donnelly
Airs on: PBS
Television Program, in Studio or Fixed Location
Barefoot Contessa: Cook Like a Pro
Host: Ina Garten
Producers: Rachel Purnell, Olivia Ball, and Bridget Lumley
Airs on: Food Network
The Bobby and Damaris Show
Hosts: Bobby Flay and Damaris Phillips
Producers: Bobby Flay, Kim Martin, and Kirsty Nordal
Airs on: Food Network
The Latin Kitchen
Hosts: Luis Valenzuela, Juan Pablo Gonzalez, and Luis "Tigretón" Leon
Producer: Chris Knight
Airs on: Gusto
Television Program, on Location
Chef's Table: Jeong Kwan
Producers: David Gelb, Brian McGinn, and Andrew Fried
Airs on: Netflix
The Food Flirts with the Brass Sisters
Hosts: Marilyn Brass and Sheila Brass
Producers: Bruce Seidel and Denise Swidey
Airs on: PBS
The Migrant Kitchen
Producers: Juan Devis, Antonio Diaz, and Stef Ferrari
Airs on: KCET and Link TV
Television Segment
ABC 7 News – The Hungry Hound
Host: Steve Dolinsky
Producer: Steve Dolinsky
Airs on: ABC 7 Chicago and abc7chicago.com
PBS NewsHour
Reporters: Allison Aubrey and Paul Solman
Producer: Mary Beth Durkin
Airs on: PBS
Verify
Host: David Schechter
Producer: Chance Horner
Airs on: WFAA-TV Dallas and stations owned by TEGNA Media
Video Webcast, Fixed Location and/or Instructional
Andrew in the Kitchen
Host: Andrew Zimmern
Producers: Patrick Weiland and Andrew Zimmern
Airs on: travelchannel.com
The Breath of a Wok
Host: Grace Young
Producer: Grace Young
Airs on: graceyoung.com and YouTube
Panna Cooking: Black Bean-Glazed Salmon with Ginger Cabbage
Host: Vivian Howard
Producers: Amy Currie and Stephanie Roush
Airs on: pannacooking.com
Video Webcast, on Location
Food Grails
Host: Miss Info
Director: Justin Bolois
Producer: Justin Bolois
Airs on: First We Feast YouTube Channel
From the Wild – Season 3
Director: Kevin Kossowan
Producer: Kevin Kossowan
Airs on: Vimeo On Demand
Working 24 Hours at…
Host: Andrew Knowlton
Director: Vincent Cross
Producer: Matt Duckor
Airs on: YouTube and Bon Appétit Video
Visual and Technical Excellence
Barbecue
Director: Matthew Salleh
Photographer: Matthew Salleh
Editors: Matthew Salleh and Rose Tucker
Airs on: Netflix
The Birth of Bread
Director, Photographer, Editor: Matthew Pendergast
Airs on: Vimeo
Food Talkies
Director, Photographer, Editor: Andrew Gooi
Airs on: foodtalkies.com
2018 James Beard Foundation Journalism Awards
Columns
"The Eton Mess Is Beautiful, Chaotic, British"; "Hot Night, Cold Soup"; and "Bread Soup from the Lost Years"
Scott Hocker
Taste
Missed Cues: "Get Help"; "Distilled Identity"; and "Destination, Small Town"
Osayi Endolyn
Gravy
What She's Having: "Nostalgia in a Bowl"; "I Was a Chick-fil-A Virgin"; and "A Time Capsule, with Chicken Pot Pies"
Devra First
The Boston Globe
Dining and Travel
"The Eating Season"
Tyler Kord
Bon Appétit
"Off the Eaten Path: The Best Anti-Restaurants in America"
The Editors of GQ
GQ
"In Pursuit of Perfect Hummus"
J.M. Hirsch
Christopher Kimball's Milk Street Magazine
Feature Reporting
"A Day in the Life of a Food Vendor"
Tejal Rao
The New York Times
"Dishwashers"
Tom Sietsema
The Washington Post
"The NBA's Secret Addiction"
Baxter Holmes
ESPN The Magazine
Food and Health
"Egg Mogul Jack DeCoster Sickened 56,000 People. He'll Spend Just Three Months in Prison"
Joe Fassler
The New Food Economy
"The Great Nutrient Collapse"
Helena Bottemiller Evich
Politico
"What Healthy Means Now"
Hunter Lewis
Cooking Light
Food Section
New York Magazine
Robin Raisfeld and Rob Patronite
Roads & Kingdoms
Nathan Thornburgh, Matt Goulding, Cara Parks, and the Roads & Kingdoms Team
San Francisco Chronicle
Paolo Lucchesi and the San Francisco Chronicle Food and Wine Team
Foodways
"Chili at the Fifty"
Matt Diffee
Texas Monthly
"Four Million Pots"
Leslie Pariseau
Saveur
"The Teenage Whaler's Tale"
Julia O'Malley
High Country News
Home Cooking
"Lost Pies of the South"
Nancie McDermott
Southern Living
"Nuts About Nuts"
Molly McDonough
Culture: The Word on Cheese
"Thanksgiving Lessons"
Adam Rapoport and the Bon Appétit Editorial Team
Bon Appétit
Humor
"Pumpkin Spice Life"
Maura Judkis
The Washington Post
"Trixie Mattel Makes a PB&J (and More Importantly, a Cocktail)"
GQ Video
GQ
"Worst Shift Ever: No Experience Necessary"
Blake Smith and Derek Salvatore
ChefsFeed on Facebook
Innovative Storytelling
"America's Most Authentic Dive Bars"
Tim Carman, Fritz Hahn, and Shelly Tan
The Washington Post
"Going Viral"
Vince Dixon, Ellie Kirn, Brittany Holloway-Brown, and Ian Stroud
Eater
"The New Essentials of French Cooking"
Melissa Clark, Emily Weinstein, Barbara deWilde, and Alexandra Eaton
The New York Times
Investigative Reporting
"John Besh Restaurants Fostered Culture of Sexual Harassment, 25 Women Say"
Brett Anderson
NOLA.com | The Times-Picayune
"Ken Friedman, Power Restaurateur, is Accused of Sexual Harassment"
Julia Moskin and Kim Severson
The New York Times
" 'The Only Good Muslim' " and "Compromised"
Ted Genoways
The New Republic
Local Impact
"Farm to Chapel"; "They Ditched Vienna Sausages for Porterhouse Steaks and Lobster at West Grove Cookout"; and "How a Secular Jewish Baker Became Miami's Kosher King"
Carlos Frías
Miami Herald
"What Do Lakewood Residents Think of Their Neighborhood's Newest High-End Restaurant?"; " 'La Comida' Makes for a Big Family Meal at Mothers & Sons"; and "The Restaurant Industry Depends on Immigrants. What Happens If We Lose Them?"
Victoria Bouloubasis
Indy Week
"You're Invited to the Spirited Brunch"; "Meet the Kitchen Cabinet"; and "Get It in Writing: Restaurant Industry Grapples with Sexual Harassment"
Hanna Raskin
The Post and Courier (Charleston, S.C.)
Personal Essay
"Dear Women: Own Your Stories"
Lisa Donovan
Foodandwine.com
"The Meth Lunches: The Care and Feeding of a Drug Addict"
Kim Foster
Nevada Public Radio's Desert Companion Magazine
"Strip Clubs, Salvation and Sonic Drive-In"
Tiffany Langston
Tiffany Tastes
Profile
"Journeyman"
Patrick Radden Keefe
The New Yorker
"She Was a Soul Food Sensation. Then, 19 Years Ago, She Disappeared."
Mayukh Sen
Food52
"The Untold Story of the Lady from Louisville and the Bubbe Who Wasn't There"
Rebecca Flint Marx
Taste
Wine, Spirits, and Other Beverages
"Drink Seltzer, Live Forever"
Liam Baranauskas
Eater
"The Pu-Erh Broker"
Max Falkowitz
Saveur
"A Short History of My Long Drinking Life"
Andrew Knowlton
Bon Appétit
Craig Claiborne Distinguished Restaurant Review Award
"Bar Normandy"; "Pawpaw"; and "Rappahannock Oyster Bar"
Hanna Raskin
The Post and Courier (Charleston, SC)
Counter Intelligence: "The World's Best Restaurant Opens a Pop-Up in Mexico"; "At Vespertine, Jonathan Gold Makes Contact with Otherworldly Cooking"; "Jonathan Gold Finds Delight in the Secretive Santa Monica Restaurant Dialogue"
Jonathan Gold
Los Angeles Times
"The Radical Sandwich Kings of New Orleans"; "America's Next Great Southern Restaurant Is in the Pacific Northwest"; "At Santa Monica's Dialogue, Seasonality Meets Surrealism"
Bill Addison
Eater
MFK Fisher Distinguished Writing Award
"After Oranges: Following John McPhee to Florida"
Wyatt Williams
Oxford American
"Christ in the Garden of Endless Breadsticks"
Helen Rosner
Eater
"Who Owns Uncle Ben?"
Shane Mitchell
The Bitter Southerner
Publication of the Year will be decided by the members of the James Beard Awards Journalism Committee and will be announced at the awards ceremony.