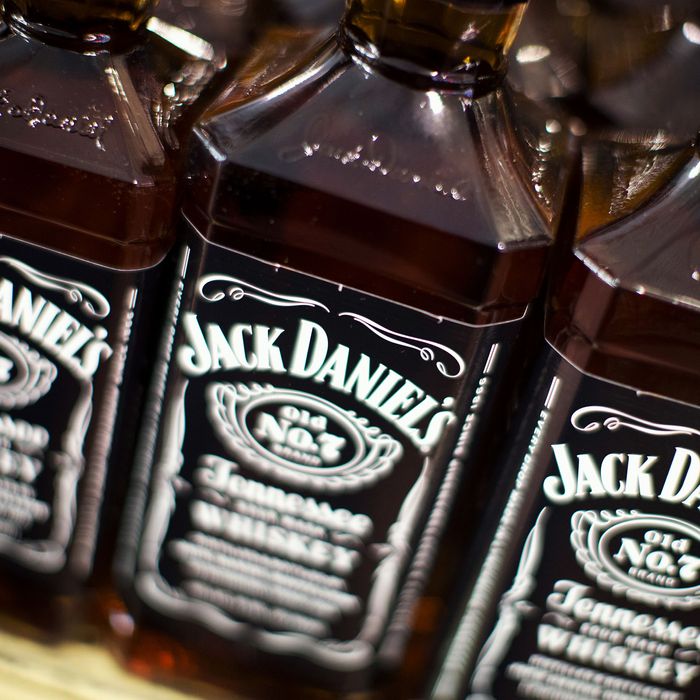 Photo: Scott Olson/Getty Images
Whiskey makers argue that the tariffs that President Trump plans to order as soon as today won't just penalize beer companies, Hershey's, and Campbell's. While steep levies — 10 percent on imported aluminum, 25 percent on foreign steel — don't directly affect bourbon or rye production, the owner of Jack Daniel's says the whiskey industry will end up an "unfortunate and unintended victim" anyway, now that the EU is vowing to impose retaliatory tariffs as payback.
Yesterday, the EU's trade commissioner Cecilia Malmström said the body is considering imposing its own taxes on things like American-made bourbon, chewing tobacco, denim, peanut butter, and motorcycles. This led the CEO of Brown-Forman, which owns Jack Daniel's plus 16 other liquor brands, to denounce Trump's tariffs: On a call with investors, Paul Varga said they're strongly opposed to the idea, and went on to note the "irony" of Trump trying to boost U.S. manufacturing with a policy that's put the 148-year-old Tennessee distillery responsible for the planet's top-selling American whiskey in Europe's crosshairs. A whiskey tax in Europe — the second-biggest buyer of Brown-Forman's brands — would be bad for the company, and therefore bad for America, he argues.
Varga says they'll "monitor" the EU's plans "closely," and of course "shar[e] our point of view in Washington, as well." That's fine by Europe, and in fact Brown-Forman can probably pass along a message from a few EU member countries if it wants. In particular, Germany — a major steel and aluminum exporter to the U.S. — has been stressing separately how "decisively" they'll respond to any tariffs Trump imposes. "There should be no doubt about that in Washington," its foreign minister says.