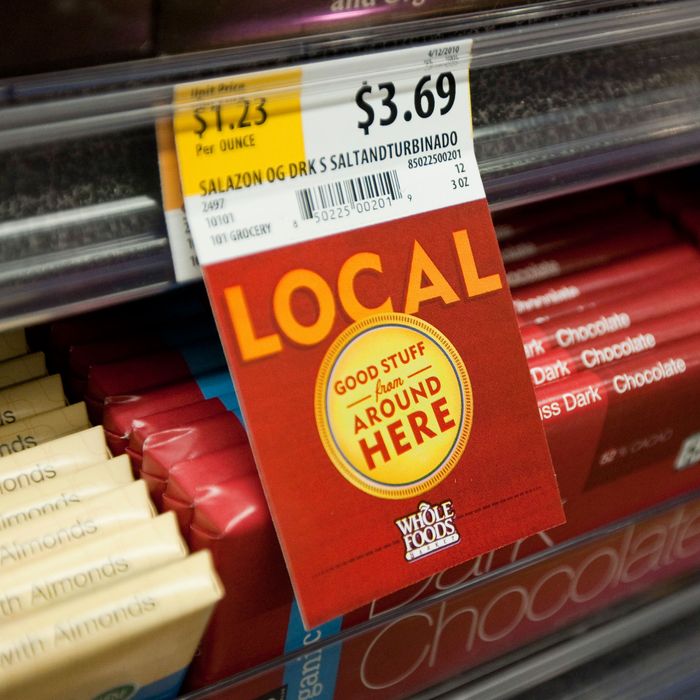 But is it?
Photo: Brooks Kraft/Corbis via Getty Images
What busy, non-agronomist person has time to memorize indigenous plants and growing seasons in their state? Probably not you, which is why if you're into buying farm-to-table, you probably rely on labels that seemingly vouch that your food was grown nearby. Sorry to burst your bubble, but those labels are often done through statewide "buy local" programs, and it turns out, they're sort of a colossal scam.
Reporters from USA Today spent four months analyzing every single one of these local ag-booster branding programs — 45 in total. What their investigation found was that the programs are designed to be "deceptive and virtually unregulated." For example, 18 of the programs allow producers to call something "local" even if no ingredients were sourced from the state.
One particularly egregious case is Milo's Tea Company, a company whose teas — sold at Walmart and Target — feature a "Buy Alabama's Best" label. The company is physically headquartered in the state, but its leaves come from South America and India. In Oklahoma, Snider Farms Peanut Barn sells jars of its "Made in Oklahoma" peanut butter for $5 or $6, but they're full of Georgia and Virginia nuts, which came from a Texas distributor before being roasted and ground in Oklahoma. Utah's Park City Coffee Roaster carries the state's "Utah's Own" label, and there's a zero percent chance that the actual coffee was grown in the Beehive State.
In California, an agriculture powerhouse, the problem isn't lack of regulations, but rather enforcement. To be "California Grown," a product needs at least 85 percent of its ingredients to be state-grown, which is pretty high, but the state doesn't allocate any of the $1.7 million budget to keeping its 15,000 agricultural producers honest.
The worst offender, though, may be Texas. USA Today says that the only stipulation for its "Go Texan" program is that whoever wants the label has to pay between $100 and $5,000 every year. Among the proudly "local" producers are pest-control companies and liquor stores that sell alcohol distilled all over the world. The story adds that Texas has "virtually no accountability or enforcement," as no application has ever been denied and no businesses have ever been disqualified.
The good news is that some states actually do make an effort to ensure that their "local" foods truly are local. New York and New Jersey have some of the nation's strictest rules, and actually make sure producers comply. The "Jersey Fresh" logo requires annual inspections to make sure food is grown in-state and either meets or exceeds USDA Grade 1 standards, while New York's new program, called "State Grown & Certified," requires a food-safety certification on top of an environmental-management program done through the state's Soil & Water Conservation Districts.