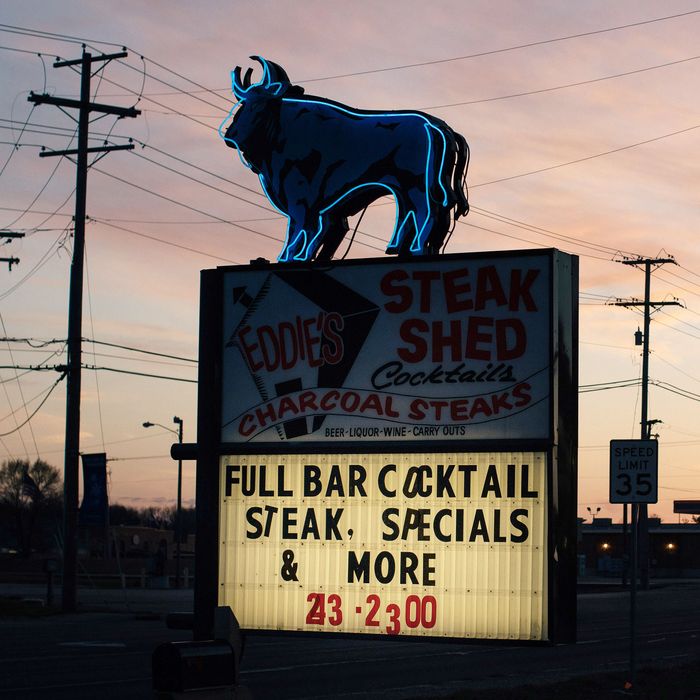 The new owner says, "I'm not here to solve problems with Trump, or with Obama."
Photo: Alyssa Schukar/The Washington Post/Getty Images
Last May, public anger was palpable over Indiana steakhouse owner Roberto Beristain's deportation. Beristain had just purchased Eddie's Steak Shed in the town of Granger, about two hours east of Chicago, after having worked as the head chef. As part of President Trump's crackdown on (law-abiding) undocumented immigrants, the 44-year-old native of Mexico was picked up in February, transported to a Texas detention center, then escorted across the border into Juárez. Beristain, of course, wasn't one of Trump's "bad hombres" bringing drugs, crime, and rape into the United States, so the move struck even some conservatives as deeply unfair. Nancy Pelosi blasted the situation as an example of why Trump's border immigration policies don't work, Anderson Cooper prepared a 60 Minutes segment, and local politicians declared it "a defeat for our community."
One year later, how do the residents of Granger feel about the loss of the hardworking owner of their popular hometown eatery? The Washington Post took a field trip to find out. Ownership of the restaurant has changed hands, the name is now simply the Shed, and it seems like customers have unfortunately "had to move on":
[T]here are few signs of lingering resentment. The calls threatening the restaurant stopped long ago, as did the ones in support of Beristain. A local businessman bought Eddie's, gave it a new name and a new look. Beristain is now in Mexico, desperate to return.

[…]

At The Shed, talk of the Beristains has been narrowed to quiet corners, where employees were unwilling to share their full names, fearing more threatening calls and comments like the ones that came in a year ago.
As for Beristain's situation now, in July, his wife and children left Granger for Zamora de Hidalgo, Mexico. The Post says that they now run a small pancake house there, and the kids are homeschooled because their parents fear that they'll be picked on at school.
Many of the Beristains' acquaintances have abandoned the steakhouse. A close friend left her server job there and moved to a restaurant down the road. Another regular says he can't go back anymore — although he remains a Trump supporter. "Roberto is gone, but there's reason to be optimistic. I prefer to be optimistic," he tells the Post, adding: "My taxes are down."
The government grants amnesty and work authorization to undocumented immigrants all the time, and it was shocking that they would target a business owner who employed nearly two dozen people, had three American kids and an American wife, paid his taxes, and was an otherwise upstanding citizen with no criminal record. He'd applied for a green card, but the Obama administration had given him a work permit, Social Security card, and driver's license to use in the meantime, as long as he checked in annually.