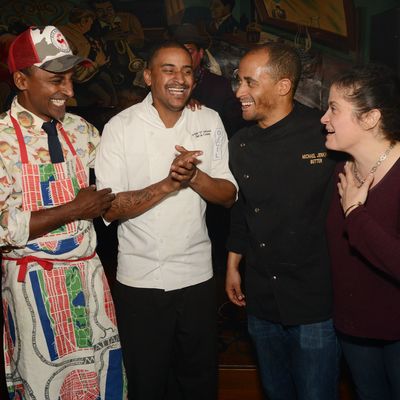 Party time.
Photo: Vanessa Marisak/Courtesy of Harlem Eat Up!
Mark your calendars, food geeks: Tomorrow, March 16, tickets will go on sale for Marcus Samuelsson's fourth Harlem EatUp! Festival. The uptown food event returns on May 14, with six days of events centered around celebrating Harlem's edibles, drinks, music, and culture.
The events this year include the Dine in Dinners series, which pair local and guest chefs; the Grand Tasting of Morningside Park, for outdoor eating and live music; and collaborations from chefs like Daniel Boulud and Melba Wilson of Melba's. Harlem restaurants including Lolo's Seafood Shack and Chaiwali will be participating, and new guests this year include a Tribe Called Quest founding member Jarobi White, who will cook onstage with Samuelsson and Top Chef season-15 runner-up Adrienne Cheatham. Check out the full lineup of participants here.