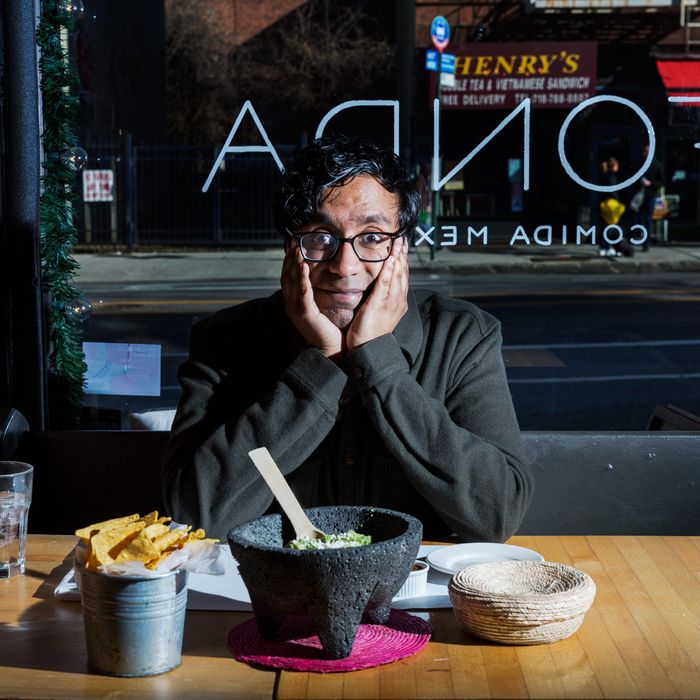 "In the evening, I had a lovely dinner at my favorite neighborhood restaurant, Fonda."
Photo: Mark Abramson for New York Magazine
Hari Kondabolu never rests. The Queens kid is best known for his stand-up comedy, but he's worn many hats in his life: He once worked as an immigrant-rights organizer in Seattle and got his master's at London School of Economics. His comedy is, unsurprisingly, socially conscious and often deals with issues like Indian stereotypes. Last year, for example, he wrote and starred in The Problem With Apu, a successful documentary that tackles the racism of the Simpsons character. Back in New York, on the cusp of another tour, he had the rare "two Doritos week," encountered a minor tragedy when he realized it wasn't "Muffin Day," and binged on snacks and went to Boston with his brother for their podcast. Read all about it in this week's Grub Street Diet.
Thursday, March 15
After spending two magical weeks in Honolulu for a residency at the Shangri La Museum, I was back in New York City and incredibly jet-lagged. I woke up around noon, and my dearest mother made me scrambled eggs with a variety of peppers. It was filling. But what I actually wanted for breakfast was my favorite meal, the South Indian breakfast dish "idli." Idli, according to Wikipedia, is a "savory rice cake." That is an acceptable definition, but does not capture the taste of idli soaked in sambar and my mother's peanut chutney made with her original recipe. "Savory rice cake"? No. It's ambrosia, my friend.
Idli is not my favorite dish. My mom's idli with peanut chutney is my favorite dish. This particular dish, the way my mom does it, there's nothing better. It's a thing my mom will make when I'm home, particularly on Sundays. But she is recovering from knee-replacement surgery, and her delinquent stand-up-comedian son asking for idli seemed completely unacceptable.
The eggs held me over until dinner. The eggs … and the Keebler pecan Sandies I ate throughout the day. Why did we have pecan Sandies? I haven't seen a package of pecan Sandies since the late '90s.
In addition to the mystery Sandies, I nibbled on the Hawaiian shortbread cookies I gave my parents as a gift. They were from this place called Hawaiian Cookie Company. Flavors like mango, Kona coffee, chocolate-covered macadamia nut were splendid, and exactly what a tourist like me would buy.
For dinner, I was fed a sensible meal of grilled chicken with a side of avocado, grilled beets, and sautéed spinach with garlic. I then destroyed that perfect meal when I devoured a bunch of Cool Ranch Doritos. After, I took a car back to my apartment in Windsor Terrace, Brooklyn.
Friday, March 16
I woke up "early" (10 a.m.) and headed to the farmers' market in front of the main entrance to my corner of Prospect Park. I call this day of the week "Muffin Day." I tragically discovered that there was no market because it was Thursday, and I forgot the market — and its muffins — is only on Wednesdays.
I then discovered that it was actually Friday, not Thursday. The day started with much disappointment and confusion.
It's not just the muffins for me. I like the act of going to the farmers' market, knowing they're made by an independent farmer or whatever, and, yeah, they're good. There's pumpkin with chocolate chip, that's my favorite; zucchini; and I love the apple-walnut. They also have powdered doughnuts. It's great. What it should be is a treat versus one of many treats. My vice is fewer chips, more sugar. I used to have dreams about being locked in a bakery overnight and eating everything. These were dreams I had up until I was 17 or 18.
I went to my local New Zealand pie-and-coffee shop, Dub Pies. I am a regular at this fine establishment, and as a result of my celebrity status in that corner of Prospect Park, I have been granted free coffee for the rest of my life. It's fantastic coffee, and my usual order of an Americano was prepared, without me having to order it, by the fine actors and comedians who work as baristas. I was in a rush to head into the city to record an episode of Andy Zaltzman's podcast, The Bugle, for which I am a rotating co-host. I bought an "orange & currant" scone to nibble on. It's weird that I bought this, since there was a fine selection of savory pies available … plus, I hate currants. When I lived in the United Kingdom, I had a pack of Skittles, and when I tasted purple I had certain expectations and was very upset. The fact the British often have "currant-flavored" candies instead of "grape" is atrocious. Not "colonialism atrocious," but still not good.
In the evening, I had a lovely dinner at my favorite neighborhood restaurant, Fonda. I always order their guacamole to start, which comes out in a mortar. I get some salsa to mix in — it's a chipotle not-too-hot sauce — and eat it with chips and warm tortillas. I also had the sweet plantains and enchiladas Suizas, which are chicken enchiladas covered in green, creamy salsa. I debated whether or not to get their mole enchiladas, which are also delicious, but the Suizas did not disappoint. I haven't had that much great Mexican food in New York. This is a fancier place, but it's some of the best I've ever had.
A few hours later, I went for a walk with my new friend Andrea. I like going for walks: They are a wonderful way to both relieve stress and catch up with friends. It is also a fun and easy way to burn some post-dinner calories. We ended up at the Doughnut Plant near Barclays. We went halfsies on a banana doughnut and a hazelnut-chocolate doughnut with Nutella in the middle. The fact that Nutella is not a serious competitor to peanut butter is ridiculous to me. Peanut butter is peanut butter. You realize there's something better and you can't understand why we don't eat it instead. The peanut butter–industrial complex is strong.
Saturday, March 17
I woke up and asked Carmen Lagala, my friend and one of my opening comics on the road, if she wanted to get brunch. We got Americanos at Dub Pies and walked to Kiwiana, another New Zealand establishment. I ate avocado toast with two eggs on top over easy. Afterward, Carmen and I shot videos to promote my upcoming spring tour dates, and then I stopped at 209 Station for a homemade chocolate-and-peanut-butter rice-cereal treat.
For dinner, I decided to order in because it was a Saturday night, and I did not want to interact with the riffraff outside. By "riffraff," I mean the 20-somethings who were enjoying their lives and drinking many varieties of alcohol. It was St. Patrick's Day, so people were extra jolly. Me? I ordered a salad with mango, cucumber, salmon, and tuna; a spicy tuna roll; and a banana-flavored mochi ice cream. I spent my night watching college basketball, and slept comfortably.
Sunday, March 18
I again woke up around noon. The jet-lag excuse was starting to wear thin. It was a busy day, since my brother Ashok (a.k.a. Dapwell from defunct rap group Das Racist) and I had to record The Kondabolu Brothers podcast that night at Littlefield in Gowanus. It's our live weekly podcast on Earwolf, loosely based around a PowerPoint. We tell stories, endorse products in hopes of free stuff (much love to Talenti for hooking us up with alphonso-mango gelato), and have words pop up on the screen to improvise off of.
I drank my usual at Dub Pies and had one of their lovely Anzac cookies. I then ate a fantastic meatball sandwich at 209 Station up the block before meeting up with Ashok and our producer Tim Barnes around 2 p.m. to prep that evening's show. Normally, I eat chicken parm, but I was rushing. One of the major regrets of my week is that I didn't go to Terrace Bagels. I love Terrace Bagels. I would've gotten a chicken parm or lunch sandwich, sometimes I get eggs there.
After having a fantastic show, I hung out with my friend Brittain Ashford, who played Sonya in the Tony-nominated Broadway musical Natasha, Pierre & the Great Comet of 1812. I was starved, since I hadn't eaten anything after that meatball sandwich in the afternoon. I should've gone to Parklife, a fantastic bar owned by the owners of Littlefield and ordered the amazing tacos from Taqueria El Atoradero. However, I did not want to deal with the Brooklyn paparazzi. Also, I forgot it was there. Brittain heated up some leftover macaroni that she had made the night before. I was very hungry, and it was the greatest macaroni I've ever eaten.
Monday, March 19
The day started at La Guardia Airport. Ashok and I were flying to Boston to do our podcast live twice at ImprovBoston. I ate some hard-boiled eggs at the Delta Sky Club, of which I am a member.
We arrived in Boston that afternoon and went to our hotel in Cambridge. For lunch, we went to Haute Coffee. I ordered a sandwich with turkey, mozzarella, and pesto, along with an Americano. I also got a small piece of clementine cake for what I have coined "lunch dessert." I had never tasted "clementine cake," and it was delightful.
I don't like Boston. I really don't like it. My brother and I — that was part of the first show we did there. I went to college in New England, and there's something about that whole pride in being a Masshole. The race stuff is uncomfortable. There are so many other things. We were in Cambridge, which I do like and is kind of shitty on my part, like, Oh, you do like the rich area with the college.
We had two very fun shows, but skipped dinner after. We had been eating Nacho Cheese Doritos, Cheez-Its, and M&M's for several hours. (These were plain, but peanut is 100 percent my favorite.) I hadn't had Doritos in a while before this week. A two Doritos week is very bizarre. Note that my brother and I are both in our 30s. I debated whether to lie about what I ate today to make myself sound healthier.
Tuesday, March 20
At Logan Airport that morning, I again ate breakfast at the Delta Sky Club, of which I am a member. I had two hard-boiled eggs, a small bowl of granola with milk, and half a cinnamon roll. The internal debate about that cinnamon roll lasted for several minutes before I folded. There's nothing about cinnamon rolls — they're just bad. A muffin, you can lie to yourself. There are raisins in it. There are nuts in it. There's bran. You know what I mean? Even though it's cake essentially. I think a cinnamon roll is just — it's dessert for breakfast. It's like a Pop-Tart. But at least a Pop-Tart is marketed in a way that you can pretend it's breakfast. But a cinnamon roll is a fucking cinnamon roll. It's goo. Anyway, I also sneaked out food for my brother.
I moved my flight to San Francisco to this evening because of an impending storm the next day. I was performing with Margaret Cho, Ali Wong, and Aparna Nancherla at UC Berkeley, and I was not going to miss my show. Margaret was the reason I started doing stand-up when I was 17; Aparna and Ali are good friends who opened for me years earlier. That will likely not happen again. By the way, if you have the desire to be famous, let me know, and you can open for me!
As a result of the flight change, my day was packed with errands and running around, so I subsisted on a fudge-brownie Clif Bar. That evening at JFK, though, I ate dinner at the Delta Sky Club, of which I am a member. The food was shockingly good. They had a pasta with kale, mushroom, and butternut squash; chicken with a creamy sauce with Chardonnay in it; and garlic jasmine rice. My water was even infused with lemon and mint. The meal was delicious, and best of all, it made me feel less awful about eating at the airport twice in one day.
On the plane, I snacked on a Tillamook cheese plate with pepper Jack, cheddar, and some white one. There were also apples, grapes, and a piece of Ghirardelli dark chocolate made with roasted almonds and sea salt. It was fun documenting my diet this week. Also, I think I need a nutritionist … and a salad.