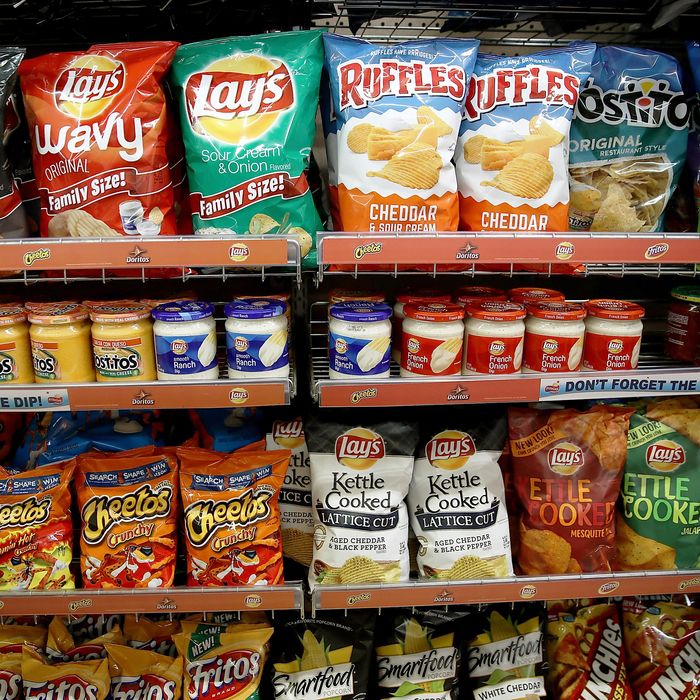 Better days.
Photo: Justin Sullivan/Getty Images
Had your junk-food cravings stymied lately by an empty bodega chip aisle? Blame Frito-Lay: Corner stores around town are reportedly running out of everything the company makes — so Doritos, Cheetos, Fritos, Lays and Ruffles chips, Rold Gold pretzels, Cracker Jacks, Grandma's cookies — after the PepsiCo subsidiary cut the pay of its delivery drivers by as much as a third, prompting many to quit.
The Post reports that Frito-Lay has tried spreading remaining drivers through New York as evenly as it can, but bodega owners say that in some cases they've seen nary a Cheetos bag in over three months. "I call the distribution center and no one answers," one operator tells the paper. Another who owns 33 Gourmet Delis in midtown says he's fed up at this point, and is just "done with them."
According to the Post, 35 of 140 drivers have quit Frito-Lay's Brooklyn depot (whose zone extends to lower Manhattan and midtown stores), and 12 of 105 have quit in the Bronx. The pay change affects drivers nationwide, and apparently consisted of swapping a "more salary-driven" structure for a commission-based system in which some drivers in bodega-dense urban cores reportedly used to make almost six figures. The company argues that drivers around the U.S. have seen "an increase in overall compensation" on average, but that calculation includes the ones in Wyoming, where it's 50 miles to the next Flying J truck stop. (The new salary is said to be around $50,000.)
Some drivers say they're now doing freelance delivery for Amazon, or driving for Uber on the weekends. Of the ones still delivering Cheetos, the Post adds that some especially desperate store owners, meanwhile, have resorted to ambushing them on their routes to try to bum chips or pretzels.