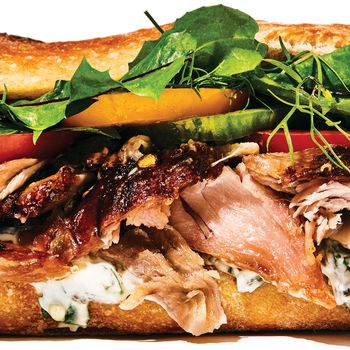 Frenchette's knuckle sandwich.
Photo: Bobby Doherty

"Frenchette" is a song off ex–New York Dolls singer David Johansen's self-titled first solo album, which makes it an apt name for the first independent restaurant from Lee Hanson and Riad Nasr, the co-chefs who spent 16 years opening instant hot spots Balthazar, Pastis, Schiller's, and Minetta Tavern for Keith McNally. In an era when the once-immutable divide between back and front of the house, between sequestered cook and deal-making restaurateur has disintegrated, Nasr and Hanson remained relatively under the radar, helping establish the template for a certain kind of modern New York brasserie. But if you think their experience will form the basis of their new Tribeca project, you're only half-right.
"It's a philosophical discussion," says Nasr. "Do you run away from what you've done, or do you embrace some of the elements that you've done before? And how do you sort of skirt that line and stay true to yourself?" Like Balthazar, Frenchette will be open all day, serving breakfast, lunch, and dinner, and as at Minetta Tavern, there will be steak. But now, with only one kitchen to oversee, the chefs want to marry consistency with spontaneity — to let their menu be guided more by the market and contemporary tastes. To that end, and to challenge themselves, they've installed some new kitchen gear — a Japanese charcoal grill and a French rotisserie, which they plan to use for dishes like a "knuckle sandwich" made from rotisserie-roasted veal knuckles dressed with gribiche sauce and dandelion greens.
"Are we just the 'côte de boeuf for two' guys?" asks Nasr, referring to the Minetta Tavern signature. "No. We're not whole-animal either. But there's a way of presenting cuts at their peak." An aging room for meat will give them more control over that process. And without the corporate tie to Balthazar Bakery, the chefs will source loaves from Roger Gural's Arcade Bakery nearby. "We love his bread, and we love that he's local," says Nasr. The space, too, will deviate from what has become familiar McNally territory, with curved cove ceilings rather than pressed tin; plaster wall treatments instead of wood paneling; red-lacquered chairs that subtly evoke traditional red banquettes. As for the white subway tiles: "They're in the kitchen," says Nasr.
Wines will have a natural bent and drinks will lean French: "A little aperitif-y, not so heavy booze; cocktails that cue the palate," says Nasr. And when it comes to the compulsory burger, just what do the creators of Minetta's Black Label have in mind? Something simpler, cheaper, and not so scene-stealing. "There was a time where the burger was kind of this sidekick, and we kind of want to put it back there," says Hanson. Which means you might only find it at lunch or in the bar. There's been altogether too much obsession with burgers, the partners believe (not that they didn't have something to do with it). "Let's get them obsessed about veal knuckles," says Nasr.
Frenchette, 241 W. Broadway, nr. White St.; October.
*A version of this article appears in the August 21, 2017, issue of New York Magazine.