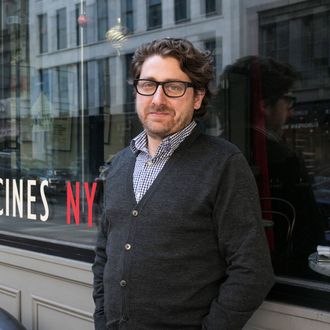 Korsh.
Photo: Melissa Hom
Following allegations of persistent misconduct by chef Eric Korsh at North End Grill, the owners of, Racines, the restaurant where he has been working, have announced a "mutual agreement" to part ways.
Korsh's alleged behavior was detailed in a lengthy report about mishandled abuse at Union Square Hospitality Group, which operates North End Grill. Korsh was announced as the Tribeca wine bar's new chef in January.
In an Eater report, former and current staff alleged that Korsh was immediately a problem at North End Grill, and that he gave massages to women without permission, remarked inappropriately about female staffers, and had an explosive temper. Korsh denied the allegations. In an email, Racines's David Lillie writes that sous-chef Mariana Mateos will take the position of executive chef until she leaves to open her restaurant in April. Korsh provided a statement via email, writing, "I have spent considerable time reflecting on my approach to running a kitchen," and that he is "deeply sorry I made some colleagues feel badly" and is now "fully dedicated to maintaining a policy of zero tolerance."
This post has been updated with comments from Korsh.