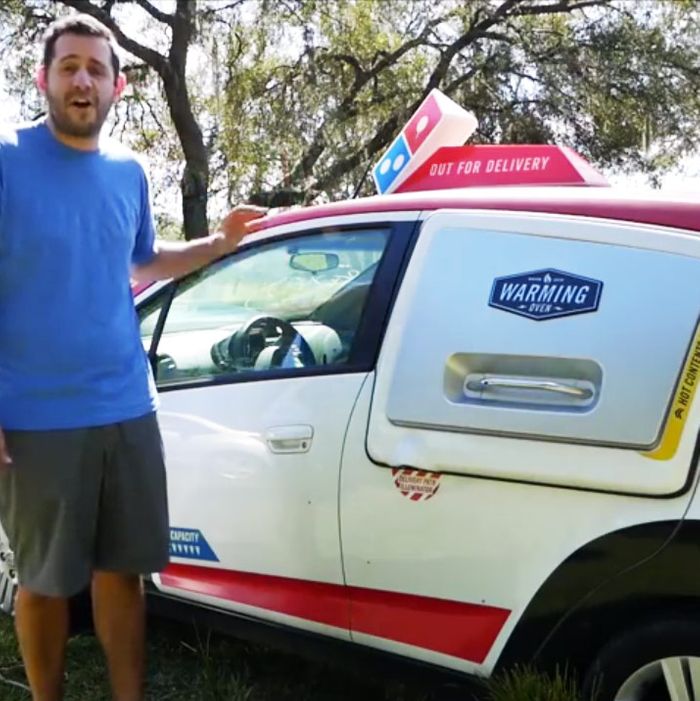 Samcrac showing off his lawful new ride.
Photo: Samcrac via YouTube
Last November, YouTuber Samcrac paid $525 for a busted-up Domino's DXP delivery car — a modified Chevy Spark with a warming oven on the side. He had it, ahem, delivered to his shop, then started chronicling the odyssey of restoring it, just one of 154 DXPs in existence.
It took several months, plus DIYing replacements for certain proprietary parts, and he even found some secret buttons inside:
But the real fun began several weeks ago, when Samcrac announced that he'd purchased his second wrecked DXP. Within days, he got a threatening call, later revealed to be from a Domino's franchisee's reps, that said, "Make it back into a Chevrolet." He was told to remove all identifying Domino's marks, including the car's trademark pizza warmer.
The mystery men called again a few days later, and this time offered to buy the car from Samcrac. They offered $10,000, nine times less than the highest offer he's received. He turned their bid down, but suggested they collaborate by having their "organization" (i.e., Domino's corporate or the franchise) deliver 80 pizzas — the DXP oven's max — to a school for children with disabilities. The men reportedly told him they'd consider it, but no headway appears to have been made. Samcrac has, however, now reportedly received a cease-and-desist letter.
Naturally, he posted an update explaining this development to his 150,000 YouTube subscribers:
Presumably for legal purposes, Samcrac hasn't officially said Domino's people were behind these calls. The website Jalopnik reports that Samcrac was "nervous on the phone" when they talked, but one of its reporters contacted the pizza chain directly to ask what's up, and Domino's gave this answer:
Here's what we know: the franchisee to whom the car belonged offered this gentleman $10,000 for it; he countered with a request for $90,000. From there, it became a legal issue and that's all we can say at this point.
Samcrac argues that it's his right to drive his own personal Domino's car around however he wants — with logos prominently displayed, should he so choose — because this falls under fair use. Meanwhile, his video about the threat has now hit nearly 850,000 views.
Legal experts watching this mess unfold aren't sure he's right, debating differences between copyright and trademark violations, and blah, blah, blah. By now, though, Domino's and the franchisee (or franchisees) who owned the DXP cars probably wish they'd gone the easy route and just politely asked him to remove the decals and shipped 80 pizzas to those kids.