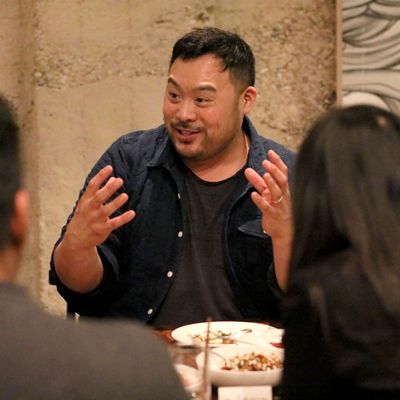 Chang explaining his strategy for taking over the world.
Photo: Rachel Murray/Getty Images
Not content just to have his Netflix series Ugly Delicious, David Chang has announced that he's starting Majordomo Media. In a statement provided to The Hollywood Reporter, the chef says that he wants it to be "a place for people to connect over the things I believe define culture: travel, food, music, sports, exploration." It won't be about "the new cool thing," but he wants it to be a place "where people can consider culture and race and have strong opinions." Named for his new Los Angles restaurant but independent from Momofuku, Majordomo Media will be a platform for podcasts, television development, and editorial.
For Majordomo Media, the Momofuku man has gotten into business with Christopher Chen, formerly of Looper producer Endgame Entertainment, and former Wired editor-in-chief Scott Dadich and his Godfrey Dadich Partners. Their team includes former Condé Nast Media Group president Lou Cona. Most interestingly, to food geeks, is that Chang has also brought along a couple of key players from his defunct Lucky Peach magazine in Rachel Kong and Chris Ying. How much Lucky Peach DNA Majordomo will have, obviously, has to wait to be seen. Dadich, for one, tells The Hollywood Reporter that the new company "won't feel like anything else in media," and says they're designing it for this year and on.