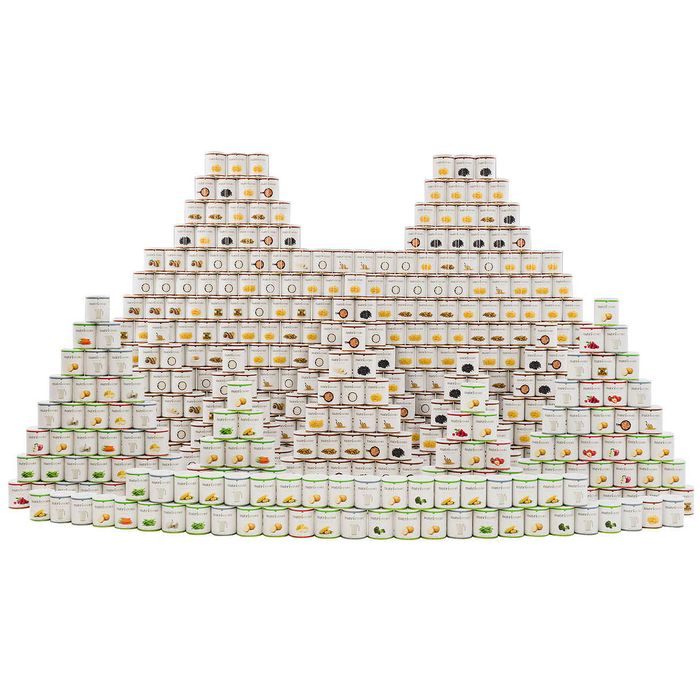 Doubles as a living-room art installation, if you have the space.
Of course you like 30-count variety packs of SunChips and four-pound-sized tuna cans, but as a Costco member, how truly committed are you to the concept of bulk purchases? If your answer isn't "I'm willing to spend $5,999.99 on a Nutristore 1-Year Premium Food Kit so my family of four can survive the apocalypse," then maybe you should ask yourself why you even pay that $60 annual membership fee.
These megapacks are now on sale at Costco's website, alongside less intense offerings. (For all you bachelor survivalists out there, a one-year kit for a single person will set you back just $999.99). The family-sized option's used-compact-car price tag is actually quite reasonable, if you just investigate the kit's contents without stopping to think about how it's an absurd amount of food for an even absurd-er fear: The kit contains 600 cans that pack "over 36,000 total servings" for you and whoever you want to hang out with once the End Times or the zombies or Supreme Dictator Trump finally comes. (The kit can, if everybody wants 2,000 calories a day, feed four people for 12 months, eight for six months, or 16 for a meager three.)
Your crew gets to select from several dozen ingredients — rice, elbow macaroni, freeze-dried green beans, dehydrated apples, beef- and chicken-flavored tofu, plus a product alarmingly labeled "butter powder." The best-preserved of these products expire in 30 years, so buying the kit honestly suggests a pretty glass-half-empty view of civilization. (The planet's gotta go to crap by 2048, or you just burned six Gs?)
The kit is delivered as two pallets of boxes that together weigh 1,800 pounds. To keep neighbors in the dark, Costco promises everything is "packaged discreetly." So the reckless Griswolds next door may die of starvation, but your family can relax "knowing you have the essential foods your family will need to survive an emergency or natural disaster!" That's even better, because you won't have to fight over territory.
It seems Costco may have blown the marketing angle on this one. It's sold under the website's "Emergency Food by the Pallet" section — pretty gauche — but in just the past few weeks, consumers have seen Weight Watchers meal kits, Walmart meal kits, even meal kits for poor people if the Trump administration gets it way. Costco should be selling its 36,000-serving packs of cans as the planet's most convenient meal kit — one delivery per year, and you're done.