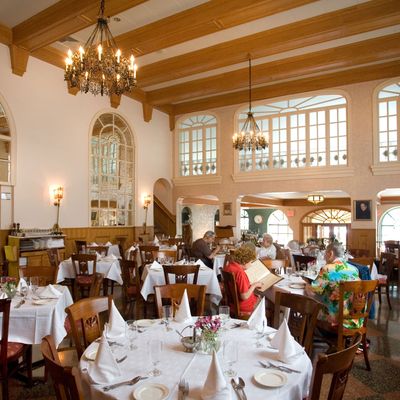 Photo: Konstantin Sergeyev
After this post originally ran, the family that owns Gargiulo's announced that it would cancel the event.
A well-regarded Coney Island seafood restaurant is planning to host an event that has made it the target of heated criticism. Century-old Gargiulo's says that on April 12, it will hold a dinner for the Brooklyn Friends of the NRA, the group's annual fundraiser. Per the flyer, it's the group's second-ever such event, intended to provide gun fans a chance to "join other champions of the Second Amendment for dinner, raffles, auctions, and fun."
Dinner tickets cost $75 apiece, and there will also be gun raffles. Some attendees will walk home with a handgun, a revolver, a .22, a special "women's rifle," a shotgun, a John Wayne Lil ' Duke air rifle, "and more!" As the flyer explains, special $50 raffle tickets will allow guests to potentially win a knife set plus a .45 with a "Defending Freedom" engraving, and $1,000 will get ten dinner tickets and ten entries into the "black gun" raffle.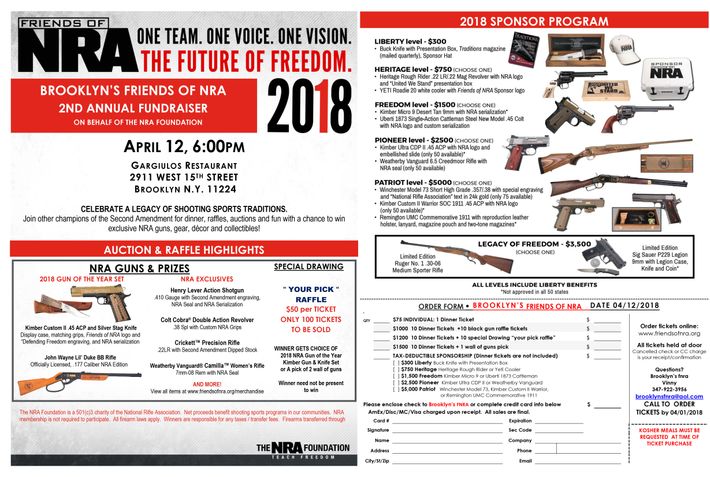 Elected officials are already trying to stop the event. A joint statement signed by State Senator Diane Savino, Congressman Hakeem Jeffries, Public Advocate Letitia James, Comptroller Scott Stringer, and Councilman Mark Treyger says: "At a time when our country is mourning the loss of 17 lives in a mass shooting, it is profoundly disappointing that a storied Coney Island institution, with a long history of being a strong civic and community partner, is choosing to host a National Rifle Association fund-raising event that includes raffle giveaways of guns." The statement goes on to call the situation an "affront" to allow this sort of event to take place in a Brooklyn neighborhood with such a dark history of gun violence.