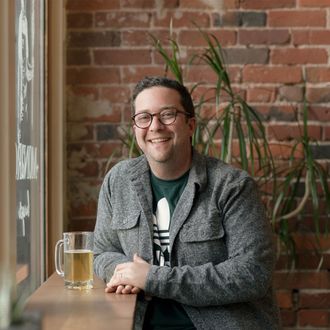 "I have a Phillips Pilsner … and then another Phillips Pilsner because the first one was really great."
Photo: Jennilee Marigomen
In addition to his stand-up work, Gabe Liedman has written for shows like Brooklyn Nine-Nine, Broad City, and Transparent. (He also made a recent appearance on Drunk History and his Twitter account is consistently great.) Yet he's also known to New Yorkers as one-third of the Big Terrific comedy trio — a show he still occasionally hosts with Jenny Slate and Max Silvestri in L.A. This week, however, Liedman spent his time in Vancouver with his husband, where he tracked down some honey-Parmesan doughnuts, a Chinese-food feast, and the only kind of breakfast bowl worth ordering — a corned-beef hash bowl, which is actually served on a plate? See how that works, and much more, in this week's Grub Street Diet.
Saturday, March 3
I have an early flight, my third in three days. Really early. But I am a morning person and I can make it happen. I have breakfast at home: a big iced coffee with soy creamer and sugar. I am not lactose intolerant, but I like nondairy creamers. They taste a little bit like oatmeal, or something.
I also have cereal — Wheat Chex and Golden Grahams mixed together, with regular dairy milk. Plus an orange from my backyard. That's right, I have oranges that grow in my backyard, and they are very, very good oranges.
I also take a bunch of supplements (vitamin C, zinc, fiber, and spirulina) and drink a ton of water. Too many flights can fuck a person up. Do people usually include supplements in these things? If not, I will be mortified.
I fly to Vancouver, British Columbia, to meet up with my husband [author Daniel Zomparelli]. He's from there, and was doing a reading on Vancouver Island. I missed the reading because I had a stand-up show with Jenny Slate at Northwestern University, but I'm excited to get there because Vancouver is the best. It's a great foil to life in L.A., weather-wise and vibe-wise and size-wise.
I land in the early afternoon, and my husband is hungry because he's not a breakfast person and hasn't eaten anything yet. We go to Cartems Donuts and, naturally, get a doughnut. I go for the honey Parmesan, which is absolutely delicious with big chunks of Parm on a spongy, sweet, cakey doughnut.
It's uncharacteristically sunny out, so we walk to the American, a big bar owned by friends of ours, and see a lot of fun, familiar faces. It's been a couple of months since we've been in town. I have a Phillips Pilsner, from a craft brewery in British Columbia, and then another Phillips Pilsner because the first one was really great.
It's time for an early dinner — the best kind of dinner — and we're in Chinatown. We put our names in at Bao Bei. There's a long wait, so we pass the time at the bar at Juke Chicken across the street. Juke seems delicious, but we just have a cocktail with yet another lovely friend on her way home from a literary event. I have the London Calling (fig gin, sherry, lemon, orange bitters, and cinnamon), which is surprisingly crisp and not as sweet as the ingredients made it sound like it would be. It is kind of like iced tea. I follow it up with a can of refreshing and local Good Company Lager.
When our table's ready at Bao Bei, we go to town. Bean-curd skin with king oyster mushrooms and chili-ginger vinaigrette (surprising MVP of the meal for me), steamed prawn scallop and chive dumplings, steamed buns with braised duck and crispy chicken skin, schmaltz-poached chicken fried rice, and sautéed pea greens. I also keep the gin-cocktail thing going with a Short Sterling (gin, maraschino, salted lychee cordial, lemon, and grapefruit). The whole meal was truly great. Definitely worth waiting for a table, which I truly don't love doing. Who does?
Sunday, March 4
We meet friends for an earlyish breakfast, not brunch, at Deacon's Corner. After last night, I'm not starving, but for some reason I order like I am. I have a corned-beef hash bowl with scrambled eggs, which is actually served on a plate and is gigantic. I drown it in ketchup and hot sauce because those are the flavors of breakfast. I also have coffee and a lot of water.
We still have more friends to see, but we also have major dinner plans tonight, so we kind of skip lunch and do a super-early happy hour at Caffé Barney. I have a Greyhound because my friend Roxan's looks really good, and we all split a basket of fries. It's a Sunday afternoon well spent.
Dinner tonight is with my husband and sister- and brothers-in-law at Savio Volpe, so Daniel and I watch Moonstruck to get in the mood. Italian food is very important to us, and Savio Volpe is unbelievable. It's great to go in a big group because that means you can order pretty much the entire menu, which we do.
For apps, we share a big ball of burrata with garlicky toast, dry and meaty prosciutto with shaved apple and Grana Padano, and white anchovies with mixed citrus and Calabrian chilies.
We then have two incredible salads (yes — incredible salads): kale with lemon-pepper dressing and crunchy bread crumbs, and farro with chickpeas, squash, dates, and ricotta salata.
Finally, it's pasta time, and because we are geniuses, we order every pasta they have. It is insane, but don't worry, we finish all of them. Reginette with beef braciola, meatballs, pork rib, and Sunday sauce is clearly hard to beat. But, honestly, every single pasta dish stands up to the challenge. Lemony linguine with shrimp scampi takes me back — that was a Liedman household staple growing up. The tagliatelle with pork ragù bianco is surprisingly light and savory, and the stuffed pastas (tortelli with greens and ricotta in red sauce and chicken-duck-pork agnolotti in roasting juices) are just perfect.
Even though that was a literal feast, we order dessert: a dark-chocolate torte with olive oil and salt, and tiramisu. I think because we impressed everyone on staff with our Thor-level appetites, we are rewarded with a little bit of amaro to wash it all down.
I sleep like a rock.
Monday, March 5
We've officially done all of our socializing for this trip, and eaten enough to last us until mid-May. I start the day with an almond latte from the Federal Store luncheonette, the cutest corner store–slash–bakery you could possibly imagine. Normally, I would get the turmeric toast, but I can't even think about food yet.
Daniel and I don't eat until lunch, which we have at the Arbor. The Arbor is associated with one of my very favorite Vancouver restaurants, the Acorn, which we weren't able to squeeze in on this trip. The Arbor is more casual than the Acorn — burgers and flatbreads and stuff. I get the winter salad: roast squash, beets, fennel, and Brussels sprouts with warm millet and smoked-onion-cashew fraîche. I also get the lemon iced tea, which is weirdly amazing. It's perfectly sweetened and so lemony. It kind of makes my day.
I have to head to the airport in the late afternoon, which kinda messes with dinner. I eat a Kashi chia granola bar on the way, and have a vodka soda at Canucks Sports Bar in the terminal. I drink a ton of water on the flight because I've got an aisle seat, which makes me the king of peeing whenever I need to.
I get home pretty late, and don't have much food in the house. I do have cereal, though, and I love cereal. This time I have Cheerios and Golden Grahams, mixed. I also have a nibble of Kiva THC dark-chocolate, tangerine flavor. Because, you know, I'm a chill-ass dude.
Tuesday, March 6
Daniel is still in Vancouver, taking care of some business, so I'm alone in L.A. for the day. I start with coffee and eventually make a smoothie: kale, strawberries, spirulina, and coconut water.
My first appointment is a conference call around noon, and I still haven't gotten any groceries, so I order some lunch from Ohana Poké Co. in Silver Lake. I go for garlic-chili shrimp with brown sushi rice, and wakame-seaweed salad and masago. I get the smaller size, so I still have room for the whole reason I ordered poke in the first place: a Spam musubi. I do it for the shiso leaf, I swear! JK, I love Spam, I guess. Most processed meat and fish products are good with me. I can admit that.
The conference call never happens.
I'm between staff jobs right now, developing and chilling and deciding what to do next. In the afternoon, I go for a long walk in my neighborhood with two of my favorite people, who are in the same employment situation as I am. We stop at Caffe Vita, and I get a small iced green tea and some tap water.
For dinner, I make myself turkey meatloaf, and try to make it taste as much like pizza as possible. Dark-meat ground turkey, canned tomato, garlic, basil, Parmesan, fennel seed, bread crumbs, and an egg. I brush it with puréed tomato, Parmesan, oregano, and olive oil, and finish it under the broiler.
I also roast up Broccolini, cauliflower, and cherry tomatoes (with the guts squeezed out so that they're real raisiny). I drown everything in Frank's RedHot, so it tastes like home.
It's Girl Scout Cookies season, and I'm not immune. I have a Tagalong, and by "a Tagalong" I mean four Tagalongs, even though I really only want three.