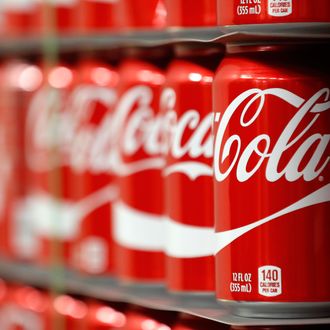 It's time to get ID'd for Coke.
Photo: George Frey/Getty Images
To keep its head above water, the Coca-Cola Company over the years has experimented with energy drinks, seltzers, fruit juices, bottled coffees, and even milks (as well as "milk flavored" products, such as Fanta Lactic). But until now, Coke has steered clear of booze. That seems to be ending: The Financial Times reports that the company will break that 126-year streak by entering the thriving market for "alcopops."
That is, of course, a category Americans know thanks to the newfound glut of spiked seltzers and hard root beers. But Coca-Cola is rolling out its first spiked soda in Japan because, well, the Japanese market for alcopop is much more evolved, in large part because of a drink known as chuhai that's become very popular. The carbonated beverage is easy-drinking, usually citrus-flavored, and typically involves shochu, so Coca-Cola is ready to start selling its own version to the masses.
Details on Coke's chuhai are scarce: It's unclear what the name is, where Coke will get the alcohol, which flavors it will come in, or what the alcohol content of these canned drinks will be. But Japan's biggest alcohol companies — Kirin, Asahi, Sapporo, and Suntory — have been selling chuhais at corner stores for ages, sometimes in co-branded cans with 7-Eleven. Their ABV is typically on par with beer (3 to 8 percent), sometimes they'll swap the shochu for vodka, and in recent years there's been a barrage of less conventional flavors, things like yogurt, West Indian cherry, and wild basil.
Early rumors of Coke's leap into chuhai started last year, after analysts speculated that Coke could expand into alcohol or at least cocktail mixers to drive growth, and CEO James Quincey coyly said that they philosophically "never say never" to ideas like that. Last month, Coke's Japan president Jorge Garduño spilled the beans that they did plan to introduce a drink with alcohol as a "modest experiment for a specific slice of our market," and turns out that specific slice is Japan's boozy-seltzer drinkers. Garduño warns the Financial Times that people outside this group shouldn't expect "to see this kind of thing" at their local bodega anytime soon, but never say never, right?