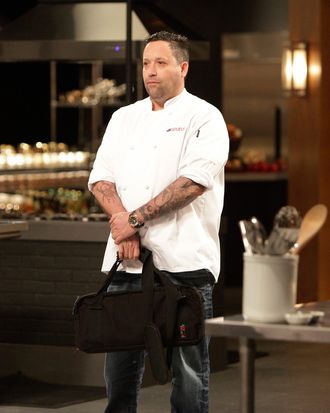 Isabella on
Top Chef
.
Photo: Nicole Wilder/Bravo
According to a new report in the Washington Post, Washington, D.C., chef and former Top Chef contestant Mike Isabella has been sued for sexual harassment by former employee Chloe Caras. Filed in the D.C. Superior Court, the suit alleges that Caras was touched without permission, her body was commented on inappropriately, and that she was called a "bitch" and a "whore." She is seeking $4 million in damages from Isabella, his company Mike Isabella Concepts, and business partners Yohan Allender, Taha Ismail, George Pagonis, and Nicholas Pagonis. Isabella, of course, is one of D.C.'s most visible chefs, and through his company operates 11 restaurants.
In her lawsuit, Caras — who was originally hired as a regional manager in 2015 and became director of operations in 2017 — says she was "routinely subjected" to sexist comments and insults, and that Isabella and Ismail both grabbed her from behind and simulated sex. The lawsuit also includes inappropriate messages from Isabella as well as Ismail and Pagonis, who she says included her in a group chat with sexually graphic images. The experiences, Caras tells the Post, caused her to develop anxiety.
According to the suit, the final straw came on December 5, 2017. That night, Caras was with Isabella, who the suit alleges had been drinking. When a sous-chef asked if he could join them, Isabella allegedly responded that he could if he slept with Caras. In an interview with the Washington Post, Caras says she told Isabella to stop and that he "immediately got angry." She claims that when she walked away, Isabella called her a bitch and he followed her into the kitchen. Two chefs who formerly worked for MIC, but asked to remain anonymous, corroborated the incident to the Post. According to the lawsuit, Caras was subsequently fired.
Caras is not the only woman talking about harassment at MIC. Sara Hancock, who worked for the company as a pastry sous-chef, says Isabella tried to kiss her without consent, that "whore" was used liberally, and described the work environment as both "degrading" and "a frat house."
Isabella and his partners deny the accusations, and say such behavior isn't tolerated at the company. MIC's lawyers didn't respond to Hancock's allegations, but dispute Caras's account of her departure from the company. They also say that before these allegations surfaced, MIC instituted HR changes because of the restaurant industry's historically sexist culture.