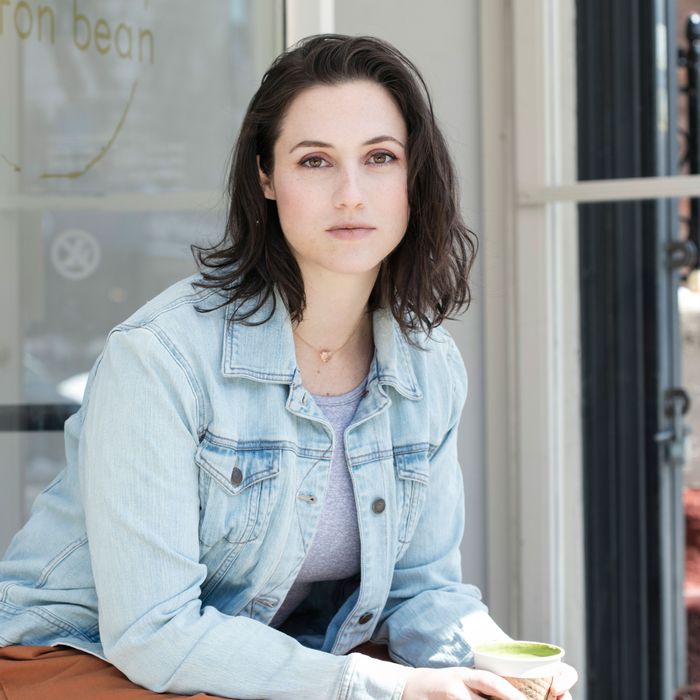 At Cafe Cotton Bean.
Photo: Melissa Hom
Casey Johnston writes, most often, about technology and science, and she recently joined the Outline as its future editor, where she tackles topics such as the new Macbook keyboard's issues, the Cambridge Analytica leak, and why Tinder is a racket. You likely also know her as the Hairpin's "Swole Woman," thanks to her brilliant column that will be revived in Self starting next week. Her diet, of course, features lots of protein, but she also found plenty of time to try Ugly Baby and the George Washington Bar, mosey around Chinatown for lunch, and get in a double feature at Estela and Miss Lily's. Read all about it in this week's Grub Street Diet.
Thursday, March 22
I'm an insistent breakfast person, and if I don't know where food and coffee are coming from first thing in the morning, I'm completely lost.
I shamelessly stole this trick from Seven Point Espresso in Prospect Heights: Zest a couple of citrus fruits into Greek yogurt and sweeten it with something, and it will be the best thing you've ever tasted. If you, like me, would eat a lemon bar or Key-lime pie at any minute of the day, this really fills that hole in your heart. I was getting to the end of a grapefruit-and-lime zest tub, which I added to some dried cherries that I brought from Thailand and oats soaked in milk.
I've been eating some variation of overnight oats most mornings since, like, 2012 when they first started popping up on Pinterest. At my best, I will make giant tubs for the whole week on Sunday and glop it out into a bowl every morning. Overnight oats are great because they flex up and down calorically, but I can always pack them full of protein; since I lift weights and I'm getting ready for a powerlifting meet in June, I need to get in at least 140 grams of protein per day. My oats have something like 40 grams.
I also made coffee with Peruvian beans from Heart Coffee; after three years, I finally bought an electric burr grinder, so my home pour-over game is extremely strong.
When I'm trying to build strength, I oscillate between bulking and cutting. Right now, I'm at the tail end of a cutting cycle and desperate for it to be over; I've been stuck eating 1,850 calories per day for a few weeks. Fortunately, this was my first cheat day in over a week. A well-planned cheat day is always pretty satisfying, and an unplanned one sometimes descends into chaos. Either way, it's a good time.
I left my house and went to Cafe Cotton Bean for a matcha latte on the way to the Outline's new office in Chinatown; Thursdays, we get free lunch, and this week things were chaotic, so we just got An Choi from around the block. My bánh mì was not great, but I ate most of it because the day was lawless. Afterward, I got a cheese stick from the office fridge, but couldn't even finish it. This is the evil of cheat day: You are mostly so used to not eating with abandon that by the time it rolls around, your body literally can't accommodate much food.
One of my co-workers promised to buy me a cookie, but I maneuvered him into going to Melt Bakery for ice-cream sandwiches. It was even nice and sunny out, so we walked around and took in more of the neighborhood, finding a taco place and a croissant place so artsy that it cannot possibly be good, but if we had to eat several croissants to ascertain that, so be it.
After work, some of my co-workers wanted to do happy hour in our new neighborhood, so we went to Max Fish, where I had some canned sparkling rosé like a class act. Then I headed to the George Washington Bar at the Freehand hotel, where I met a potential writer. We waited a bit in the attached game room, which has Pac-Man and tabletop shuffleboard; the cocktails are expensive, but so good (I had the Dance With the Devil), and we shared an order of fancy chips and ranch dip.
By the time I was on my way home, I was hungry again, and briefly considered stopping into Cent'Anni for pasta. Instead, I got to my kitchen and made an appetizing plate of some Trader Joe's cheese, fig and rosemary crackers, a few peppermint Joe-Joes, and a cake truffle (chaos). By the end of that, I was sugared out, but followed it up with chocolate-chip-cookie-dough ice cream and chocolate sauce, just to leave no indulgence stone unturned.
Friday, March 23
I made pour-over coffee and cut the dregs of my grapefruit yogurt with some cottage cheese; I'm honestly waiting for some company to throw its marketing weight behind cottage cheese. It has so much protein, it's just waiting to be discovered. They will have to call it something else, maybe to do with "curds."
I met the Outline's exec editor Katie Drummond at the office and we went to Davelle for lunch; I expected it to be packed, but we were seated right away. She got the salad, and I got the curry rice, which is amazing, and we both got matcha lattes.
I was able to leave the office a little early, so I could squeeze in a training session at my gym, Murder of Crows Barbell. Midway through my deadlift sets, I discovered that someone brought Thin Mints, and I am not one to pass up a Girl Scout cookie.
I have a background of disordered eating, which I talk about pretty openly and touch upon regularly in my column, since it's a problem that something like 75 percent of women struggle with. Lifting weights completely changed my relationship with food, such that I can just have a cookie and not stress about it for days before and days after. Even when I'm cutting weight, it's about eating as much as possible to preserve lean muscle mass while still keeping that modest deficit, so I can lose body fat and restore my hormonal responses, and then start muscle-building all over again. It's made my relationship with my body and food constructive, instead of destructive, and part of the reason I stan for lifting is that I want everyone, especially women, to know that eating doesn't have to be about circling a drain of less and less and less.
Luckily, all of my sets were low-reps, so I didn't get too sweaty, and I went straight home to change back into my normal clothes and met a date for dinner at Barboncino, who said he knows the chef and that said chef "makes a mean tiramisu" (can a tiramisu be bad? I digress). We waited it out for a table at Crown Inn, and when we sat down ordered the meatballs, kale salad, garlic bread, and speck pizza. The original point of going was to get the tiramisu, but by the time we were done, I was so full that I couldn't do it. I headed home to watch the last bit of the Purdue game and admire Matt Haarm's hair and fell asleep on the couch.
Saturday, March 24
I was behind on my protein, but one of the best things I found out in this whole process of learning to lift weights is that you don't gain or lose weight or gain or lose, uh, gains because you're over or under on nutrients for one day.
After getting up, I made pour-over, scrambled three eggs with butter, and had toast with a blood orange. It's a pain in the ass to stand there stirring eggs for several minutes, but if you do it right, it comes out like an amazing, buttery spread; it also reduces the volume of the eggs, so you're not chewing your way through this huge pile of rubber. I added sea-salt flakes and sriracha. While this came together, I also zested blood oranges and a lemon into a new tub of yogurt.
For dinner, I took turkey chili with kale, corn, and black beans out of my freezer. (For the last few weeks, I made a point of cooking these big-batch, meaty meals, some to eat and some to freeze. This past week, I had enough food stashed away that I didn't even have to cook.) I lived without a freezer for five years in Bushwick — nothing but a dorm fridge — and now that I have one again, I talk about it like I invented it. I eat ice cream, Halo Top, or Yasso ice-cream sandwiches every single day.
It was another training day, and when I got to Murder of Crows, the Thin Mints were still there. Since it was a sign from a higher power, I had another one as a sacrifice to bless the tempo squats and rows to my body, amen. Thin Mints are the GOAT of Girl Scout cookies. During the workout, I drank a Creamsicle-y protein shake with two scoops of powder and a little orange juice. After training, I went on a slow, small jogging loop through Prospect Park, which I wouldn't normally do, but I was behind on my cardio for the week.
I went to Peppa's Jerk Chicken for the lunch special with plantains. On my way, I passed Cafe Cotton Bean and stopped in for another matcha latte. I've found over the last couple of months that I feel so much better when I eat meat twice a day. I have so much energy, I don't even need to sleep as much, and I'm sure it sounds like I'm making this up, but I swear I'm not. I'm not sure what it is, maybe all of the iron; for the longest time, I just took for granted that the New York Times science section was correct that people shouldn't eat more than a small serving of meat once a day, but I'm glad I tried … not doing that. I ate while watching Cheers. I made a New Year's resolution not to binge TV shows anymore, and I think I made it one month.
My powerlifting team was having a game night, so I went, drank a beer, and played Fluxx and Betrayal at House on the Hill. I was so tired, so I just went home, ate a couple squares of dark chocolate, and fell asleep early.
Sunday, March 25
I had to get a little work done on a book proposal and column, so I got up earlyish; did the pour-over, yogurt, and oatmeal thing; and went to Manhattanville Coffee for an immediate second coffee and to work for a while.
I went to Colina Cuervo for the pork hash with poached eggs, and then to the Super Foodtown on Fulton Street. Surprisingly, few people I've talked to, even those who live in my neighborhood, know that this Foodtown is here, and it's sort of hidden from the street, but it's gloriously suburban inside: giant deli and bakery section, big selection of meats, and there is even a loyalty discount card. I bought like six pounds of meat, yogurt, and vegetables.
For dinner, I had plans to go to Ugly Baby, and in my excitement I made my own panang curry with thighs, a packet of curry paste that I brought from Thailand, some peppers, some kale (sorry!), and a can of coconut milk. I like to make a big batch of something most Sundays, so I can bring lunch or have something to eat if I get home late.
I let the curry cook while I worked on stuff and, in the meantime, had a snack of what I call "protein brownie batter." If you were to call it just a very thick protein shake, or brownie batter with some protein in it, you would also be right. Once the curry was done cooking, I stashed it in the fridge and headed out.
My friends were a couple of people from my trivia team (please stop laughing), and we wanted to eat before our Sunday-night trivia at Pacific Standard. We ordered green chicken curry, pork shoulder, coconut-milk cakes, and red snapper in curry broth. Soon after, we were all crying and coughing from the spiciness, but it was all very good.
We then continued on to trivia, where I drank a Stone Xocoveza, this beer that tastes extremely like Mexican hot chocolate.
Monday, March 26
Woke up, did the usual: pour-over, yogurt, and soaked oats and cherries. I headed into the office before our daily morning-news meeting, and as lunchtime approached, I suggested that we go to Sun Hing Lung for rice rolls. I got two pork rice rolls, extra pork; housed them both.
After the blogs were done, I went home to change before going to the gym. Monday is my only nonnegotiable gym day. It's my most important squatting and benching day, and my coach is there to make sure I'm doing it rightish. My Monday workout is also always one of the longest, and I stand around bullshitting a lot with gym friends between sets and make it even longer. That day, the gym was debating whether the atomic bomb was justified. I drank another protein shake with orange juice while all that happened.
After the gym, I heated up some curry at home. It was so good, I ate it really fast — chicken thigh meat and sauce really just slide down the gullet — but I went overboard on the fish sauce, which sadly meant that I couldn't bring it into work because I want my new co-workers to like me.
Tuesday, March 27
I was still trying to make up cardio from last week, so after making and drinking a little coffee, I ran around the same little loop in the park. When I got back, I had more yogurt and oats, and of course this was the day that Christopher Wylie was testifying to Parliament about Facebook and Cambridge Analytica, so I assigned a bunch of blogs before I showered and went into the office.
My co-worker Jeremy bullied me into waiting to go to Wah Fung for lunch, which is close to our new office. He said the line to get chopped pork over rice and cabbage would be quick, but it took legit a half-hour. We rushed back so I could publish more blogs about Facebook. My friend and co-worker Leah was there, and she brought me a pixie mandarin that I ate as dessert.
After work, I dragged Leah to Estela to eat foods with me. We got oysters, a Cara Cara orange salad, the beef tartare, and burrata. Afterward, I headed to McNally Jackson for a book party for my other friend, Mary. The after-party was at Miss Lily's, where the staff set out corn on the cob with jerk mayo and coconut, chicken skewers, plantains and hummus, and festivals. We drank wine and punch and took photos, and I was very proud of her.
I got home after midnight, my diet fully blown for the day. It was worth it.