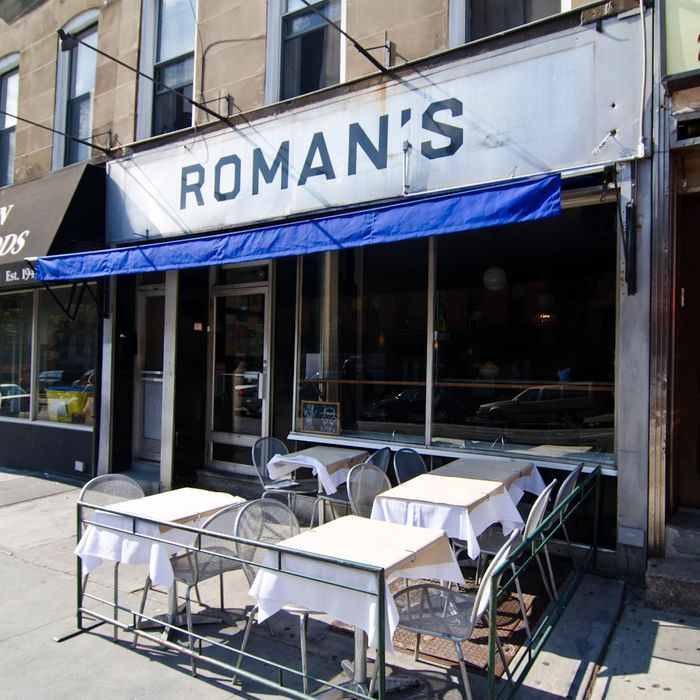 Roman's is bringing back brunch, with a little help from an old friend.
When the sandwich shop Saltie closed late last year, its many fans lovingly eulogized the Scuttlebutt, the Clean Slate, and all the other unique contributions chef-owner Caroline Fidanza has made to the contemporary sandwich canon. But it seems that Fidanza is not yet done with cooking: Our quirky-sandwich sources tell us that she has become the culinary director of the group of restaurants that she helped found back in the last millennium, when Andrew Tarlow and Mark Firth hired her fresh from Savoy to cook at Williamsburg's pioneering Diner.
That vintage dining car has grown into a North Brooklyn empire that includes five restaurants, plus a bakery and a butcher shop, and presumably, Fidanza will play a role in all of them, collaborating with each outpost's chef. On her docket is the reintroduction of brunch at Roman's, Tarlow's Fort Greene restaurant famous for an Italian-inspired menu that changes daily. Brunch relaunches March 17, according to the restaurant's PR, and in what might be the best thing to happen in Fort Greene sandwich circles in quite some time, it will feature a Fidanza creation that Roman's social media is hashtagging #bigitalian, the name of one of her former Saltie specials.
Previously, the sandwich ingredients varied, sometimes combining agrodolce squash with salami and Provolone, other times hot soppressata, mozzarella, and marinated tomatoes, with common denominators, including Fidanza-esque touches like cornichon butter and sesame focaccia. And while the chef and restaurant have yet to reveal the exact contents of Roman's Big Italian, or the new brunch menu, it's good to know that although Saltie might be gone, its spirit (and maybe even its cornichon butter) lives on.