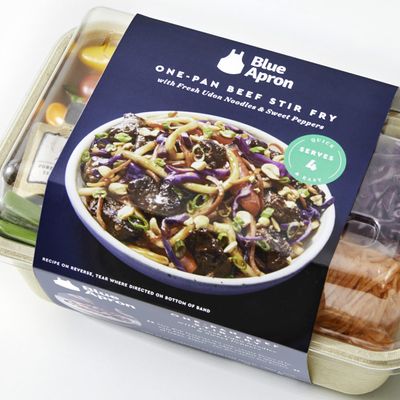 No cardboard or cold packs, but no home delivery either.
Photo: Blue Apron
Blue Apron has hatched a Hail Mary strategy to sell more meal kits. The company is reportedly "in active conversations" with supermarkets to introduce a version of the kits on store shelves by year's end. Sales at the company were sagging long before last summer's disastrous IPO, and ever since, Blue Apron has seen plunging stock prices and layoffs.
The Wall Street Journal broke the news today, and it appears Blue Apron may not have been ready to share the news. When asked, the company declined to list any of the retailers involved in talks, or say how much the in-store kits will cost. Blue Apron did admit several of the unnamed potential grocery partners "currently sell their own meal kits," so that could be a hang-up. It's not clear if Blue Apron's would supplant theirs, or simply go on the shelf beside them — or if supermarket chains are even interested in the gamble of partnering with a company that lost 250,000 customers last year.