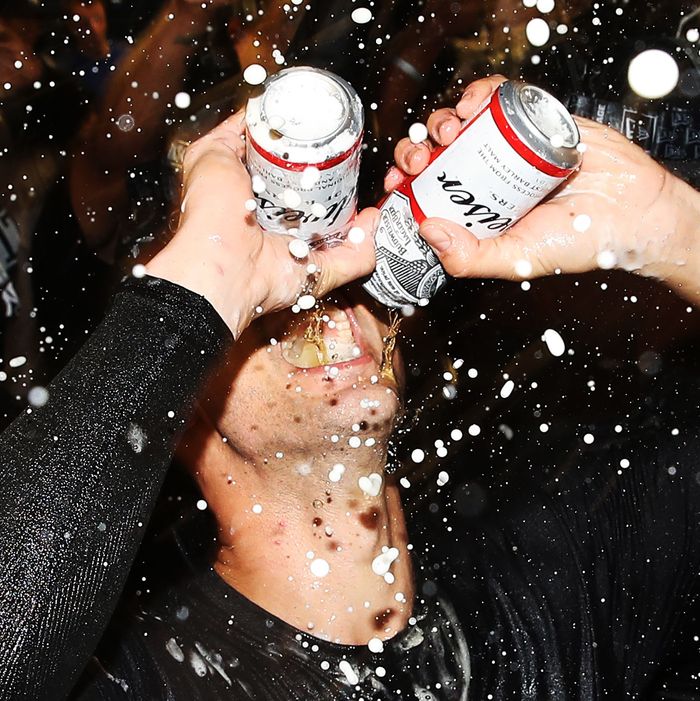 Double-fisting while he still can.
Photo: Tom Szczerbowski/Getty Images
President Trump's unexpected decree that the United States will impose a 10 percent tariff on imported aluminum has caused palpable alarm in the beer industry. Craft-beer makers complain the tax "couldn't come at a worse time" for them, and lobbying group the Beer Institute predicts a true day of reckoning: Its CEO Jim McGreevy thinks 20,000 industry jobs are on the line.
"I saw a report earlier today upwards of 140,000 jobs could be lost in this country," he informed Fox Business yesterday. By his estimate, then, about 15 percent of them would come from the beer industry. The industry's hand-wringing has been intense since Trump's announcement last week — MillerCoors went on a veritable tweetstorm, lashing out at Trump's "misguided" policy.
Reporters, meanwhile, have already tried to break down what the tariff would actually amount to per can, and it's … not a lot. (About six-cents extra per six-pack, according to the New York Times.) But the industry argues this isn't a fair argument. Popular craft brewery Oskar Blues figures its aluminum costs will bump up an extra $400,000 a year under Trump's tariff, a "significant amount" coming at a "tough time." Competition is fierce right now, the brewery argues, plus hops are more expensive, and unlike Big Beer, smaller breweries can't afford to absorb costlier goods as easily. The Beer Institute contends Trump's tariff is effectively a $347 million-a-year beer tax that will "lead to higher prices on America's brewers and beer importers."
The Trump administration clearly anticipated this pushback. Commerce Secretary Wilbur Ross has even been doing TV interviews with cans of Budweiser, Campbell's soup, and Coke in tow — the multimillionaire's canned line is, yes, the price could go up a few cents, but "who in the world is going to be too bothered" by this.
Mostly the beer industry, it seems. Its concerned members have laid out a veritable doomsday scenario: The tariff will cost factory workers their jobs, which will mean breweries will have less beer, which will be terrible for farmers, who'll have all this unused barley to sell.
*The original version of this article incorrectly stated that Beer Institute CEO Jim McGreevy was also New Jersey's former governor, Jim McGreevey.