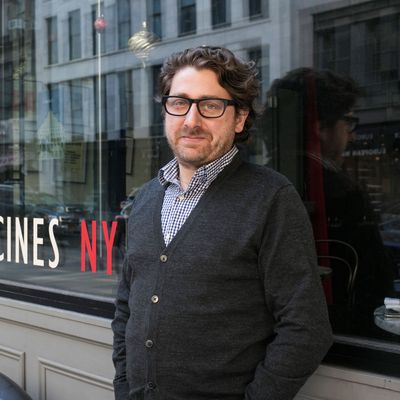 Korsh.
Photo: Melissa Hom
Note: After this interview was conducted in February, a March report about mishandling of misconduct at Union Square Hospitality Group included allegations of abusive behavior by Eric Korsh. Both North End Grill's parent company, USHG, and Korsh say that his departure was a mutual decision. In a March 15 email, Racines partner David Lillie wrote that the restaurant and Korsh had come to a "mutual agreement" for the chef to step down.
Last week, chef Eric Korsh announced that he had left Danny Meyer's North End Grill. In March, he will take on his new job as the executive chef of Racines, the Tribeca neo-bistro imported from Paris. The move felt surprising. Head chefs at Meyer's Union Square Hospitality Group — Michael Anthony and Nick Anderer among them — tend to stay put. And Korsh is moving from a large restaurant group with lots of resources to a smaller restaurant at a time when medium-size, independent places are struggling. Grub talked to the chef about his move, why he did, and what he has in store for Racines.
Why leave North End Grill — where you'd been for almost four years, and which is owned by the city's most successful restaurant group — for Racines?
The opportunity to cook there is an amazing one. Throughout my career, I've been fortunate to work in some pretty special places. I've also had experience working in 20-seat restaurants as well as places like North End Grill, which is a large restaurant. I think the idea and opportunity to work in a restaurant that is medium-size like Racines and also takes into consideration the wine aspect is a really wonderful next choice. It's something that I've always kind of had my eye on, you know. I've definitely spent a lot of time thinking about the idea of bistronomy, it's kind of what I tried to do with Calliope, and I think Racines is a really wonderful place for that.
Is that something you felt you couldn't do at North End Grill?
Um, well, so the food and technique — I felt that the food I had done for nearly four years there was pretty great. It wasn't necessarily fully French, and I am looking forward to getting back into straight-up French food, which has always been a love for me.
Racines is a smaller place and company. Was that something you were looking for?
I never really thought of it in those terms. I still think in terms of being a chef. I want to be the most dynamic chef I can be. There are some out there who always think that bigger is better. I like that my professional, fine-dining training started at Picholine, which is 120 seats, and then I went to Prune, which is 33 seats, and then I was at the Waverly Inn, which is 90 seats. I think it's important to do all of those things. When you're in a smaller restaurant, it leads you to want to work at a bigger restaurant and vice versa. My decision was culinarily based. It wasn't really about the company.
The restaurant industry has a lot of turnover, but Union Square Hospitality Group is a company that has chefs who are "lifers," or close to that. So, it's surprising to hear when someone leaves.
You know, the conversation was months long, and once again, from a collaborative point of view, my time was spectacular. Working with the folks at USHG was definitely a career highlight. I think I was just looking forward to really working in a small restaurant and having that direct food-and-wine conversation on a daily basis, on a smaller scale.
When you're at a larger company, it can be harder to stake out your identity there because there's already this established culture. Did it appeal to you at all to go to a place where it could be more of your own? Or did you feel you had that at North End Grill?
I felt an enormous amount of ownership at North End Grill. That was never ever a consideration. It was more the size of the restaurant and being in a smaller kitchen. Possibly cooking for fewer people. As I said before, I think being a dynamic chef — I started as a dishwasher in, uh, 1992 I guess and I've always been very fortunate to work in different sized restaurants and with different styles of food.
How are you going to change the menu at Racines?
The food that I really want to cook is very simple, ingredient-driven, minimal-component French food. [Departing chef] Frédéric Duca makes beautiful, beautiful food, and I think that with him going back to France, there's an opportunity for them to rethink things a bit. We started talking a while ago, I don't know, I really got along with Arnaud [Tronche], and when I heard Pascaline [Lepeltier] was coming on, it all fell into place. In terms of the food at Racines, I think, you know, a traditional six- and six- or seven-item — as in apps and entrées — menu is something I'm going to be focusing on: craveable and generous, but also, maybe, on the lighter side. At the end of the day, I always run home to anchovies and garlic and olive oil, and as little heavy cream as I can use. There's nothing better than a grilled lamb chop with savory anchovies and lemon.
Will you introduce a different menu right away?
It'll morph slowly. This is the fourth time in my career that I've taken over a kitchen like this. I'm not a huge fan of dumping a bunch of changes all at once onto the staff or guests. When you're making a transition, it's important to be thoughtful and have lots of conversations, especially with the people you're working with so that it's collaborative. I know some chefs who will come in and just wholesale change everything. I think that can be shocking. I'll probably make that determination as it starts.
I believe that eliminating tipping is for the better for all sorts of reasons. Yet, it's a huge change, and my understanding is that USHG's rollout of a non-tipping structure has been a little rocky. Did you learn anything that you'd apply here?
There's no indication that Racines is going to go gratuity-free. But as far as "hospitality included" goes, I believe in it. I shepherded that change in the back of the house. I absolutely think it is a good thing. Being first is hard. Any time you're first is hard. From any standpoint, I believe in it.
Would it be something you'd advocate for at Racines?
Right now, I'm fully focused on coming up with a menu that's beautiful and takes care of the needs of the wine team and guests.