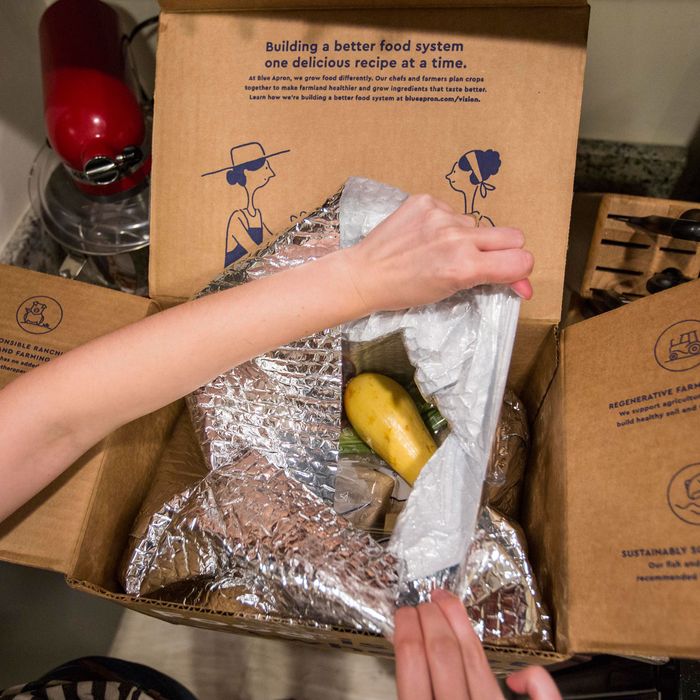 That fresh squash must've been included in error.
Photo: Scott Eisen/Getty Images
The White House has announced President Trump wants to swap federal food stamps for a "Blue Apron–type" program that would just mail out a box of canned goods to low-income families. The administration pitched its plan — described by media as "one of the biggest shake-ups" proposed to SNAP in its five-decade history — as a way to reduce government spending by $214 billion over the next decade. Under it, households on $90 worth of food stamps a month or more would get half their benefits from what the USDA is touting as an "America's Harvest Box."
Items in said box would be "100 percent American," because food should always be patriotic, but nothing is fresh: The government listed some examples, and they include "shelf-stable milk, ready-to-eat cereals, pasta, peanut butter, beans and canned fruit, vegetables, and meat, poultry, or fish."
The White House's Office of Management and Budget director Mick Mulvaney defended the boxes yesterday as a real prize for food-stamp recipients: "I don't want to steal somebody's copyright, but [it's] a Blue Apron–type program where you actually receive the food instead of receive the cash."
The White House must've missed all the Blue Apron jokes in recent months. Regardless, since the Trump administration is trying to cut costs, SNAP recipients shouldn't hold their breath for cardboard boxes with recipe cards, seasoning, or insulated liners. Rather, per the official description, they should expect to find Kraft Easy Mac and maybe cans of actual Spam (two edible all-American success stories!). It's unclear how this plan would accommodate anybody's diet, since there are 80-year-olds who keep kosher on food stamps, as well as 50-year-old diabetics, and probably at least one 30-year-old gluten-free paleo dieter — feeding them would be like catering a wedding for 16.4 million households.
All told, the proposed change would affect 81 percent of SNAP recipients, which is roughly one in every eight Americans. Considering how royally the Trump administration bungled its food-aid efforts in Puerto Rico, it's easy to imagine the government having trouble getting boxes of entirely American-made food that meets all the federal nutrition guidelines to millions of people on time. Can somebody call José Andrés so he's ready to step in, just in case?