Post-civil war immigration from all corners of mainland China, a half-century of Japanese occupation, food-crazed night markets and indigenous island traditions conspired to make the cuisine of Taiwan both diverse and distinctive. Like niu rou mian, the beef noodle soup that many claim to be the island state's national dish, Taiwanese food in general is all the go in New York right now. Here's where to find a few more classic dishes.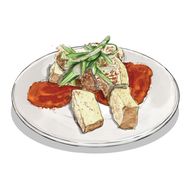 Stinky Tofu
If you're not Chinese or Taiwanese, your waiter, thinking he knows what's best for you and your baby palate, may try to talk you out of ordering this classic Tapei street snack. Stand firm. Assert yourself. Follow your bliss. Inform this killjoy that the odoriferous stuff is merely the fermented-bean-curd equivalent of a pungent mold-ripened fromage and that you've had many a slab of Époisses de Bourgogne and even some cultured vegan cheeses in your time that outstink stinky tofu. At Win Son, 159 Graham Ave., Williamsburg.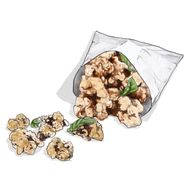 Popcorn Chicken
A Taiwanese night-market staple, these deep-fried chicken tidbits (yan su ji), marinated in soy sauce and five-spice powder, are what McNuggets dream of becoming. At Chi Ken, 5401 Eighth Ave., Sunset Park.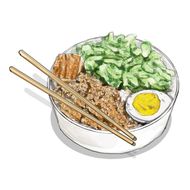 Bento Boxes
From 1895 to the end of World War II, Japan occupied Taiwan, and culinary traces remain. Chief among them is the bento box, a.k.a. biandang, which became popular at train stations. The set lunch usually involves white rice, a soy-stained egg, tofu, cabbage or greens, and a filling, unfussy protein like a pork chop or the addictive minced-pork sauce, a.k.a. Taiwanese ragù, that makes the over-rice classic dish lu rou fan. At Taiwan Bear House, 11 Pell St.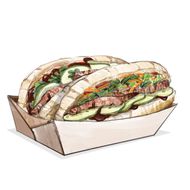 Gua Bao
You know those legendary Momofuku pork buns? They're gua bao by any other name — or, as some people call them, the hamburgers of Taiwan. Steamed buns are traditionally stuffed with red-cooked pork belly and garnished with peanuts, cilantro, and pickled mustard greens. At Zai Lai, Eighth Ave. and 57th St. subway entrance.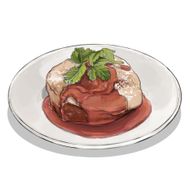 Taiwanese Meatball
Not so much a meatball as a meat-stuffed steamed dumpling, ba-wan has a wrapper made from rice flour and sweet-potato starch, or sometimes tapioca, and, when done right, represents a Taiwanese-cooking textural ideal known as Q—sticky, bouncy, glutinous. What al dente is to Italian pasta mavens, Q is to Taiwanese street-food snobs. At Main Street Imperial Taiwanese Gourmet, 59-14 Main St., Flushing.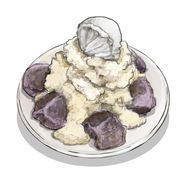 Shaved Ice
An ice-cream cone seems prosaic beside the contrapuntal textures and flavors that are Taiwanese shaved ice: the clean, refreshing snowlike mouthfeel of the ice; the creamy richness of the condensed milk; the chewiness of the boba; the jigglyness of the jellies; the tender earthiness of the syrupy beans. At Meet Fresh, 37 Cooper Sq.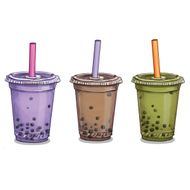 Bubble Tea
Bubble tea was born in the city of Taichung and, thanks to the universal appeal of sucking up chewy tapioca balls (boba) through fat plastic straws, has conquered the world. Although it began as a sweetened-tea concoction, variations are made with milk, juice, coffee, even horchata. At Boba Guys, multiple locations.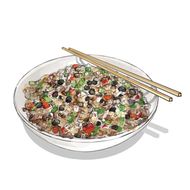 Fly's Heads
In the tradition of bestowing delightfully unappetizing names on delicious foods, this one (cang ying tou) refers to the fermented black beans that dot a garlicky heap of stir-fried minced pork, garlic chives, and chiles. Disappointing news to gastronauts, no doubt, but nothing whatsoever to do with actual decapitated insects. At Happy Stony Noodle, 83-47 Dongan Ave., Elmhurst.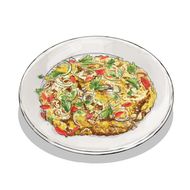 Oyster Omelette
Seafood is a given considering Taiwan's island geography, and the oysters that are whisked into this omelet match the chewy texture of sweet-potato starch that's drizzled over the eggs. A ketchup-based sauce is the classic condiment. At Win Son.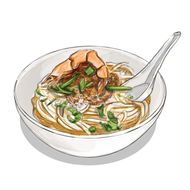 Danzai Noodle Soup
Long noodles topped with minced pork and shrimp in a shallow broth. The name translates to "shoulder pole noodle" and refers to the origin of the dish — the noodles and broth were sold from buckets strapped to bamboo poles as a way for fishermen to make ends meet during the slow season. It's as obsessed over in southern Taiwan as bouillabaisse is in Marseille. At Win Son.
*A version of this article appears in the February 19, 2018, issue of New York Magazine.