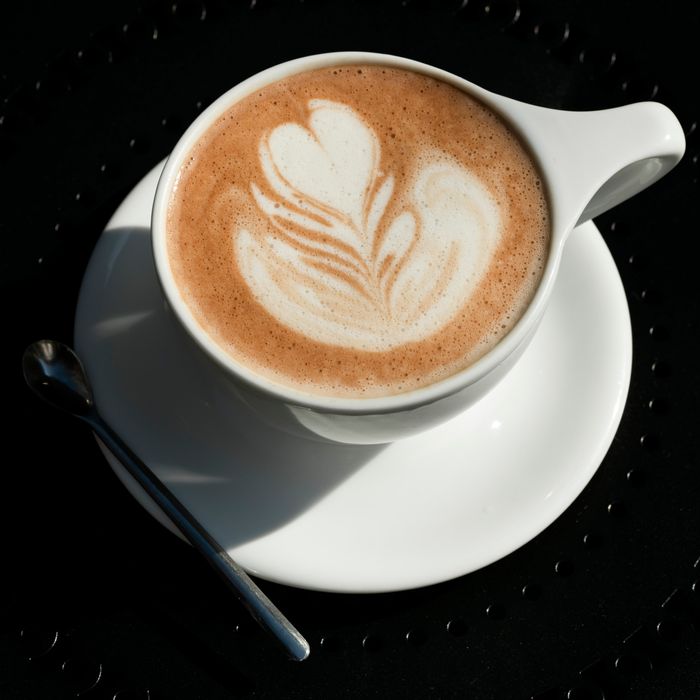 Intelligentsia's tastes like a chocolate-oatmeal cookie.
Photo: Melissa Hom
Before this glorious age of alt-milks, lactose-intolerant and other milk-averse customers had to resign themselves to hot chocolate that was thinner and less rich than it might otherwise be. No more: It's a new era of macadamia, oat, and almond milks, all of which are deeply appealing with warm, melted chocolate. That's not to say that all dairy-free hot-chocolate options are equally delicious. A good cup still has to taste, most of all, like chocolate, while being creamy, foamy, and soul-satisfyingly rich. Those who make the best versions even flaunt the fact that there's no dairy because they know the sum is better than the (already great) parts. Here's where to find some of the city's most appealing alt-milk hot-cocoa options.
Blue Bottle
Price: $4.50
Blue Bottle gives its hot chocolate the same attention that it famously showers on its coffee. It's wonderfully balanced, with (controversial, but local) Mast Brothers Chocolate, and delightfully creamy almond milk. Bonus points: There are saffron "snickerdoodles" made for dipping in this drink.
Clementine Bakery
Price: $3.50
This all-vegan café and bakery in Clinton Hill wholly embraces its alternative milks. The almond hot chocolate is both nutty and creamy, and they don't skimp on the chocolate. Though slightly less rich than the others on this list, it's a less intensive chocolate hit (which, sometimes, is what the doctor ordered).
Dweebs
Price: $3.25
There are board games and a large communal table generally filled with people throughout the day at this homey coffee shop, good reasons to linger. An even better one is the almond-milk hot chocolate. It isn't too sweet or rich, but as you finish it, you'll get a mouthful of the chocolate that settles at the bottom, possibly the best part of any hot chocolate.
Intelligentsia
Price: $4.50, or $5 with almond milk
This Chicago-coffee transplant, which notably functions as the front desk of the High Line Hotel, offers oat milk as its dairy alternative. The resulting drink is like a chocolate-oatmeal cookie, with nary a raisin (literal or figurative) to ruin it. Sip that cookie drink in the comfort of the cozy coffee shop.
Primrose Café
Price: $4
This tiny coffee takeaway will sub in almond milk for a foamy, not- too-rich hot chocolate. You likely won't find space to sit and sip, but no matter because this is a hot chocolate made for warming you up on the go.
Sant Ambroeus
Price: $5
Served in a beautiful little ceramic cup, this is deeply concentrated and incredibly rich melted chocolate. Get it with almond milk, and note that this is hot chocolate that demands your attention — and sipping instead of slurping. You'll get a slight caffeine kick at the end, courtesy of the high-percentage dark chocolate, though the richness will send you straight to the nearest armchair.