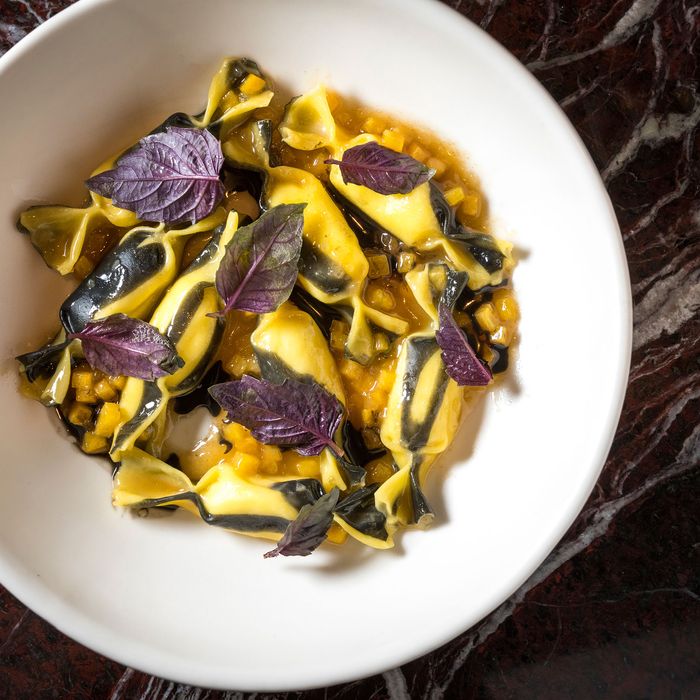 How about pasta at Don Angie?
Photo: Noah Fecks
Valentine's Day is right around the corner. It's a huge night for dining out, of course, but restaurants in New York aren't all that easy to navigate on February 14. Many offer overpriced set menus and make other changes that generally turn the dining experience into something that's less than stellar. What you really want when you make that Valentine's reservation, likely, is a guarantee that the restaurant won't mess up things too bad. With that in mind, here's a list of 16 Grub-approved places that will serve their regular menus — the Valentine's Day equivalent of a dining miracle.
Annicka
If you're a carnivore whose idea of romance is a butcher steak, but your better half is a vegan who prefers charred cauliflower, head to this Greenpoint spot that wants to offer something for everyone.
Atla
How about a low-key Mexican meal at Adam Platt's Best New Restaurant 2018? A good plan of attack for this evening would be a mushroom quesadilla, enfrijoladas, and some very good mezcal.
Don Angie
If you want to go somewhere that's currently buzzy, a lot of people are talking about this West Village spot. Why not share some of the restaurant's bicolored "caramelle" pasta, or some lasagna for two, because what's sexier than sheets of pasta baked with red sauce and cheese?
Emily
Pizza shouldn't be fussy, and Matt and Emily Hyland keep it fun with toppings like cheddar curds, bacon, and ranch; pepperoni, pickled jalapeño, and honey; and more. It'll be the same at sister-restaurant Emmy Squared, where they'll also offer half-priced Champagne.
Ivan Ramen
The Lower East Side spot makes some of the city's tastiest ramen, so head here if you want to reenact Lady and the Tramp, but prefer triple-garlic mazemen to spaghetti and meatballs.
Karasu
Tucked into the back of Walter's, Karasu feels like a place where you can disappear. Maybe split some koji rib eye for two, or go lighter with sashimi and sake-steamed clams. (Sister-restaurants Walter's and Walter Foods will also serve their usual menus.)
Lalito
There is a special menu, but no one will force you into it. Instead, you can split your usual order off of the California-Mexican menu. Think grilled short-rib steak, chickpea guacamole, and queso frito.
Metta
Maybe your ideal date night is cooking wood-fired meats in the country. Short of that, you can head to this Fort Greene spot, where they do great things with meats and wine.
Nur
If you're looking for a modern spin on Middle Eastern food, you can't go wrong here. Fight over the kubaneh and get the rest of the breads while you're at it; share the Palestinian tartare, and maybe get your own horias (lamb kebab grilled in pita).
Oka
There are no reservations here, so if you want to just pop into a place in midtown, this creative izakaya serves dishes like tonkatsu with yuzu vinaigrette, blowfish tails with tosazu, and grilled squid with black-garlic oil.
Ops
There's nothing not to love about Ops: It's all about pizza and wine, with some cocktails and antipasti thrown in for good measure, in a space that's comfortable and well-run, but not overly earnest.
Popina
This Brooklyn restaurant blends the best of Italian and Southern cooking. If all you want is hot chicken Milanese with ranch dressing and a glass of sparkling Pinot Noir, head here.
Tokyo Record Bar
An homage to Tokyo's, well, record bars, this West Village spot serves a seven-course izakaya menu (think caviar sushi, nori chips) and guests pick the vinyl. If you're looking for something more casual, you can pop in after 10:30 p.m. when the menu is à la carte and the music is selected by a DJ.
West~bourne
Maybe you didn't have time for breakfast in bed, but West~bourne serves its crispy tacos with onion-pepper-potato and an English muffin with egg, avocado, and shallot labneh until 10 p.m.
Wildair
If your main concern is drinking good wine that won't break the bank, Wildair fits the bill and then some, with inventive food like fried squid with lemon.
Win Son
The modern Taiwanese food here is fun, the vibe unpretentious, and you can just walk in (reservations are only for parties of five or more). Get you hands messy with a sloppy bao with stewed pork, snack on fried eggplant with kefir cheese, or munch on a big chicken bun.