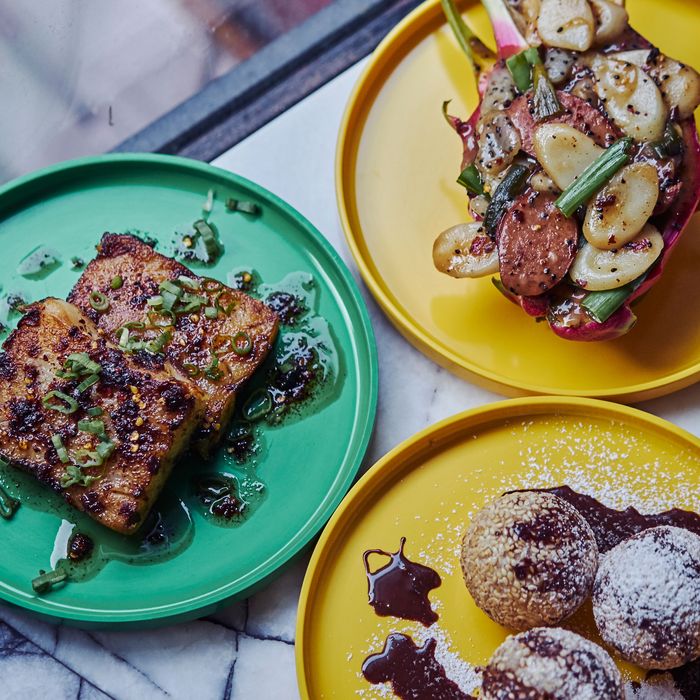 Nom Wah Tu has a few specials.
Photo: An Rong Xu
Tomorrow is the Chinese New Year, and the celebrations will begin immediately: The first of two Chinatown parades will be tomorrow, followed by one in Flushing on Saturday and another in Chinatown on Sunday. Special-occasion restaurants, like dim-sum houses, will be mobbed as they always are, but many more casual places will be more low-key and quieter than normal. If you're planning on celebrating, some great restaurants are offering specials today, tomorrow, and beyond. Here are eight of them.
Bessou
On Sunday, the Japanese home-cooking restaurant will throw a one-night Nabe Party ($40), serving a three-course menu of otsumami, seafood hot pot with spicy miso broth, and a glass of Shiragiku Nigori hot sake. Friday and Saturday, they'll serve the same hot pot and sake as a dinner.
Hao Noodle and Tea
You can order a whole menu of specials at the cosmopolitan Chinese spot, like a steamed eight-treasure glutinous rice cake ($18), pork-and-abalone stew in red sauce ($25), and a fried whole fish with pine nuts ($28).
Little Alley
Do Lunar New Year the Shanghainese way with red-cooked sea bass ($36), Vancouver crabs with ginger and scallion ($68), and other specials.
Little Tong Noodle Shop
Like the elongated noodles eaten on the holiday, the East Village spot will stretch the Lunar New Year celebration into a 16-day celebration. A different special ($7 to $20) will be served each day, including Shanghainese-style rice cakes today, Tianjin-style stuffed buns called goubuli, wagyu rice noodles, and much more.
MáLà Project
Today through Saturday, the modern Sichuan spot will add auspicious family-style dishes and specials like red-cooked pork belly ($16), fish skewers with black pepper ($19), sticky rice cake with dates ($6), and more.
Nom Wah Tu
The more upscale Nom Wah will serve turnip cakes with bacon-X.O. sauce ($8, $13 with uni), rice cakes with Schaller & Weber smoked sausage ($12), and sesame balls with hazelnut-chocolate sauce ($6).
Pinch Chinese
Get your regular order of soup dumplings, yes, but supplement it with traditional holiday dishes like crispy rice cakes ($10), seafood noodle stew ($24), black-sesame tang yuan ($9), and more. Or go big with a salt-and-pepper lobster ($68).
Tang Hotpot
If you're really looking to celebrate, few meals are as convivial as hot pot. Today and tomorrow, the Bowery restaurant will offer a $68 prix fixe with family-style appetizers, a special herbal Silkie-chicken broth and spicy beef-tallow broth, and plenty of food (like lobster and meatballs) for dipping.