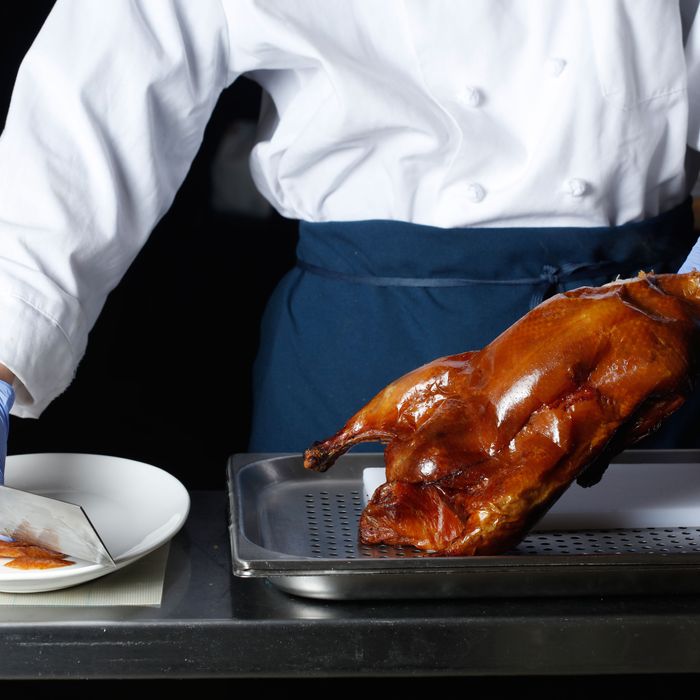 Peking duck at Pinch Chinese.
Photo: Melissa Hom
Every month in New York, there's a bewildering number of new dishes to eat, drinks to imbibe, and food-themed events to attend. Often, the hardest part is just figuring out what's really worth your limited time. So Grub kicks off each month with a curated collection of dishes, drinks, and events that should absolutely be on your agenda. Make your plans now.
1. Sample the new Peking duck at Pinch Chinese.
Soup dumplings are the thing at Pinch Chinese, and now the Soho restaurant offers another of China's great dishes, a Peking duck that serves four for $75. It comes with the usual accoutrements (paper-thin, nearly transparent pancakes; hoisin sauce; and batons of scallion and ginger), and it's suggested that you reserve it two days in advance. You can roll the dice and just show up, but the duck is worth the commitment. The skin is crunchy, but the meat maintains its tenderness, and it's pleasingly oily, but not so much that you'll feel like your hands are slicked when you're done. Granted there's no soup after the meat, but the serving is a satisfying main course for four, and it's a full $23 less than the disappointing duck offered at DaDong.
2. Try Contra's new vegetarian tasting menu.
Been meaning to go back to Contra for a while, but keep finding an excuse not to? The downtown restaurant will give you a new reason on February 20, when it debuts its six-course vegetarian tasting menu ($78). Contra has been considered one of New York's most inventive and distinct tasting-menu restaurants — and at a relatively, though rising, affordable price — since it opened four years ago. The vegetarian dishes don't betray that reputation, and like those on the regular menu, will change daily. Think kohlrabi rolled with thyme and butter, mushroom Béarnaise, and confit wild mushroom; dried celeriac noodles with sorrel, capers, and onions; and fresh tofu with maple, mirin, and walnuts. Fabian von Hauske has a way with desserts, so you can expect the two sweet courses to charm as well.
3. Eat the food of one of Savannah's most acclaimed chefs.
Mashama Bailey has made a national name for herself as one of the country's most exciting young chefs with her restaurant the Grey in Savannah, Georgia. On February 5, the Bronx native will have a homecoming of sorts when she cooks in New York for one night only at Olmsted. While it's true that pop-ups can leave a lot to be desired, Olmsted's past collabs have been fun, exciting, and full of good food. To supplement Olmsted chef Greg Baxtrom's menu, Bailey will serve snacks like turnip cakes with pot likker; small plates, including quail Madeira with blackstrap molasses; a main dish of braised lamb shoulder with kanni spice; and a dessert of chocolate pot dé creme. It's walk-in only, so you'll have to brave the line, but it's a more accessible chance to try Bailey's food than, say, a pricey set-menu dinner.
4. Satisfy your sweet tooth with Mexican pastries and desserts at the remodeled La Newyorkina.
At her La Newyorkina shop in the West Village and commissary in Red Hook, Fany Gerson makes some of New York's tastiest frozen treats. Her ice cream and paletas, or ice pops, are great, and she's also an authority on all things Mexican and sweet. With that in mind, and to give the West Village store more of a year-round bent, she took time this winter to remodel it and expand the nonfrozen offerings. In mid-February, La Newyorkina will reopen with a broader selection of pastries and desserts, including churros, pan dulce like conchas and tres-leches cake, and chocoflan, the chocolate cake–flan hybrid. Get your sweet tooth ready.
5. Warm up on a Sunday with fondue at the Nomad Bar.
Wish you were hitting the Swiss Alps, or maybe just dipping food into molten-hot cheese like when you were a kid? The Nomad Bar bid adieu to Mamma Guidara's, its Sunday-night red-sauce pop-up, and has replaced it with a fondue menu for $55 a person. The multicourse dinner includes chicken consommé, an assortment of charcuterie like landjäger sausage, and fondue moitié-moitié with marble potatoes and pain au levain, among other dishes. For dessert, there's a classic tarte tatin and the winter warmer Shümli Pflümli, a spiked coffee drink made with sugar, plum eau de vie, and whipped cream.
6. Head to Lalito for a Sunday-night feast.
Speaking of Sunday-night diners, the Mex-Californian restaurant Lalito has been kicking off the week with family-style, all-you-can-eat feasts. The meals are inspired by Latin cuisines, but the restaurant doesn't stick to one menu: For a few weeks, they were doing all-you-can-eat sancocho, the hearty root-vegetable-and-meat stew (which they also offered vegetarian). Last Sunday, they switched it up to the more escapist theme of "'Between the sheets' with grilled meats" and a menu of grilled Korean-cut short ribs, rice and beans, potatoes, grilled onions, salsas, and chef Gerardo Gonzalez's vegan chicharróns locos. All of that food went for a cool $20. Information for the dinners is posted to Lalito's Instagram on Sundays, so check to see what they're up to. Reservations are available, too.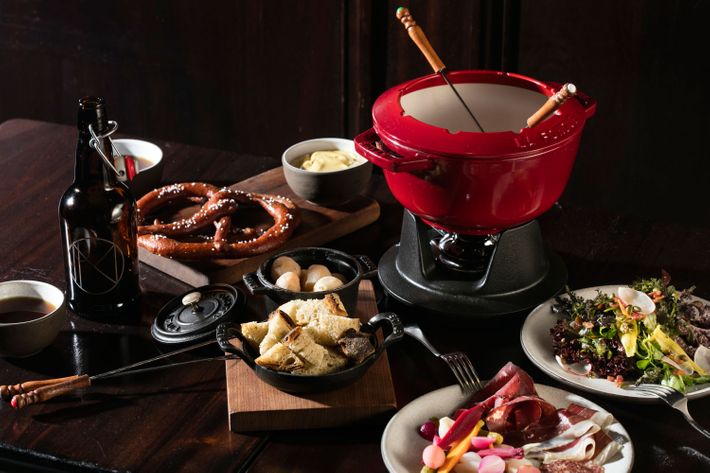 7. Grab some jianbing in Astoria.
There are a few immutable truths in life — one of which is that you can never have enough jianbing. The savory northern Chinese crêpe is a humble dish that's become a minor culinary sensation: If it's not as famous as soup dumplings, it's still obsessed over (just see the way New York food geeks documented its rare appearances here for years). Now, the dish is on the menu at Ha's Chinese Bar & Eatery, with the addition of brunch and lunch. Their version ($9) is classic, egg cooked into the crêpe, scallion, hoisin, and a crispy wonton sheet. But it can also be stuffed with fillings like faux crispy duck, cheese, smoked tofu, and more.
8. Drink malted hot chocolate at a new Japanese shop.
The Little One looks a bit like a pastry shop designed for the world of 2001: A Space Odyssey, but its owners, Olivia Leung and Eddie Zheng, aren't creating spacey treats. Their limited menu, for now, is focused on three Japanese sweets (dorayaki, which are pancake sandwiches; ice-cream sandwiches made with monaka; and the Japanese-style shaved ice kakigori). It's still a little cold for shaved ice (though the parsnip ice-cream monaka, $5.50, is hard to resist) so go for something warmer in the malted hot chocolate ($4). Made with 72 Guittard cacao and cardamom, it's light and skinny. And the use of cardamom is an ingenious trick you'll want to bring home with you.
9. Eat bar snacks at a great new happy hour in Brooklyn.
Otway is an exciting new restaurant thanks to unique food and an above-par wine list. More recently, they've introduced a happy hour (Monday through Thursday, 5:30 p.m. to 7:30 p.m.) for those who want to pop by for a drink. To go with those $8 glasses of wine and $5 pints of beer, they've fortified their snack selection. A low-brow favorite is available in a tall, curly stack of "oignon rings" ($9), the flaky, golden-brown, and greaseless crust around thin strips of onion. For dipping, there's a side of HP sauce, the British brown sauce made with tomato, vinegars, and spices.
10. Hit a couple under-the-radar Brooklyn gems during the day.
Clinton Hill's the Finch is an ambitious (and Michelin-starred) neighborhood spot, and its brought that to the a.m. with a new brunch service. Think breakfast standards with slight tweaks, like French toast with winesap apples and polenta with maitake mushroom, spigarello, and slow egg. Over in Greenpoint, Archestratus Books & Foods, the culinary-minded bookstore that actually serves food, has opened for lunch. Owner Paige Lipari's working menu of Sicilian-inspired food is neatly divided into sandwiches, plates, and cookies. You could make a nice lunch, after browsing for books, of the Lina (smoked tuna, Sicilian spread, and radicchio, $9) and a classic rainbow cookie ($4) paired with a pistachio lace ($4), with cardamom and bittersweet chocolate. Expect to see eggplant caponata, more vegetables, and a few other changes to the menu soon.
11. Celebrate the Lunar New Year at Bessou.
If you're looking for a fun place to celebrate the Lunar New Year, head to the modern Japanese restaurant Bessou. On February 16 and 17, it'll offer a special dinner of spicy Yosenabe, or Japanese hot pot, with Shiragiku Nigori hot sake, and on February 18, it'll throw a party with Sakeman with a family-style meal ($40). The three-course menu will include otsumami; a seafood hot pot with spicy miso broth, ramen noodles, king crab, and more.
12. Listen to music on a great sound system while eating a fried-chicken sandwich at Indoors at Nowadays.
The outdoor Ridgewood bar Nowadays is a fun place to drink and dance — weather permitting. Winter no longer kills the party, though. The owners have opened Indoors at Nowadays, a 5,000-square-foot converted warehouse next door. Like its outdoor neighbor, Indoors will be a place for eating, drinking, dancing, and more. There's food from Henry Rich of Rucola and Metta (like a cauliflower, caper-raisin, red onion, Gruyère, and spicy mayo sandwich called the White Rhino, $9), and a limited menu of accessible cocktails (the "Nitrodays Woke Martini" for $12). They've also put a bunch of money into two sound systems (one for dancing, the other "in the vein of a Japanese listening bar), and will do programming with Think Olio and a weekly Sunday music-listening event called Planetarium.
13. Get a cheesy bialy from Don Angie and Black Seed Bagels.
Don Angie seems like one of the restaurants everyone's talking about right now. Black Seed Bagels, home of the bagel collab, has tapped the red-sauce restaurant's husband-and-wife chef team for its next monthly special. Available all of February, the Don Angie Bialy ($5.50) is made with green garlic and sesame seeds, and filled with stracchino cheese. Marinara not included.