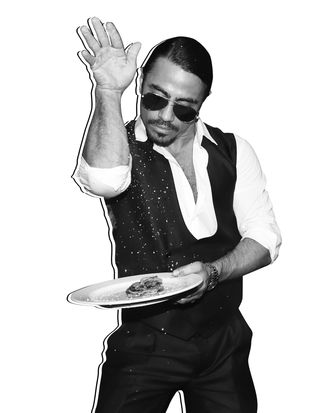 Mr. Bae himself.
Photo: Jerritt Clark/Getty Images
Living meme and sexy seasoning sultan Salt Bae has been Instagrammed roughly 2 billion times, but until now, one question has always remained: Does he speak? The answer, apparently, is yes, as the Turkish chef, who recently opened a New York outpost of his steakhouse chain Nusr-Et, is now the subject of the New York Times' "Sunday Routine" column.
On the one hand, this glimpse into his actual life unfortunately undoes a bit of his mystique. (He is not, it seems, an apparition who magically materializes to season meat; he's mostly a gym rat and a workaholic.) But on the other hand, he speaks in the kind of inspiring platitudes that you might hope. Here, five snippets of salty wisdom we should all apply to our own lives.
On recognizing that his life is postmodern performance art: "I view my job as an art because I make art out of meat and the move is like a final touch on this art. It came from within me."
On giving the people what they want: "After I cut it, I do the move. I don't have time to take a break. This is a busy place and people want to come here to see me and be served by me."
On pleasing the people, but also taking time to enjoy the little things: "If people want to have photographs taken, I take photographs. I like music very much. Before I leave, at the end of the day, we listen to three to five songs. Not in the kitchen, in front of the bar."
On leading by example and always being the last person to leave the restaurant: "I'm a leader at the restaurant. If I do this, the people at the restaurant will try to do better. I believe in that and that's the way it is. This is how it continues. Every day for me is the same."
On not having to sleep because he is a machine: "Being tired isn't anything. What's important is the mind. The body being tired isn't important."