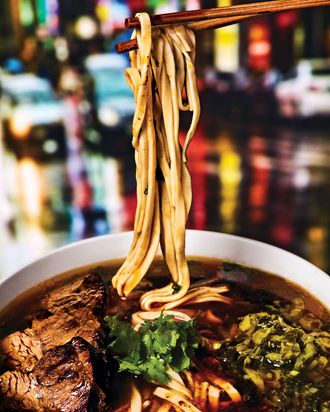 Ho Foods' beef noodle soup.
Photo: Bobby Doherty/New York Magazine
If you're up on your Asian noodle soups, you know that New York has entered its niu rou mian phase. If not, and you require proof, you need only toddle down 7th Street in the East Village any Wednesday through Sunday between the hours of 6 and 10 p.m. That is when Ho Foods is open for business, and that is where, outside the tiny canteen, you'll find a horde of noodle-soup aficionados hoping for the best. They're all waiting (up to two hours one recent, practically Siberian night) for a chance to sample the only entrée on the shop's four-item menu, a noodle soup some consider the national dish of Taiwan: deeply flavored beef-bone broth with an undercurrent of spice and heat, plus slabs of red-cooked beef, springy wheat noodles, and zingy pickled mustard greens.
Neither beef noodle soup nor Taiwanese food is new to New York; restaurants have been serving the island state's eclectic fare in the city's Chinatowns for years. What is new is the influx of businesses opened by a generation of Taiwanese-American entrepreneurs bred on culinary pop-ups and social media, angling to introduce their ancestral cuisine to the widest possible audience. Ho Foods' Richard Ho is one of these culinary ambassadors — a former restaurant manager and self-taught cook from California's San Gabriel Valley (a hotbed of niu rou mian, incidentally) who offers a choice of noodle and spice level with his hearty soup bowls.
Niu rou mian can also now be found at Turnstyle, the hectic subway-station food court below Columbus Circle, where Mission Chinese Food alum Edward Huang runs a Taiwanese stand called Zai Lai. His version is relatively light but utterly satisfying, made with beef from well-contented, locally raised cows and informed by some notes he took on reconnaissance missions to Taipei with a soup-guru cousin.
A beef-noodle-soup crawl could extend to Chelsea Market's Very Fresh Noodles, whose rib-sticking rendition spotlights the kitchen's rustic hand-pulled noodles, and then to Mimi Cheng's, where the Taiwanese-American Cheng sisters have added it to their dumpling-centric menu. The city's latest version has landed in Bushwick, where Faro chef Kevin Adey has put it on the menu of his new Sichuan restaurant, General Deb's. This isn't a case of mistaken culinary identity but an edible history lesson: The iconic Taiwanese dish is said to have originated in the military villages that housed mainlanders after China's civil war, many of them from Sichuan province (hence the soup's chile-bean paste and Sichuan peppercorns).
But "Taiwainese beef noodle soup is not found in Sichuan province, or anywhere else in China," writes Cathy Erway in The Food of Taiwan. Happily, you can't say the same about New York.
*A version of this article appears in the February 19, 2018, issue of New York Magazine.