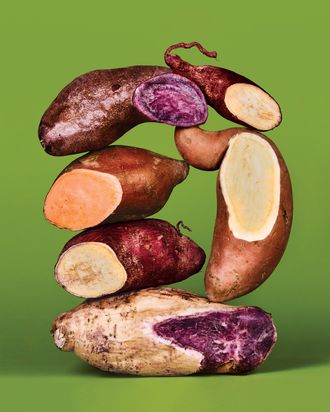 Sweet potatoes, hold the turkey.
Photo: Bobby Doherty/New York Magazine
Unlike stuffing and cranberry sauce, sweet potatoes have a life after Thanksgiving, mostly owing to the lack of much other local plant matter in the depths of a Northeast winter. But despite their availability and excellent nutritional content, the roots have yet to attain chef-driven cult-veg status like kale or Brussels sprouts. There are signs of change, though, thanks to the advent of alternative varieties that are less sweet (and less orange) than what's generally found sub-marshmallow.
Japanese and Korean varieties, with their ruddy skin and pale flesh, are drier, with an almost chestnutty texture and flavor. Of the purple-hued roots, the Carolina-bred Stokes is violet both inside and out, while the Okinawan, which grows in Japan and Hawaii, conceals its distinctive hue behind a staid beige façade. This flashy spud might be the sweet potato of the moment: You can find it lightly glossed with bourbon-barrel-aged maple syrup and sliced into a tidy stack at Té Company and endowed with a decided tang courtesy of buttermilk and pumpkin mustard at Ferris.
For some, the natural sugar is a draw: Sweet fingerlings make a primally satisfying dessert at Fort Greene's Metta, whose chef, Norberto Piattoni, parbakes them in the oven and chars them in the grill's ashen coals. Atla also reserves the root for the final course, enhancing a Japanese sweet potato's subdued sweetness with a coating of condensed milk, while at Soogil, its Korean counterpart is formed into plush beignets and paired with cold kimchee soup.
But at Superiority Burger, where Brooks Headley goes through up to 200 pounds of Jersey-grown white sweet potatoes a week, the chef gives the cold-weather standby a fresh seasonal identity by piling it with tarragon-serrano salsa verde, labneh, and chopped pickles. "Sweet potatoes often end up tasting like Thanksgiving," he says. "This doesn't at all. It weirdly tastes like summer."
*This article appears in the February 5, 2018, issue of New York Magazine.