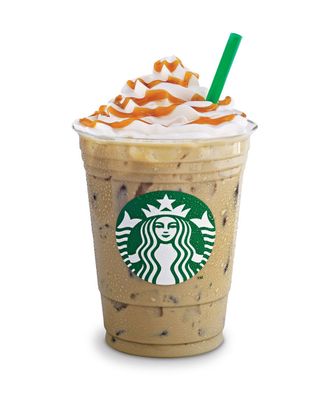 This is not what you want to find in your latte. A California family claims that Starbucks served them coffee containing a barista's blood, and is now suing the chain on grounds that it inflicted "stress, nervousness, fright, anguish, grief, anxiety, worry, and shock."
Amanda and Louis Vice say that in 2016, they ordered some drinks to go from a Redlands Starbucks — one was a Java Chip Frappuccino that their 2-year-old started promptly licking. Once back home, they noticed a "red smear" on the cup as well as a "strong metallic smell." Closer examination allegedly revealed drops of blood both on and in the plastic Frappuccino cup. Their complaint says that when Louis called up the café and said, "My wife and my baby just drank someone's blood," the store didn't really dispute that: It acknowledged that a barista had been bleeding, and that she was instructed to stop making beverages. The manager also "offered the family free drinks for a week," KTLA reports.
Now, Amanda tells the station that she was seized by a fear that her daughter had acquired a communicable disease. She expressed this concern to Starbucks, but the chain allegedly told the Vices to go conduct blood tests on their own and report back. The results were negative, fortunately, and Starbucks reportedly offered $1,000 to each family member to make amends.
Their lawyer turned the cash down and sued the company instead, arguing that the amount "does not begin to compensate" them for their damages. Starbucks's only statement so far is that it's prepared to fight the family's claims in court.