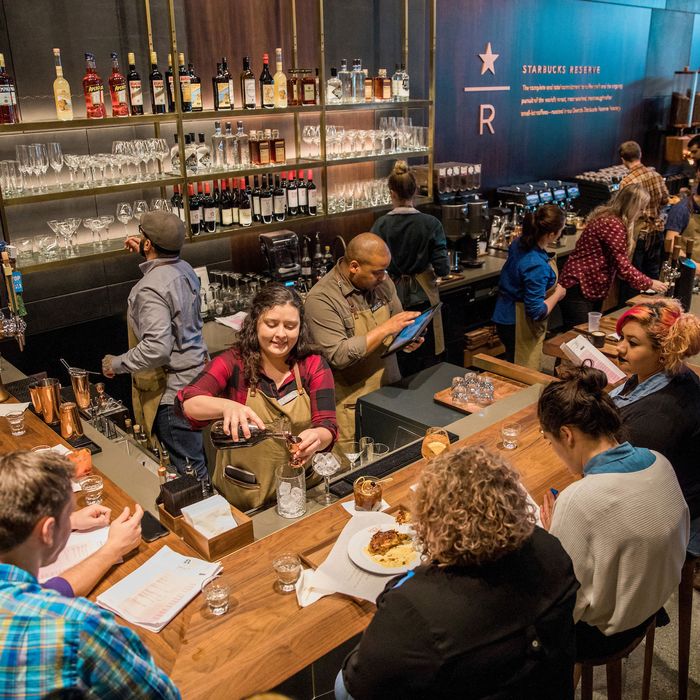 This is where the alcohol is.
Photo: Joshua Trujillo/Starbucks
America's ubiquitous coffeehouse chain just got even more ubiquitous. Say hello to the first official Reserve store, a key piece of Starbucks's strategy to conquer high-end coffee, and a concept about which it's been bragging since 2016. The location's doors open today, in an evidently huge area on the Seattle headquarters' main floor, and it's the first of what Starbucks says will be up to 1,000 such stores. The idea is a series of "open, marketplace-style" spaces that offer the full suite of the Mermaid's luxury-branded coffees, but also venture into fresh baked goods, Italian bites, and even cocktails.
For everyone who's having trouble keeping track of all of the different Starbucks offshoots out there: We feel your pain. Here's a quick breakdown: Besides the roughly 14,000 plain cafés in the U.S., the chain now operates two supermassive Reserve Roasteries (one in Seattle, the other in Shanghai, with more, including a New York location, on the way). Up to 30,000 square feet in size, these are the spots that, yes, roast their own beans before you. Next, there are Reserve bars, basically just jazzed-up normal cafés pushing $10 Starbucks coffees. There are also express stores, bare-bones operations with no seats that, for now at least, exist only in one location, on Wall Street. There's also the Princi Bakery chain it bought last year.
The fifth type, these new Reserve stores, is Starbucks encroaching on yet another terrain: the food hall. The layout is clearly meant to be Eataly-esque and cash in on the upscale-food-court trend.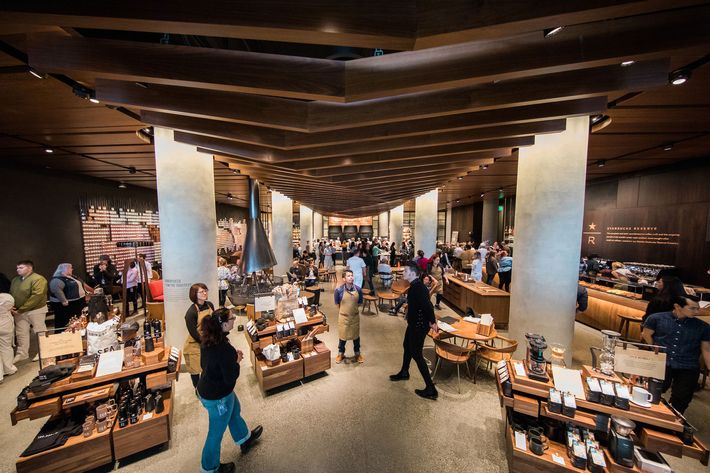 Starbucks's announcement says that the new Seattle store offers exclusive drinks, like a Spiced Ginger Cold Brew on tap, plus the first full in-house Princi Bakery that serves fresh brioche, pizzas, and focaccia sandwiches, as well as a full "mixology bar" where customers can get buzzed on a variety of Italo-centric cocktails — most with classic aperitivos, like Aperol spritzes or a Negroni Sbagliato, the wine-based spin on the Campari standby.
Customers can also watch bread being baked in the Princi section very à la Eataly, to help the store check off some crucial 2018 retail buzzwords ("immersive," "theater," "energy," "moments of intimacy").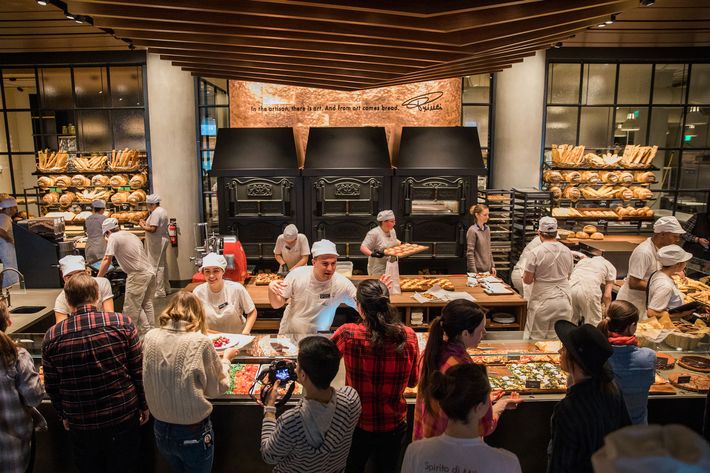 The store compartmentalizes all of its various offerings as stand-alone counters or stands, which fan out from a merchandise section at center and a lounge area with two fireplaces. You can visit the espresso bar for a latte, or just camp out for like eight minutes with your aperitivo while a barista makes you a vacuum-pot coffee on the siphon bar. Got all that? Good.