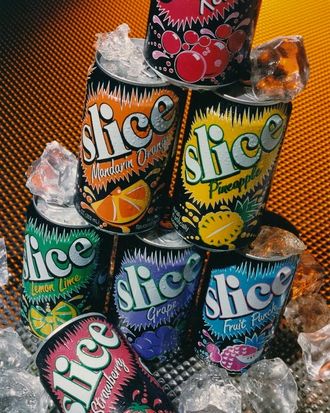 Imagine cans like this, only stamped with "No Sugar Added."
Photo: PepsiCo
You remember Slice, right? Maybe? The erstwhile fruit-flavored soda line is the latest addition to the slew of throwback soft drinks (Surge, Clearly Canadian, Crystal Pepsi) that have lately enjoyed something of a rebirth. But it won't be exactly as you remember it (provided you remember it at all.) Mark Thomann, a Chicago entrepreneur who buys up legacy brands' relinquished trademarks, is the person who now hopes to be America's next supplier.
The Chicago Tribune reports that he's acquired the rights to Slice, which former owner PepsiCo let lapse years ago, and now he plans to relaunch the drink under a different manufacturer that he's calling New Slice Ventures. But, oh how times have changed in the decades since Slice's supposed heyday. Sales of full-sugar sodas are in a nosedive right now, so a new soda — even one that may be nostalgic for some people, and comes in a flavor like Mandarin Orange — probably isn't a great idea. With that in mind, Thomann wants to turn Slice into a carbonated beverage that's "more palatable" than sparkling water.
That means Slice 2.0 is positioned to be "a lower-sugar, lower-calorie beverage sweetened only with real — possibly organic — fruit juice." You know what that means: yet another LaCroix competitor, but one that is "just a bit sweeter."
Thomann and his business partner hope to start selling cans at retailers nationwide in six months, and they have high hopes — they're predicting that within five years, Slice will be a "$100 million brand." God help us all if that happens because by now the world must be running out of old sodas that people want to see rereleased. If New Slice is a success, what could possibly be next? A new version of breakfast Pepsi?