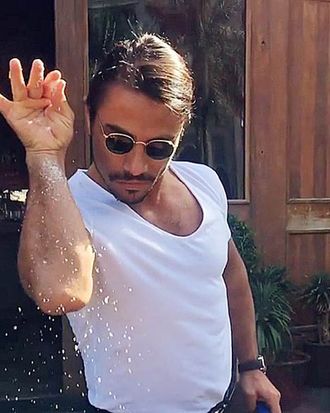 "We've already signed a lease," he warns.
Photo: nusr_et/Instagram
If you think New York would be vastly improved by more Salt Bae and yet another burger spot, then lucky you: Despite a less-than-warm welcome from both critics and the Health Department (which didn't care for his barehanded seasoning technique), the Post passes along word that Instagram's favorite chef is already expanding his global meat empire to include a chain of cheaper burger outposts in America.
Salt Bae's dinner-theater steakhouse chain — which has New York and Miami locations right now — is called Nusr-Et, after his own given name, Nusret Gökçe. The burger chain, however, is allowing for no possible confusion among the chef's fans: It's simply called Salt Bae.
If you're wondering how Salt Bae's burgers are, know that Nusr-Et's menu does have a burger, a $30 offering topped with cheese and caramelized onions. It's sliced, then the halves are re-grilled so that the cut side gets charred, and critics have said it's decent, if a little overpriced. At Salt Bae the restaurant, though, the fare "won't just be for the wealthy," Gökçe assures the Post. The description sounds Shake Shack–ish in caliber, but with table service and more booze options, in addition to a counter that you can order from directly.
Los Angeles will get the first location — a 4,000-square-foot space set to open this fall with a full liquor license. The second will arrive sometime later in Soho, but consider this just the start: An executive with the company behind Gökçe's restaurants says, "Multiple locations in Manhattan and Brooklyn are next."
The burger chain he already operates in Turkey — just called Nusr-Et Burger — has been a hit for several years over there.