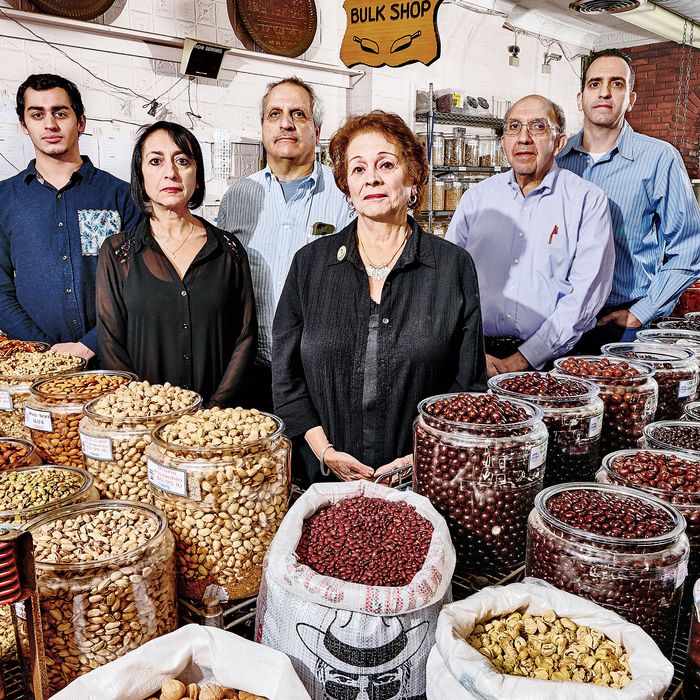 Four generations of the family are involved in running Sahadi's.
Photo: Bobby Doherty
Sahadi's is one of New York's great legacy businesses, among the city's best and most cherished markets. Originally opened in Manhattan in 1898, it's been on Atlantic Avenue in Brooklyn and an anchor of the local Middle Eastern community since 1948. For fans and regulars, it's a veritable wonderland of nuts, cheeses, spices, sweets, homemade hummus, and much more. The store's allure has been magnified, maybe, by the fact that for over a century there's always only ever been one Sahadi's to go to. But 120 years and one James Beard Foundation America's Classic Award later, the Sahadi's dynasty will expand their business for the first time with a second market in Sunset Park's Industry City.
"We've had a lot of opportunities to expand over the years, a lot of people have asked us, but this partnership with I.C. seemed like a great fit for us," says Christine Sahadi Whelan, a third-generation co-owner. (Industry City has seen an influx of food businesses, as developers have created what Crain's called a "$1B Brooklyn hipster mega-project," and in October started the city's rezoning process.) "We're one of the oldest Middle Eastern stores in the country, but we're New Yorkers. We've been here a really long time, and we're hoping that this new project will bring the best of Lebanese hospitality with that Brooklyn feeling."
Planned to open this fall, the new Sahadi's won't be a carbon copy of the original. There will be a prepared-foods section with an area for eating in, an events space, a full-service bar with beer and wine, and a saj, a domed griddle for making flatbread. For the saj, dough is stretched out thin and then cooked on its surface, sort of like an inverse tandoori. Whelan says that they first saw one on a trip to Beirut, and that because they "aren't really available here," the trick is finding out what passes U.S. inspections. "We're hoping to do that fairly soon after we open," she says.
As for the rest of the food, she says, "We want to serve maybe lesser-known dishes there," and the tentative menu includes chicken merguez with green tahini, and couscous timbale with duck confit. They're also planning weekend brunch, when they'll serve shakshuka and a saj-bread sandwich with a sunny-side up egg, house-cured basturma, and grilled halloumi cheese. Expanding also gives them an opportunity to ease things up at their Atlantic Avenue store, producing products that they've previously had to in the limited space of that very busy store. But the new Sahadi's will, in a sense, be a showroom for their goods, and a bulwark for adapting to the changing nature of retail.
"There's a million different ways to buy groceries today. What makes us different is, we make most of our stuff in-house. The things that make us unique are going to be what we're now focusing on, because you don't need me for straight groceries," Whelan says. "People don't just want to eat, they want an experience. You're going to be part of what we're doing."