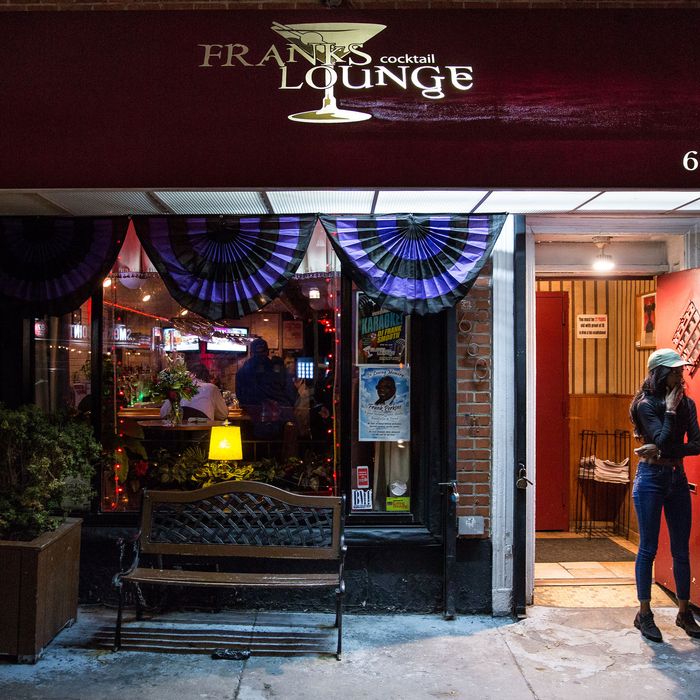 Frank's has been a Fort Greene icon since 1974.
Photo: Scott Heins
On a recent night at Frank's Cocktail Lounge in Fort Greene, the ceiling-fan light bulbs cast a red glow over the dance floor. Silver balloons bobbed above the tablecloths and floated on into the front of the room, where a bar-to-wall crowd ordered drinks. The band onstage, led by blues guitarist SaRon Crenshaw, had just plunged into an extended rendition of "Rainy Night in Georgia," and now they worked through the full, complicated range of heaviness and melancholy and also liberation embedded in the song. It was a Thursday, but the outfits ran the gamut from Saturday night out to Sunday best, and the ages from maybe 29 up to 90. An 88-year-old named June tossed her cardigan sweater aside and got up to dance; at another booth, handkerchiefs were proffered, tears dabbed away.
The occasion was the home-going celebration for Frank Perkins, the bar's longtime owner, who died at the end of January, two days shy of his 88th birthday. As Crenshaw coaxed his Gibson through a drawn-out solo that seemed to mimic the pelting of raindrops on a roof, it was impossible not to think of the most famous version of "Rainy Night," recorded in 1970 by Perkins's childhood friend the late Brook Benton. Growing up in Camden, South Carolina, Perkins and Benton sang in a gospel choir together. In his teens, Perkins left the South and joined his family in the Bronx, and later Brooklyn, where in 1974 he opened the bar that still bears his name.
In a world where every new bar and restaurant seems to strive for "neighborhood" appeal, Frank's Lounge is a true institution. A simple two-story building holds its own on streets now shadowed by a forest of high-rise luxury condos. Frank's is stalwart; Frank's is handsome; Frank's has good bones. Inside are white ceilings so prominently stuccoed, they resemble stalactites, a jukebox loaded with soul and R&B, and mounted to the wall, framed photographs of Whitney Houston and Michael Jackson. Upstairs is another dance floor, generally open on Friday and Saturday nights. On Thursdays, bands frequently play — among them, Jimi Hendrix's saxophonist Lonnie Youngblood, and once upon a time, the late Sharon Jones.
Wednesdays, another big draw, are reserved for Grown and Sexy Karaoke nights, although these days the posters advertising these events rarely bother to get that specific: by now, "grown and sexy" is understood. On special occasions — birthday parties, which over the years have been publicly celebrated for Frank, and for his late wife, Ruby, and his granddaughter, Gloria, and his sons Tyrone and Terry, who in recent years took over the day-to-day operations of the bar — a catered buffet is served.* On Frank's birthday, there is always red-velvet cake.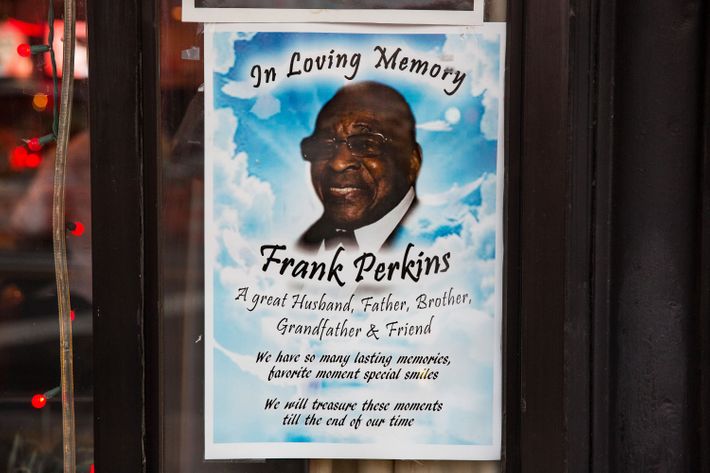 In the rapidly gentrifying neighborhood of Fort Greene, people expect a place like Frank's to remain unchanged, even as the establishments around it come and go. (In 2003, when the bar's original sign — notable for its dancing maroon Martini glasses — was moved from the front of the building to the west-facing side, it was a momentous enough event to warrant a story in the Times.) People don't want Frank's to change because Frank's is essentially perfect.
On one perfect night at Frank's, November 4, 2008, I showed up at five o'clock sharp. I remember the date exactly because it was election night. Three years earlier, I'd moved to Fort Greene from Texas, and on any given evening, a couple of regulars would likely be holding court at the bar. Tonight, though, Frank himself greeted me at the door of the Lounge. He was dressed handsomely in a suit and tie, and if I remember correctly, a flower in the pocket. "How you doin'?" he asked. I answered truthfully. "Frank," I said, "I grew up in North Carolina, and I'm nervous!"
Perkins didn't skip a beat: "Baby, I'm from South Carolina, and we gonna be fine!"
He suggested I take a seat at his own customary table, by the window, "so y'all can see the TV and the street at the same time." The room that night was decorated as elegantly as he was, and with clear confidence — the ceremonial balloons, cut flowers, streamers, and buffet were all in place. Within an hour, the bar swelled to capacity. When the results surged for Barack Obama, several of us from Frank's ran outside and hollered the news to the people passing by on the B25. The driver honked and the riders cheered and pumped their fists. By the time Obama had delivered his victory speech, the confluence of Fulton and Lafayette Streets had transformed into a block party, with "Yes We Can!" shouts reverberating in the streets between Frank's Lounge and Mo's Bar. Frank had been right. On that night, anyway, it did feel like we would be fine.
Frank, the man, may have lived as long as he did in part because of that attitude. (And, as his friend Public Advocate Letitia James recalled at his funeral, "He believed in the simple philosophy that there is never too early a time of day to have a drink. Somewhere it is always Perkins time!") Frank's Lounge outlives him for another, more practical reason. Speaking before the congregation, James recalled a piece of advice Perkins had passed on: "'Tish,' Frank told me, 'Make sure you own real estate.'" In 1974, Perkins bought the building at 660 Fulton, where his namesake bar is still open seven nights a week. Since the beginning, Frank's was Frank's.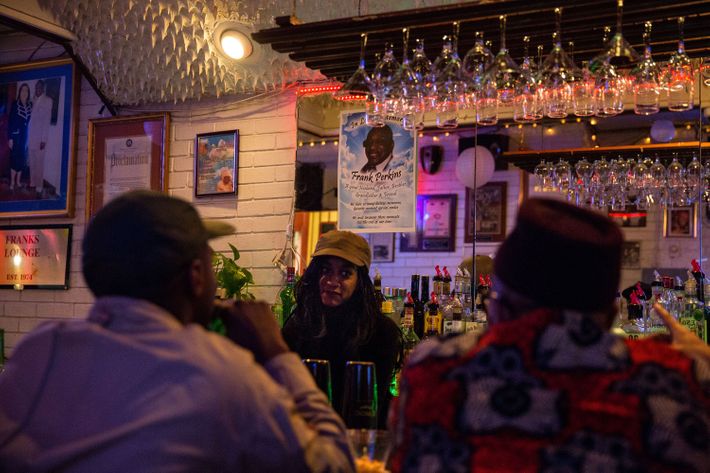 Before Frank's Lounge, Perkins managed another Fulton Street establishment, Club 722. His day job was working in his father's realty on Kingston Avenue, which played a significant role in helping people of color buy homes in Flatbush, Crown Heights, and Bedford-Stuyvesant. In the '60s, Perkins's father, Cain Young, put up the money for the construction of Bethany Baptist Church, which is where Perkins's funeral was held earlier this month.
A visiting preacher, the Reverend David A. Hampton, had returned to Brooklyn to deliver Perkins's eulogy. Hampton had once been the pastor of Bethany, and shortly after taking the job, he moved to Fort Greene where he first met Frank, not at church, but at the bar. Perkins told him he'd been a member of Bethany for years. "I said, 'uh-oh!'" Hampton remembered. "And Frank just smiled and said, 'You know, I like you already 'cause you a real dude.'" Thus commenced their longtime friendship. "Frank's is a place where you go to bond," Hampton said at Perkins's service. "It's a place where you go to be human."
As Hampton's delivery rose in volume and quickened in momentum and intensity, the pianist swiftly switched over to the organ side of the pulpit, and proceeded to deliver a spirited, mellifluous accompaniment of preaching chords. "Frank had a soul that tran-scends the body!" Hampton shouted into the microphone, aspirating the break between tran and scends, in a pause that distilled the passage between the two halves of the word, the two worlds it symbolizes. A torrent of preaching chords pulsated in response. "And last week, God called Frank to say he needs a manager to run his club in heaven!" The organist landed her chords again. They reverberated to the ceiling as Hampton repeated his refrain. "God called to tell Frank we need a new manager in this club!" In the pews, a sea of hands waved, reached high into the air above.
Rebecca Bengal is a writer who has lived in Fort Greene since 2005.
*This post has been updated to correct Gloria Perkins's relationship to Frank Perkins.