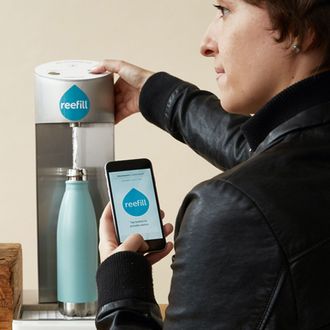 What your rehydrating has been missing.
Photo: Reefill
So what if New York City has the "Champagne" of tap waters? Reefill is the latest start-up hoping to disrupt the antiquated model of drinking water. The plan: Give paying subscribers access to Bluetooth-enabled water fountains that still dispense the city's beloved tap water, but which has been chilled and filtered by Reefill.
It's still early days for this company, but right now, for $1.99 a month, you can use any of eight different Reefill machines in and around the West Village. The premise is to "ditch bottled water for good," which does sound ecofriendly and more convenient (who likes lugging a liter of Poland Spring around?). But it sounds like people are going to take some convincing:
In reality, Reefill's machines have two dispensers, one for subscriber-only filtered water, another for regular New York City tap water. The service was meant, secondarily, to help solve the city's dearth of drinking fountains, and so far Reefill's co-founders have sold NYU, Think Beyond Plastic, and the New York Public Library on the concept. One of them told BuzzFeed yesterday in an interview that they were "surprised by the strong backlash" online, because they look at their glorified water fountains and see "this great new thing."
Next to Live Water, the Bay Area start-up selling "raw" spring water in $40 jugs, Reefill comes off pretty reasonable. But BuzzFeed tested a subscription, and in a blind test, staff mistakenly chose the plain tap side as the two-buck option — turns out, the electrical cord that chilled the filtered kind had accidentally been unplugged. Growing pains!