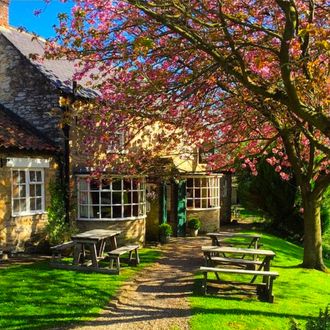 Don't forget to book around any upcoming sick days.
Photo: blackswan_oldstead/Instagram
A celebrated British chef is angry that his restaurant in North Yorkshire, the Black Swan, is getting bad online reviews because of its rigid cancellation policy. As written, the policy is to charge people for a full dinner (£98 to £240 per person) if they cancel within 28 days of their reservation. Some customers have fought back, and now Tommy Banks, who runs the restaurant with his brother James, says he's sick of customers missing their meal, then trying to "blackmail" them unless they waive the cancellation fee. Of course, by "blackmail," Banks really means "write a TripAdvisor review that describes the experience."
Banks knows how important online reviews can be for business. The Black Swan won a total dark-horse victory last year when TripAdvisor users named it the world's best restaurant. The recognition brought semi-fawning write-ups from big media like Bloomberg News, the New York Post, and CBS, plus lots of attention from epicureans suddenly stricken with FOMO. Presumably, a number of these individuals booked tables without reading Black Swan's fine print, then begged for leniency after the fact — which the Bankses apparently don't grant, as is their right, even in the case of an emergency.
Here's what one TripAdvisor reviewer alleges:
Have had to cancel due to my mother becom[ing] very unwell last minute. I have spoken to the restaurant and James called me back after 5 calls, to tell me that I would not be able to move my booking to another later date. I have told them I would be willing to pay a fee as I am cancelling over 48 hours before. James had a massive attitude and would not move my booking nor would he put into any consideration that my mum is very ill. This is supposed to be a family run business and I don't sense care and family values whatsoever. I have lost £900 and this was a gift for my family to stay there and enjoy some great food.
Another got upset after the Black Swan wouldn't reschedule dinner after her husband came down with a virus:
I did not ask to cancel, merely to move it. I was met with a very firm no … I appreciate this is a business like any other but it is a customer service business and to be so inflexible to me indicates they put profit before people.
For now, the Black Swan still averages a five-star rating on TripAdvisor. Banks is declaring it a win for restaurateurs, arguing that the practice seems to be "widespread," but owners and chefs should "[n]ever allow someone to threaten you with bad online reviews!"