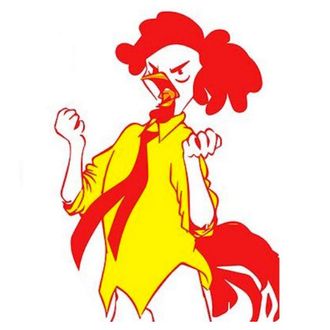 Either Raging Hot Chicken's logo, or a photo of its co-owner after checking Yelp.
Restaurateurs have turned to Yelp vigilantism in the past to Facebook-stalk one-star reviewers, denigrate their prose as coming from "a high school valedictorian that try's way too hard to sound intelligent," and even call a 74-year-old woman with health issues an "asshole" for wondering whether her coffee was really decaf. Rarely, however, does Yelp vigilantism reach the level of Gabe Killian, a self-described "MMA analyst" and one of the people behind a new Nashville-style hot-chicken pop-up in North Hollywood. According to a new report, Killian has taken to threatening to coldcock angry Yelpers, and says anyone who's got a problem with that is a "giant, politically correct, millennial pussy."
Killian's strategy, it seems, is an effort to thwart the online reviewers that he feels are tanking the Yelp rating at his establishment, appropriately named Raging Hot Chicken. Killian argues that many of them are written by trolls who've never eaten his food; they're just trying to mess with him, which requires the UFC enthusiast to up the ante. "I've threatened many people on the internet who have never been to my restaurant," he tells Eater L.A., which yesterday obtained screenshots of several angry comments that he's private-messaged to different Yelpers.
Killian's responses reportedly range from things like "You're the idiot who couldn't taste the quality of the meat," and "Is it true that your mom is a ho?" to Trump-style name-calling ("piece of shit" and "total loser") to informing one individual that he's "pissed off the wrong Armenians" and is therefore "gambling with his life." His message to another person warned them that they "better come see me because it's gonna be worse when I find you."
Raging Hot Chicken released a statement saying it has "absolutely no problem with negative reviews," as long as "they are from real customers." Killian seems to realize that his actions online weren't totally appropriate, and admits that contacting Yelpers simply to "insult them" was a rookie mistake ("We are very new to the restaurant game and are learning as we go"). That doesn't exactly mean that he's backing down, though: "The threat stands," he tells Eater of one reviewer in particular. "If I ever see him, he's getting knocked into unconsciousness."