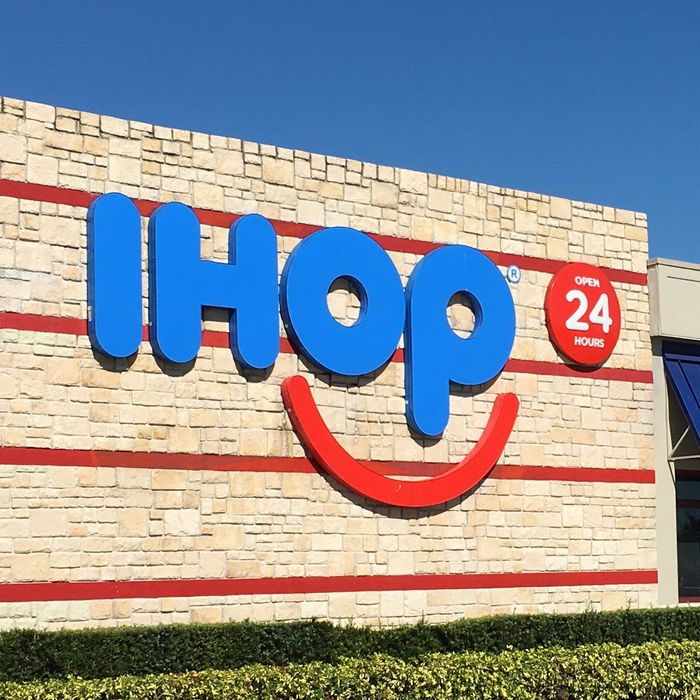 Lawyers say this proves that harassment persists "at some of our best-known neighborhood businesses."
Photo: Phillip Pessar/CC/flickr
Since 2010, at least 60 employees from eight different states have sued Applebee's and IHOP for sexual harassment. According to court documents discovered by Vox, this group of employees — some of whom were still teenagers — describes a pattern of groping, catcalling, and sexual propositioning that stretches for years, though not necessarily at any one of the two chains' particular locations. Altogether, the eight federal lawsuits that have been filed detail workplaces where sexual misconduct against female workers was pervasive, and attempts to report it largely got ignored.
Vox's exposé arose from last year's news that the EEOC reviewed some 7,000 sexual-harassment complaints in 2017. It's a daunting number, and a majority of them occurred at restaurants. Today's story reveals that some of those incidents were going on at two big chains: IHOP and Applebee's, two brands owned by DineEquity.
Oftentimes, sexual-harassment complaints get settled before they reach court, but Vox says that it looked at more than 450 that did not. IHOP and Applebee's were the only two chains since 2010 that have been sued four separate times. One of the bigger lawsuits — an EEOC class-action filed last September on behalf of 11 female employees and one male employee — involves two IHOPs in Illinois. Among its allegations are that managers repeatedly grabbed workers' butts and crotches, discussed how "sexy" they looked at work, and in one case texted "Don't make me get violent babe, and take what I want" to a worker who refused to have sex. The women also accuse management of "laughing off" complaints, and in some cases condoning the misbehavior.
This is a pattern, according to Vox: In 2010, an Applebee's in Bismarck, North Dakota, paid $1 million to 17 employees who claimed that the general manager touched them inappropriately, asked them for sex, and exposed himself "on a regular basis." He tried to trade raises for sexual activity, and reportedly even made the customers feel uncomfortable. The franchisee was forced to implement sexual-harassment training, but Applebee's workers have filed similar complaints in years since — although how many is a mystery, because ones that don't make it to federal court never become public.
DineEquity isn't named in any of the lawsuits, partly because current labor laws make it hard to sue a corporation unless the plaintiffs can prove that it chose not to act despite knowledge of wrongdoing. A spokesperson didn't tell Vox if DineEquity was aware of the ongoing complaints, but did release a statement asserting that harassment "has no place in any organization, including those affiliated with DineEquity," while adding that each franchisee "establishes and adheres to their own strict policies against harassment in the workplace."