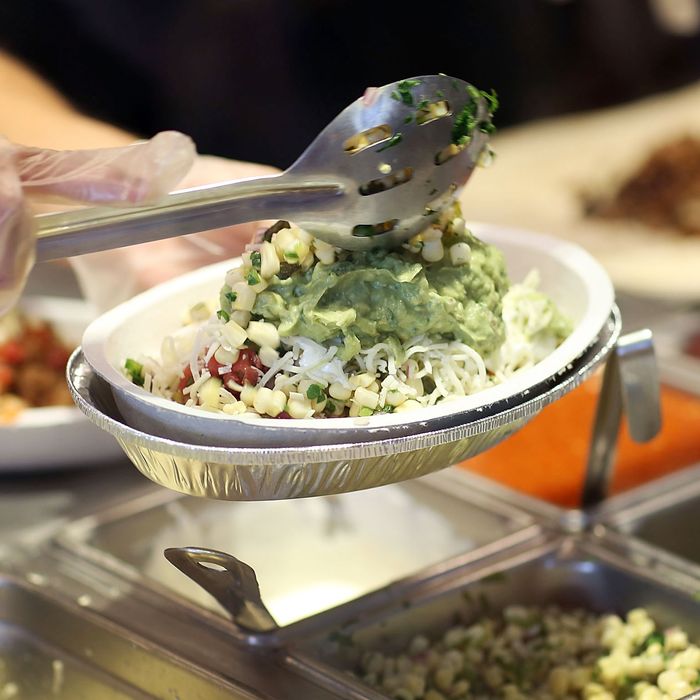 Imagine how much better your burrito will taste in this environment.
Photo: Joe Raedle/Getty Images
Forget free burritos, a loyalty program, a machine that sucks pathogens right out of the air, Jeffrey Tambor ads, queso, and free queso — Chipotle has a new $100 million plan to win back customers who bailed after the E. coli and salmonella scandal, and it appears to mostly revolve around … dusting stores off, and not having 15-minute waits for a burrito.
CNBC reports that Chipotle will throw down $45 million to retrofit 30 percent of stores with a second "make-line" (the stations your burrito passes through during assembly) to move lines along even faster. It hopes to have these installed by the end of 2018, at which time you might also be able to take in stores' brand-new cosmetic changes: A separate $50 million — roughly $20,000 per store — will be spent on décor upgrades. The revamp was announced yesterday on a quarterly earnings call where CFO Jack Hartung told investors that simple fixes like buying stainless-steel kitchen pans "that aren't bent" and replacing stores' light bulbs are "low-hanging fruit." The hope is that people passing by a store in the coming months will say, "It's shinier, it's brighter, it's cleaner," and then feel compelled to buy themselves a burrito with guac and queso.
No turnaround measure so far has stopped Chipotle's brand reputation from continuing to tank, and a survey last week found that customer reviews are worse than in 2015. Either way, the company needs to figure out something: Shares are down 10 percent today, and a Reuters wire story says the plan as presented felt "marked largely by the absence of major new ideas."