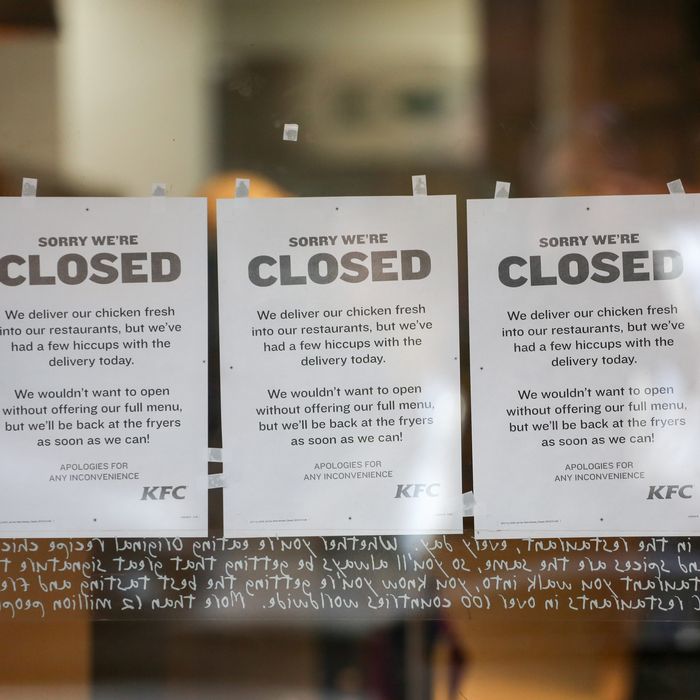 DHL is having "teething problems," KFC says.
Photo: Matt Cardy/Getty Images
Not great: To save money, it seems KFC's British arm switched its delivery contract last week from a food-distribution specialist to DHL's more cut-rate service. "Operational issues" arose immediately, causing a chicken shortage that's now forcing locations to close. That is, a majority of the U.K.'s locations: Out of 900, the BBC says 575 weren't open for business last night, and that the number climbed to 646 this morning. Other stores are open, but with reduced menus or hours.
Sensing a debacle in the works, KFC tried neutralizing the bad PR with a characteristically lame social-media joke:
If anything, the tweet only made people more aware that KFC was suffering a massive chicken shortage in the U.K., triggering a full-on British Twitter meltdown. Even the union that represents the now-fired delivery service decided to weigh in:
How dire is it? A local paper in Kent got footage of a KFC where employees were seemingly caught hauling in a black bag of unrefrigerated chicken from a car to restock their store. When KFC is forced to turn to black-market chicken, the beginning of the end must be near.