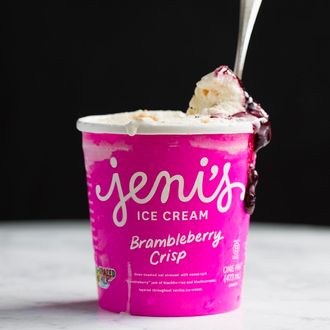 The only piece Jeni's wants you to carry.
Photo: jenisicecreams/Instagram
Jeni's Splendid Ice Creams says it's been getting inundated with customer complaints about FedEx, its delivery partner, ever since the shipping service's NRA member discounts made the news. Now, owner Jeni Britton Bauer says her company has just one option left: This week, she announced on Instagram that if FedEx won't cut all ties with the gun group, another shipment company will score a delivery contract worth hundreds of thousands of ice-cream pints.
The ultimatum came via the following post, where Britton Bauer wrote that while Jeni's "loves" FedEx, it's "not playing around" on this.
In the video, Britton Bauer tries reasoning with FedEx, saying she, many of her customers, and "a majority of Americans" want gun control, and that the NRA continues "supporting stuff we don't get behind." She adds at the end: "UPS is out there, man."
Naturally, the war carried over onto Twitter, where she posted that the hunt for FedEx's replacement is now underway. As you might expect, Jeni's then faced some blowback of its own. And, Britton Bauer told the Columbus Dispatch that Jeni's is definitely seeing "some criticisms," but that's fine because when there's a way to be a "force for positive change," she'll "always choose to be part of the conversation, even and maybe especially when it's hard."