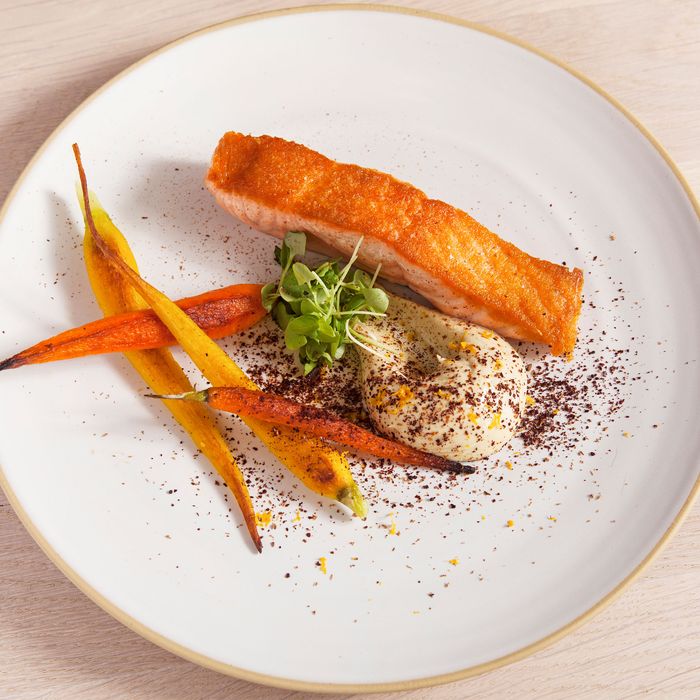 Poppy-seed-crusted Faroe Island salmon with carrot-coconut sauce, roasted carrots, and basil.
Photo: Jessica Nash
Makeovers are always a delicate business, especially in a discreetly fraught neighborhood like the Upper East Side, but the questions surrounding the elaborate reboot of Jean-Georges Vongerichten's original flagship restaurant, JoJo, are bound to be more delicate than most. How do you make a poky duplex townhouse space, once the epitome of dining chic when it opened on 64th Street almost three decades ago, seem chic again? How do you do this without alienating longtime regulars, who tend to view the utilitarian, postmillennial notions of dining fashion with a quiet sense of horror and dread? How do you update an iconic nouvelle-cuisine menu while also appealing to a newer generation of vegetable-forward, fusion-loving Jean-Georges devotees? How, in short, do you make a restaurant feel relevant again while preserving that special alchemy that made it great in the first place?
Judging from the clean, whitewashed lines in the new space and the familiar ABC Kitchen–style fonts on the menu, the answer seems to be to take different bits of alchemy from popular Jean-Georges ventures further downtown, jumble them together in the snug little space, and hope for the best. Like at ABC Kitchen and its sister establishment, abcV, the wait staff are dressed in casual blue jeans, and here, many wear hay-colored aprons that appear to have been fashioned from burlap sacks. With its mini cocktail bar and smallish café tables, the narrow downstairs space now feels a little like the first-class café car aboard some futuristic Swiss railway train, and the baroque clutter in the grander salon rooms upstairs — heavy drapes, dark-wood tables, decoratively painted molding — has been cleared away in favor of a palate-cleansing combination of pale washed parquet floors, blonde tabletops, and white-brick walls.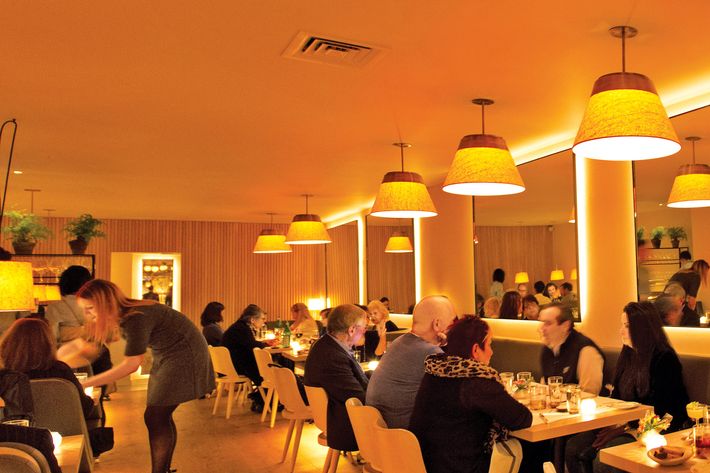 "This feels a little like the set from Frozen," one of my guests said, as we regarded the icy glass chandelier upstairs, then the tables surrounding us, several of which were filled with dignified patrons from the neighborhood wrapped in antique fur coats. In a nod to JoJo's loyal clientele, the updated bistro-style menu features a selection of "daily classic" blue-plate specials culled, like golden oldies, from the restaurant's impressive backlist of nouvelle-cuisine hits. These include Jean-Georges's famous roasted chicken with green olives and chickpea fries (available Mondays), his foie-gras-and-green-peppercorn terrine (Thursdays), and my order of warm shrimp salad (Wednesdays), which was more leafy than I remembered and has been imitated so many times (yes, there's avocado) that you forget that it was ever a Jean-Georges creation in the first place.
The postmillennial equivalent of warm shrimp salad at JoJo 2.0 is a slightly more diverse and bountiful seafood-salad appetizer (there's now calamari in the mix, among many other things) dressed with a tart citrus-shallot vinaigrette and served in a large white bowl. The tuna in the new house tuna tartare is yellowfin (rather than the slightly more endangered bluefin), and instead of gaufrette potatoes, like in the old days, it's garnished sparely with threads of shiso leaf and arranged on little lettuce cups. Several of the other appetizers — madai "carpaccio," a multicolor beet salad dabbed with goat cheese — have a similar spa-forward feel, although if you're in the mood for something slightly more substantial, call for the dumplings, which are stuffed with generous amounts of peekytoe crab and served in classic Jean-Georges fusion style, floating in a rich ginger-and-lemon broth.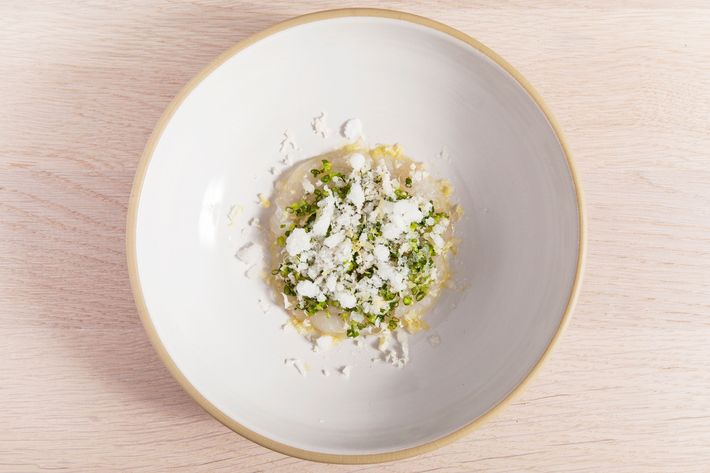 Unlike back in 1991, when JoJo first opened, the great chef isn't out to shock the world here, of course. Like most makeovers, these recipe tweaks are designed to ease the patient into a wider, more modern age with a minimum of fuss and disruption, and for the most part, they succeed. The roasted salmon I tasted had the pale, slightly bland look of something a private chef would prepare but was bursting with flavor (it's sprinkled with vanilla seeds, among other hidden things), and so was the roasted duck breast, which is sweetened with a precious, New Age combination of hibiscus, honey, and butternut squash instead of the classic sauce l'orange. The new "crispy skin" chicken has clearly been designed with comfort instead of style in mind (the chickpea fries have been replaced with frizzled onions and potatoes), and the buttery, aggressively herbed lobster is served in the shell, with a twirl of fries on the side.
Will the restless digital hordes who set the dining agenda in town these days be putting the new JoJo on their hot lists? Possibly not, although in a scattered, uncertain world where local dining is increasingly the coin of the realm, I'd be happy to have this new Jean-Georges outlet in my neighborhood. Certainly the old regulars looked happy enough, wrapped in their fur coats, pushing beet salads and orders of roasted Brussels sprouts to and fro on their plates. The desserts, when they appear, are calibrated to please in a straightforward, unfussy way. The most famous and imitated Jean-Georges creation of all is still on the menu, although if you've had your fill of molten chocolate cake, try the buttery pear-and-cherry crumble, topped with an almost indecently large scoop of marzipan-flavored ice cream, or the passion-fruit Pavlova, which cracks open like an egg to reveal a sunny yolk of passion-fruit sorbet inside.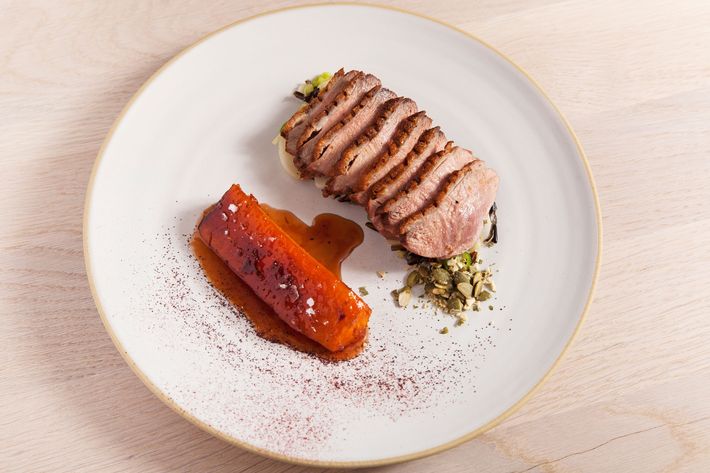 JoJo
160 E. 64th St., nr. Lexington Ave.; 212-223-5656; jojorestaurantnyc.com
Open: Dinner nightly.
Prices: Appetizers, $12 to $23; entrées, $25 to $42.
Ideal Meal: Peekytoe-crab dumplings, roasted duck breast, passion-fruit Pavlova.
Note: The cramped downstairs café area is not nearly as comfortable as the main dining room, so agitate for a table upstairs.
Scratchpad: The new JoJo is now an extension of the Jean-Georges universe instead of an outlier, but we'll give one star for the townhouse and another for the sensibly updated menu.
*This article appears in the February 19, 2018, issue of New York Magazine.