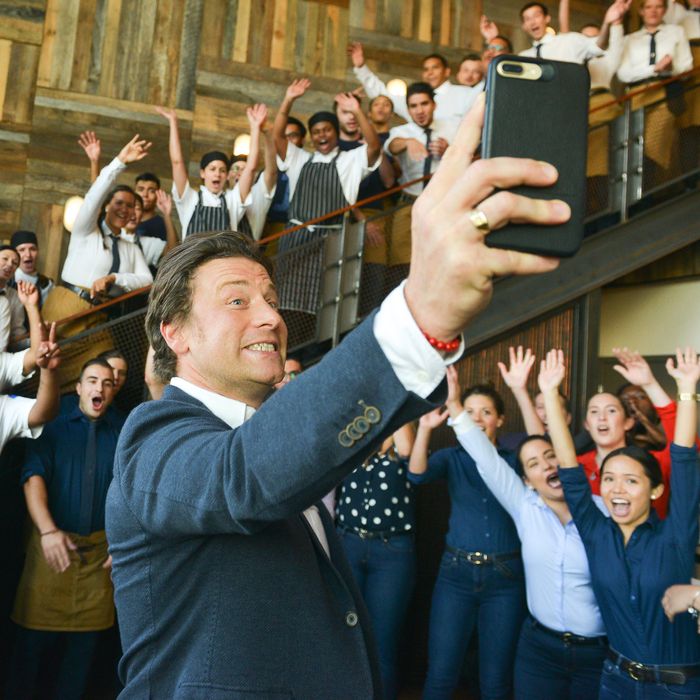 He reportedly owes his workers around $3 million.
Photo: GP Images/WireImage
In 2014, Jamie Oliver, an eternally optimistic chef, announced rather ambitious global-expansion plans for his Jamie's Italian restaurant chain, but almost none of it ever materialized. In fact, he's lately been shuttering his flagship restaurant brand's worst-performing outposts. And now a new report in the Sun says that the entire operation has managed to accumulate £71.5 million worth of debt (or roughly equal to $100 million).
To keep the chain from "going bust," the TV-famous chef reportedly asked landlords for rent cuts and, per the Sun, got reductions of up to 30 percent at some locations, but the company still has to close 12 of the 25 U.K. locations — which will cost 450 workers their jobs, all told.
According to court documents seen by the paper, the bank HSBC is owed £30 million. Jamie's Italian Limited owes another £41 million to creditors, plus more than £2 million to restaurant staff. The company is in arrears with suppliers, too — one fish purveyor is reportedly awaiting £263,000, and a wholesale bakery hasn't gotten the £133,000 that it's owed.
Say what you want about Oliver's culinary prowess (he was awarded an MBE in 2003*), but this news follows some other missteps from Oliver's business team. He was sued for using a knockoff of Gluten Intolerance Group's label without permission last fall, the Istanbul location of Jamie's Italian went bankrupt around the same time, and he closed six U.K. locations not long before that. He's blamed bad revenues on Brexit and rising costs industrywide, but also says that there's a whole list of "friends that I shouldn't have collaborated with" as business partners. The chef's personal fortune used to be estimated at around £150 million, but recent reports have lowered that figure by as much as £90 million.
*This post has been corrected to clarify the honor that Oliver was awarded.