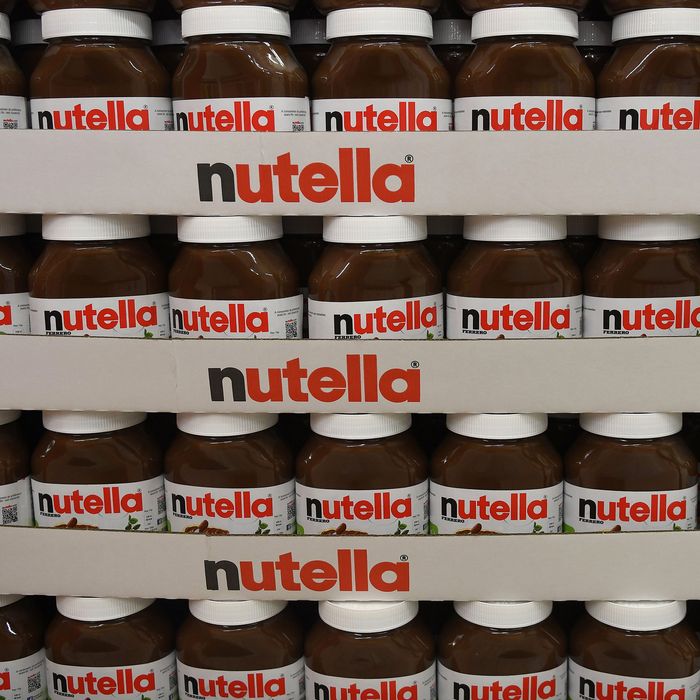 The French consume 100 million jars annually.
Photo: Damien Meyer/AFP/Getty Images
Last week, Paris was scandalized by reports of shoppers rioting at Intermarché, one of France's biggest supermarket chains. Stores had temporarily discounted jars of Nutella by 70 percent, and it resulted in what was essentially the Franco version of Black Friday — just check out the viral clips of hysterical customers prying Nutella from each other's hands, and trying to hoard four or five jars at a time.
Witnesses described fellow shoppers as "animals," and reported a scene that sounds, frankly, terrifying: "A woman had her hair pulled, an elderly lady took a box on her head, another had a bloody hand. It was horrible."
Suffice it to say that the situation has sparked an existential crisis among the French. The paper Le Parisien interviewed a sociologist, who declared that the Nutella brawls prove that "solidarity no longer [has] a place in France," and that these scenes couldn't have happened "in Germany, where common sense exists more."
The government responded earlier this week by launching an investigation into the incident. And now Reuters reports that French lawmakers have introduced a bill that would ban steep markdowns on food: It would banish buy-one-get-one-free bargains, and forbid supermarkets from offering "excessive" discounts of more than 34 percent. The wire service adds that the Macron administration is taking things pretty seriously. On Wednesday, Finance Minister Bruno Le Maire even called Intermarché's CEO for a little tête-à-tête, in which he explained that Nutella riots "can't happen again," and that they can't let Intermarché "normalize" this sort of behavior.
To throw dismayed bargain-hunting grocery shoppers a bone, the government's agriculture minister also adds that this bill will help lower France's food waste.